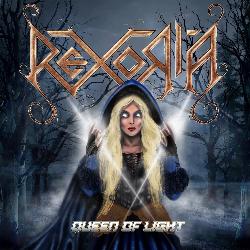 product: Rexoria - Queen Of Light
release date: 19.01.2017
territory: world
format: CD & digital
REXORIA is a female fronted Melodic Metal band with folk influences from Sweden which was formed in 2016.
The quartet spread around the word fast and toured for two weeks in eight countries with Bloodbound, Thobbe Englund (former Sabaton guitarist) and Polish Metal band Crystal Viper, and played 35 shows in total within the first year after it's founding with bands such as Hardcore Superstar, Raubtier, Electric Boys, Slade, Backyard Babies, ToxicRose, Billion Dollar Babies, Entombed A.D and Smash Into Pieces. In November 2017, they supported Battle Beast and Dynazty in Sweden.
The vocalist, Frida Ohlin, was nominated in the Swedish competition "Årets rockröst 2016" (The Rock Voice 2016).
The band's EP's "Moments Of Insanity" (2016) and "The World Unknown" (2017) are currently available on Spotify. "Queen Of Light" is their first full-length album which will be released on Pride & Joy Music on January 19th, 2018. The CD was recorded in the first half of October 2017 at Trampolin Recordings in Gothenburg, Sweden with producer and mixing engineer Henrik Pettersson and mastered by Jeffro Lackscheide in the USA.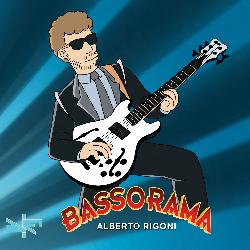 product: Alberto Rigoni - BASSORAMA
release date: 15.04.2016
release territory: world
formats: CD digi-pack and download
Alberto Rigoni is an Italian bass player and composer, internationally known for his career as a solo artist and as a member of the progressive rock band TwinSpirits, Lady & THE BASS and co-producer of the Vivaldi Metal Project.
His solo albums (Something Different, Rebirth, Three Wise Monkeys and Overloaded, worldwide released between 2008 and 2014), between progressive rock metal and fusion, also feature legendary musicians such as Kevin Moore (ex Dream Theater), Gavin Harrison (Porcupine Tree, King Crimson), Göran Edman (ex Yngwie Malmsteen), Michael Manring and many others.
Alberto has been featured on the cover of magazine such as Bass Magazine Japan, Bass Musician Magazine (Japan), Bajos Y Bajistas (Spain) and Basistas (Poland). Moreover, On March 2015 the prestigious Bass Guitar Magazine (UK) released Alberto's CD anthology called "Into THE BASS".
Alberto has also recorded for several international artists such as Italian pop singer Alexia and is now playing bass with Canadian rock singer and songwriter Kim Bingham (Nelly Furtado), The Italians and the Crystal Music Project, sharing stages with artists such as Alan Parsons, Jørn Lande, Paul Gilbert and others.
Rigoni is now releasing his fifth solo album BASSORAMA which will also feature Doug Wimbish, Divinity ROXX, Stu Hamm, Nik West, Steve Lawson, Anna Sentina, Lars Lehmann and Remco Hendrix.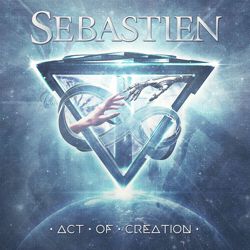 product: Sebastien - Act Of Creation
release date: 23.02.207
territory: world
format: CD & digital
SEBASTIEN is one of the very few Czech bands which are also known abroad. Their debut album, "Tears Of White Roses" (2010), was released in Europe and Japan, the second CD, "Dark Chambers Of Déjà Vu" (2015) world-wide.
In 2012, SEBASTIEN went on tour in Europe together with CIRCLE II CIRCLE and one year later with MASTERPLAN. Additionally to this, the group opened for Rock icon ALICE COOPER in Brno (CZ) in 2013 and has played on Masters Of Rock (CZ) festival's main stage three times so far, at Metalfest (CZ), and Rock Tower Festival (PL) plus at the legendary Wacken Open Air (D) in 2016.
The first two albums were produced by German guitarist Roland Grapow (ex-HELLOWEEN, MASTERPLAN). On these records, SEBASTIEN also had guests from Black Sabbath, Rainbow, Rhapsody Of Fire, Avantasia, Firewind, Jorn, Cradle Of Filth, Sirenia, and Savatage.
The third release, "Act Of Creation", is now going to be unleashed worldwide via Pride & Joy Music on 23rd February 2018 and features Apollo Papathanasio (SPIRITUAL BEGGARS, ex-FIREWIND) as guest on vocals on the track "Die In Me", Mayo Petranin (SIGNUM REGIS) on vocals on "Winner", Kristýna Dostálová as singer on "No Destination" and "Promises" plus Vendula Skalová on backing vocals.
The songs were written and arranged by George Rain, Petri Kallio & Andy Mons, except "Hero" which was arranged by Rain, Mons, Kallio & Pavel Dvorak. "Act Of Creation" was produced by George Rain, Petri Kallio and Andy Mons, and recorded by Petri Kallio, mixed and mastered by Andy Mons at DARK CHAMBER SOUNDS studios from November 2016 to November 2017. The cover artwork was designed by Hans Trasid and Dis-Art Design.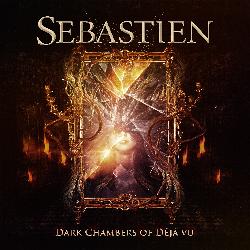 product: Sebastien - Dark Chambers Of Déjà-Vu
release date: 25.09.2015
label: Pride & Joy Music
format: CD & download
territory: world
SEBASTIEN is a melodic power metal band with symphonic and progressive influences. The band was born on roots of another heavy metal group, NAVAR, with an ambition to catch the worldwide interest, in 2008.
In November 2009 the band went to Grapow Studios (Slovakia) to record the album "Tears Of White Roses" which was produced by Roland Grapow (MASTERPLAN, ex-HELLOWEEN) himself! The album feat. various guest performances incl. Amanda Somerville (AVANTASIA, KISKE/SOMERVILLE), Apollo Papathanasio (ex-FIREWIND), Doogie White (ex-RAINBOW), Fabio Lione (RHAPSODY OF FIRE), Mike DiMeo (ex-MASTERPLAN, ex-RIOT), Roland Grapow (MASTERPLAN, ex-HELLOWEEN) and Tore Moren (ex-JORN LANDE)
During Autumn 2011, SEBASTIEN went on the first real tour (in the Czech Republic and Slovakia) with EAGLEHEART (CZ) and FLOWERWHILE (CZ). They also appeared on more gigs with SERENITY, ELVENKING, VICIOUS RUMORS, FATES WARNING and at MASTERS OF ROCK in July 2012. One live-song was also released on the official Masters of Rock DVD 2012. In August 2012 the band started its first European tour with CIRCLE II CIRCLE and played some more shows with AXXIS and with JORN LANDE. The band found a new permanent drummer - Lucas R. - and played the first show with the new line-up at METALFEST 2013 before they went on tour in 2013 with MASTERPLAN, MYSTIC PROPHECY & SIREN'S CRY.
The first half of 2014 was spent with finishing the upcoming second album, concert activities in the Czech Republic and Austria, and also with preparations for the next big gig on MASTERS OF ROCK's main stage – this time with Tony Martin (ex-BLACK SABBATH) as a special guest! This huge show happened in July and, besides the legend - Tony Martin, also Roland Grapow, Martin "Marthus" Skaroupka and Marlin Rya Poemy showed themselves. The band performed two of legendary BLACK SABBATH songs: "Headless Cross" and "Nightwing"!
In November 2014 SEBASTIEN went to Grapow Studios again to finish the mix of the new album "Dark Chambers of Déjà vu" which will be released on Pride & Joy Music/ Edel on September 25th, 2015 and includes guest performances by Tony Martin (Black Sabbath), Sergey Baidikov (Inner Fear), Zak Stevens (CircleIICircle, Savatage), Roland Grapow (Masterplan) and Aylin Gimenez (Sirenia)