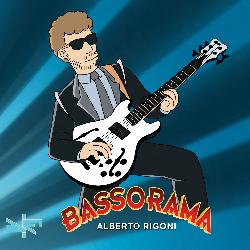 product: Alberto Rigoni - BASSORAMA
release date: 15.04.2016
release territory: world
formats: CD digi-pack and download
Alberto Rigoni is an Italian bass player and composer, internationally known for his career as a solo artist and as a member of the progressive rock band TwinSpirits, Lady & THE BASS and co-producer of the Vivaldi Metal Project.
His solo albums (Something Different, Rebirth, Three Wise Monkeys and Overloaded, worldwide released between 2008 and 2014), between progressive rock metal and fusion, also feature legendary musicians such as Kevin Moore (ex Dream Theater), Gavin Harrison (Porcupine Tree, King Crimson), Göran Edman (ex Yngwie Malmsteen), Michael Manring and many others.
Alberto has been featured on the cover of magazine such as Bass Magazine Japan, Bass Musician Magazine (Japan), Bajos Y Bajistas (Spain) and Basistas (Poland). Moreover, On March 2015 the prestigious Bass Guitar Magazine (UK) released Alberto's CD anthology called "Into THE BASS".
Alberto has also recorded for several international artists such as Italian pop singer Alexia and is now playing bass with Canadian rock singer and songwriter Kim Bingham (Nelly Furtado), The Italians and the Crystal Music Project, sharing stages with artists such as Alan Parsons, Jørn Lande, Paul Gilbert and others.
Rigoni is now releasing his fifth solo album BASSORAMA which will also feature Doug Wimbish, Divinity ROXX, Stu Hamm, Nik West, Steve Lawson, Anna Sentina, Lars Lehmann and Remco Hendrix.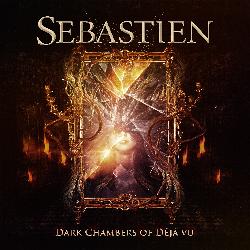 product: Sebastien - Dark Chambers Of Déjà-Vu
release date: 25.09.2015
label: Pride & Joy Music
format: CD & download
territory: world
SEBASTIEN is a melodic power metal band with symphonic and progressive influences. The band was born on roots of another heavy metal group, NAVAR, with an ambition to catch the worldwide interest, in 2008.
In November 2009 the band went to Grapow Studios (Slovakia) to record the album "Tears Of White Roses" which was produced by Roland Grapow (MASTERPLAN, ex-HELLOWEEN) himself! The album feat. various guest performances incl. Amanda Somerville (AVANTASIA, KISKE/SOMERVILLE), Apollo Papathanasio (ex-FIREWIND), Doogie White (ex-RAINBOW), Fabio Lione (RHAPSODY OF FIRE), Mike DiMeo (ex-MASTERPLAN, ex-RIOT), Roland Grapow (MASTERPLAN, ex-HELLOWEEN) and Tore Moren (ex-JORN LANDE)
During Autumn 2011, SEBASTIEN went on the first real tour (in the Czech Republic and Slovakia) with EAGLEHEART (CZ) and FLOWERWHILE (CZ). They also appeared on more gigs with SERENITY, ELVENKING, VICIOUS RUMORS, FATES WARNING and at MASTERS OF ROCK in July 2012. One live-song was also released on the official Masters of Rock DVD 2012. In August 2012 the band started its first European tour with CIRCLE II CIRCLE and played some more shows with AXXIS and with JORN LANDE. The band found a new permanent drummer - Lucas R. - and played the first show with the new line-up at METALFEST 2013 before they went on tour in 2013 with MASTERPLAN, MYSTIC PROPHECY & SIREN'S CRY.
The first half of 2014 was spent with finishing the upcoming second album, concert activities in the Czech Republic and Austria, and also with preparations for the next big gig on MASTERS OF ROCK's main stage – this time with Tony Martin (ex-BLACK SABBATH) as a special guest! This huge show happened in July and, besides the legend - Tony Martin, also Roland Grapow, Martin "Marthus" Skaroupka and Marlin Rya Poemy showed themselves. The band performed two of legendary BLACK SABBATH songs: "Headless Cross" and "Nightwing"!
In November 2014 SEBASTIEN went to Grapow Studios again to finish the mix of the new album "Dark Chambers of Déjà vu" which will be released on Pride & Joy Music/ Edel on September 25th, 2015 and includes guest performances by Tony Martin (Black Sabbath), Sergey Baidikov (Inner Fear), Zak Stevens (CircleIICircle, Savatage), Roland Grapow (Masterplan) and Aylin Gimenez (Sirenia)
product: Secret Rule - The Key To The World
release date: 10.11.2017
format: CD & download
territory: world
SECRET RULE was formed in the beginning of 2014 with the intention to create a special sound with powerful rhythms and catchy melodies. The band is fronted by the powerful voice of Angela Di Vincenzo (Kyla Moyl), masterminded by lead guitarist Andy Menario (Martiria) who has worked with big names such as Vinny Appice (Black Sabbath, Dio), Jeff Pilson (Dokken, Foreigner), and Carlos Cavazo (Quiet Riot). The line-up is completed by bassist Michele Raspanti (Graal) and drummer Nicola Corrente (Enemynside, Stick it out, Starkiller Sound).
In February 2015, the group released their debut "Transposed Emotions' (Rocksector Records) - a concept, a mixture of facts and tales which analyse our society with a look at a post apocalyptic era. The album was recorded in 2014; produced, mixed and mastered at Antfam Studios in Denmark by Tue Madsen (Halford The Haunted, Mnemic, Hatesphere, Ektomorf), while the artwork was created by Simona Speedy Saccoccia. After some gigs in Italy, the band went on tour in Switzerland, France, Germany, Belgium, Holland and the UK, taking part in some festivals such as the SOS Fest in the UK and the WIZZ FEST in Belgium.
In October 2015, SECRET RULE started recording their second album "Machination". The line-up for the new long player also included Sander Zoer (ex Delain, Leah) on drums, Henrik Klingenberg (Sonata Arctica) on keyboards and other special guests such as Stefan Helleblad (Within Temptation), Timo Somers (Delain), Fabio D'Amore (Serenity) and Janneke De Rooy (Paper Doll Decay). This release again was produced, mixed and mastered by Tue Madsen (Antfarm Studio) and the artwork created by Simona Speedy Saccoccia.
The CD got a release on June 24th, 2016 on Scarlet Records with two tours to follow in July and August covering Slovenia, Slovakia, Croatia, Hungary, Czech Republic, the UK, Belgium, Netherlands and Germany. On 7 October in Wetzicon at the Hall of Fame venue, the Italians supported Serenity and on 29 January, they opened for Delain.
Early in 2017 SECRET RULE supported Blaze Bayley for some gigs and then started to work on new material. The new album "The Key to the World" will be released by Pride & Joy Music on November 10th, 2017. Henrik Klingenberg (Sonata Arctica) and two new guests on this new CD, Henning Basse (Firewind and MaYan) and Ailyn Giménez (ex Sirenia), also appear on this third release of the band. It again was mixed and mastered by Tue Madsen (Antfarm Studio- Denmark); Fabio D'amore (Serenity) handled the pre-production and Simona Speedy Saccoccia took care of the artwork again. In addition, music videos for the tracks "Twin Flames", "The Song Of The Universe" & "Imaginary World" feat. all three guests will be released in advance to the album release. The band has already scheduled some gigs for next months. In November, they will be direct support for Kobra and the Lotus.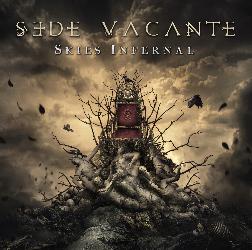 product: Sede Vacante - Skies Infernal
release date: 18.11.2016
format: CD & download
release territory: world
Sede Vacante is a heavy Goth Metal duo from Greece formed in 2013 which consists of Michael Tiko (male vocals, guitars and synths) and Constantine Alex (female vocals). Both members are highly educated in music - with Michael Tiko having studied at Berklee College of Music, Boston, USA (Master in Guitar Performance) and Constantine Alex having studied in The National Academy of Music "Prof. Pantcho Vladigerov", Sofia, Bulgaria.
Both members have got an extensive live experience. Tiko was the lead guitarist of the Goth/Power metal band "Rage of Romance" (feat. Vicky Psarakis on vocals, The Agonist) and also played as a session guitarist in many local bands, even in the Jazz genre. Alex has been singing for more than 10 years and been a session vocalist in numerous swing, jazz and rock bands.
"Skies Infernal" is their debut album which will be released on Pride & Joy Music on November 18th, 2016. The logo and the band's symbol were made by Gustavo Sazes (Arch Enemy, Firewind etc.), and the record was mixed by drummer and sound engineer Fotis Benardo (ex- Septic Flesh, Six4Nine) and mastered by the Jens Bogren (Fascination Street Studios) in Örebro, Sweden.