This month with news from: Black Majesty, DeVicious, Eunomia, Free From Sin, Lioncage, Once, Secret Rule, Squealer & The Radio Sun.
_________________________________________________________________________________________
FREE FROM SIN
New album "II" available from July 20th, 2018!
One of our current highlight albums in PR is the new release from Swedish 80's Hard Rock band FREE FROM SIN which is simply titled "II".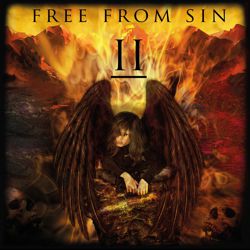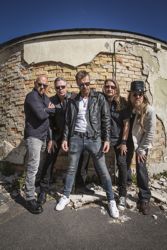 The band has added new band members to the line-up which resulted in a much darker & heavier sounding release in comparison to the first one. Free From Sin is again going back to basics, with a classical 5 piece line-up, with hammond organ, guitar, bass & drums together with aggressively vivid vocals and now is featuring Per Englund (ex-Blacksmith, vocals), Patrik Lämborg (guitars), Fredrik Strömberg (keyboards), Ulf Kronsell (bass) and Paul Ekdahl (drums).
With strong influences from Deep Purple, Judas Priest, Rainbow, Iron Maiden etc., Free From Sin is again merging these ingredients in riff- based songs together with a modern sound. "II" was again produced by Mankan Sedenberg with Free From Sin at Pama Studios, Sweden.
Line-up: Per Englund (vocals), Patrik Lämborg (guitars), Fredrik Strömberg (keyboards), Ulf Kronsell (bass), Paul Ekdahl (drums)
Web: www.freefromsin.net
Currently in promotion: "II" (album, in Europe only)
------------------------------------------------
BLACK MAJESTY
Australia's best power metal band Black Majesty returns with their seventh studio album titled 'Children Of The Abyss' which was mixed by Roland Grapow (Masterplan). This is the second album from on the band on Pride & Joy Music. "Children Of The Abyss" will be available on CD, as LP and digitally.
To promote the album, the Australians will play a couple of live shows in September and October to promote this release with exact dates to be announced soon. Here comes a preview of the fantastic artwork which was created by Thomas Ewerhard (Avantasia etc.):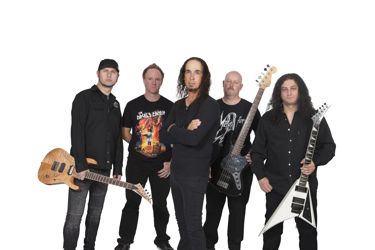 Web: www.facebook.com/blackmajestyofficial
Promo start for "Black Abyss": end of July (world-wide)
------------------------------------------------
ONCE
Cinematic Metal band ONCE from Münster, Germany will release their debut single "The Hour Of Eden's Fall" on July 6th, 2018 via Pride & Joy Music. A video clip will be available on Youtube from the same day. The full album by the band around singer Alina Lesnik, "After Earth", will be in stores from October 19th, 2018.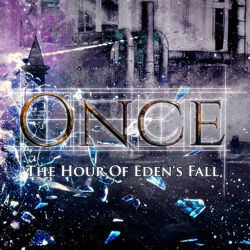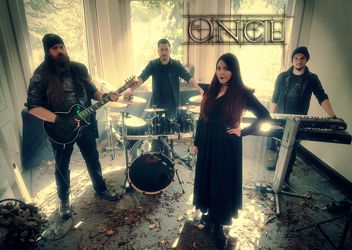 www.facebook.com/once.official.music
Promo start for the single: July 6th, 2018
------------------------------------------------
DEVICIOUS
Germany based Hard Rock band DEVICIOUS will release their debut album "Never Say Never" on Pride & Joy Music on August 24th, 2018!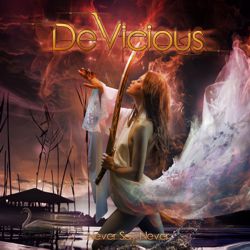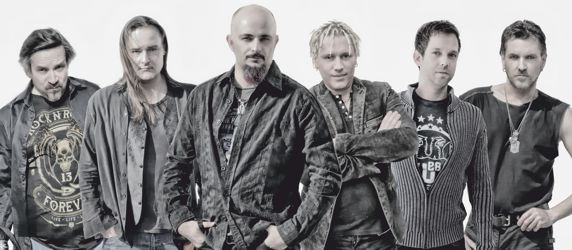 After their tour with Ammunition in Spring 2018, "Never Say Never" marks the first album release for this group.
Check out one out of six (!) videos here:
Video for "Penthouse Floor": https://youtu.be/jJzrWY1dFRo
The band says: "We are proud to announce our new partnership with Pride & Joy Music, GerMusica and Soulfood Distribution. Our debut album "Never say Never" will be available on August 28th exclusively world-wide through Pride & Joy Music. Zoran, Radivoj, Gisi, Alex, Denis and Lars want to thank the one and only Birgitt Schwanke for taking care of our album and for giving us a chance at such an established label. We could not be more happy right now."
DEVICIOUS are currently working on the follow-up album. In December 2018, they'll tour Germany as support for US Hard Rock legends Hardline:
DeVicious with Xtasy & Hardline:
06.12.2018 D-Hamburg, Logo
07.12.2018 Bochum, Rockpalast
08.12.2018 D-Mörlenbach, Live Music Hall
09.12.2018 D-Munich, Backstage Club
Facebook: www.facebook.com/deviciousband
Currently in promotion: "Never Say Never" (album, world-wide)
-----------------------------------------------
THE RADIO SUN
The Radio Sun have worked very hard to build up their following by touring all over the world in support of each and every release. Performances in Japan, Europe, United States, United Kingdom and their home country Australia has showed the band's ability to rise. The Radio Sun are the first band to ever play Hard Rock Hell AOR Fest U.K four times in a row, whilst also having played at Melodic Rock Fest on four different occasions.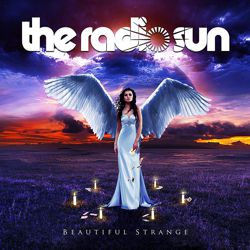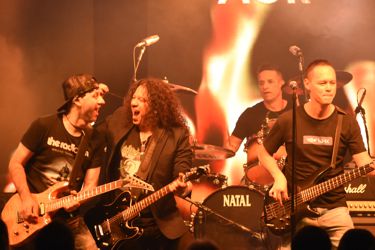 The four piece group is fronted by the charismatic Jason Old on lead vocals, guitar slinger Stevie Janevski, bassist Anthony Wong & drummer Gilbert Annese. With all four members singing backing vocals, the boys delve into layered vocal harmonies reminiscent of the classics - Queen, The Sweet & Def Leppard. This is not to say that they don't have their own sound. The Radio Sun have great unique hooks in their songs. The new album is another progression for the band, with songs like 'Hold On Tight' and 'Miss Wonderful' grooving like never before. 'As Long As You Want Me' and 'Five Years After' are both melodic bliss, boosted by a great production by Paul Laine (solo, The Defiants) and mastering by Bruno Ravel (Danger Danger, The Defiants).
The Radio Sun is feel good music and sounds just as strong acoustic or electric. Last year the boys performed acoustic shows in Japan and this year saw The Radio Sun invited to play the prestigious Sweden Rock Festival.
Web: www.facebook.com/TheRadioSun
Currently in promotion: "Beautiful Strange" (in Europe only)
---------------------------------------------
SQUEALER
Vinyl release for "Behind Closed Doors" on July 20th, 2017! After the releases of the extremely successful comeback album "Behind Closed Doors" on CD and digitally in Spring 2018, this album now will finally also be available from July 20th, 2018 on vinyl.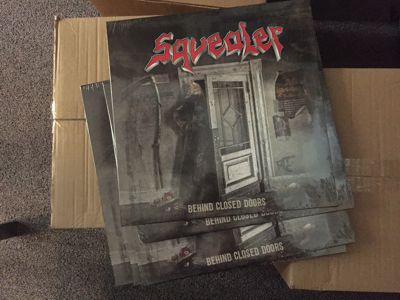 The band is currently working on live shows for Autumn 2018 and in further news, the single "M:O:T:M" from the aforementioned album now has crossed the 100.000 plays mark on Spotify!
Next live shows:
30.06. D-Loshausen, Rock am Park Festival
20.07. D-Fritzlar, Rock am Stück Festival
www.facebook.com/SquealerOfficial
-----------------------------------------------
LIONCAGE
German AOR band LIONCAGE completed the recordings for their third album "Turn Back Time" which will be released on Pride & Joy Music on September 21st, 2018.
Check out the cover artwork below: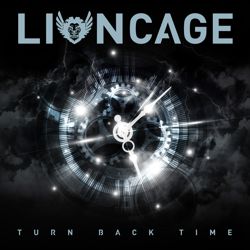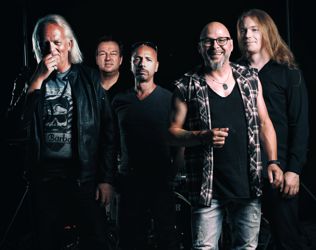 LIONCAGE are:
Thorsten Bertermann (v)
Torsten Landsberger (d)
Lars König (g)
Arvid Lucas (b)
Bülent Sezen (d)
Catch the band on tour – this is the next show:
14.09. D-Aldenhoven, Rockheaven
Facebook: www.facebook.com/ TheRadioSun
Promo start for "Turn Back Time" (album): end of July (world-wide)
---------------------------------------------
EUNOMIA
New signing!
Eunomia is a Power Metal band from Norway formed in 2011 by Peter Danielsen. The group released a demo EP called "Crystal Sword" in 2013, and started writing and recording the debut album "Chronicles Of Eunomia Part 1" in 2016. After two years in the making and after signing a record deal with Pride & Joy Music, the record is finally ready to be unleashed.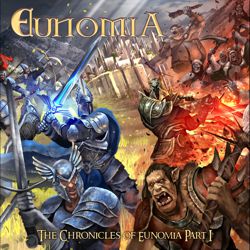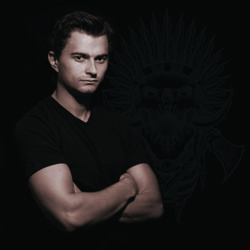 It is set place in the fantasy world of Valley Doom and Eunomia created by the two brothers Marius and Peter Danielsen. The band invited several guests to help tell the story of Eunomia. With musicians such as Alessandro Conti from Luca Turilli's Rhapsody and Twilight Force, Henning Basse from Firewind and Victor Smolski (Almanac, ex Rage), they have created an epic and cinematic concept album. "Chronicles Of Eunomia Part 1" was produced by the Danielsen brothers in Ålesund, Norway.
The album will released on CD and digitally on August 24th, 2018.
Web: www.facebook.com/Eunomiaband
Currently in promotion: "The Chronicles Of Eunomia, Part 1" (album, world-wide)
---------------------------------------------
SECRET RULE
SL Agency in collaboration with JBM Events are glad to announce new gigs for Secret Rule. The new leg of "The Key European Tour 2018" will touch Switzerland, France, Belgium, the Netherlands and Germany.
After the great success at the latest "Symphonic Metal Nights tour" supporting Serenity, and other great events supporting Delain, Xandria and Kobra and the Lotus, Secret Rule are ready for a new incredible show. They will play a long set with a lot a new songs from "The Key to the World" album, released by Pride & Joy Music. They will be supported from two great Dutch bands, Beyond God and Shadowrise.
Beyond God combine a mix of atmospheric, dark orchestral vibe and melodic vocal lines and will promote their last album "A Dying to feel alive".
Shadowrise, with their Symphonic Power-Metal with the heaviness of Melodeath, will present the album "Shadowrise". Both albums have been released by Painted Bass Records.
Following, the dates:
31.10 CH - Sursee - Kulturwerk 118
01.11 FR - Colmar - Le Grillen
02.11 BE - Diest - Moonlight Music Hall
03.11 NL - Gorinchem - Podium Gorcum
04.11 DE - Mannheim - 7er Club
If you want to catch Secret Rule before the Fall, they'll play some dates in the summer, in Spain:
03.08 SP - Puertollano - Sala Krater
04.08 SP - Torreperogil - Barcia Metal Fest
and then in Germany as direct support for Visions of Atlantis:
14.09 DE - Geislingen - MieV
15.09 DE - Bad Friedrichshall - Lemmy's
To be always updated about the Secret Rule live activity follow them on Bandsintown:
https://www.bandsintown.com/a/10541610-secret-rule
Stay tuned with more news!
SECRET RULE SOCIAL LINKS
Official Website: www.secretrule.it
Official Facebook Page: www.facebook.com/secretruleband
Official Instagram Profile: www.instagram.com/secret_rule_official/
Official Youtube Channel: www.youtube.com/c/SecretRule