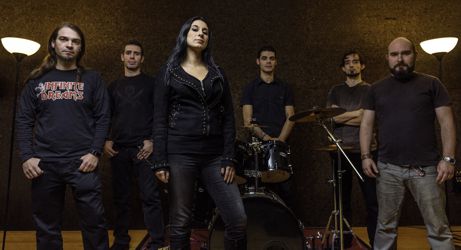 Glasya was founded by Hugo Esteves in 2016 with one main purpose, to create a musical project that would combine full orchestral arrangements with metal. He was already familiar with symphonic metal, but he wanted to do it in a more dramatic and cinematographic way. So later that year, Hugo invited Bruno Ramos, former drummer of My Deception, and they started writing together.
They needed to integrate the symphonic elements, so Hugo contacted Davon Van Dave, a Dutch-Portuguese keyboard player, who had been member of two well-known Portuguese bands, Urban Tales and Shadowsphere, that toured with bands like To/Die/For, Beseech, Rotting Christ and, with their albums being at the top of the metal charts in Portugal, and was the ideal person to reach out for.
With Davon Van Dave on board, the next step was to find the right voice. They heard about a Portuguese Nightwish tribute band, Nightdream, and after listening to their singer's voice and seeing her performance they immediately invited her: Eduarda Soeiro, being a classical performer and trained singer, right away became the face and voice of Glasya.
The band line-up was finally complete when Bruno Prates (b) and Manuel Pinto (g), former members of Enchantya, both being talented musicians and experienced performers, came on board.
With all the members having different influences, from classic to progressive, they were creating a very stylish and distinctive sound which offers symphonic, ethnic, slow emotional songs and powerful metal riffs, of course.
In 2018 the band released the song "Heaven's Demise" to the world in advance and it made quite a buzz among the press, creating great expectations on their upcoming debut album.
Later that year, at The Pentagon Audio Manufacturers Studios, Glasya started to record the album with Fernando Matias, who is a member of Sinistro, and has worked with bands like Moonspell, Bizarra Locomotiva, Gwydion. The upcoming album "Heaven's Demise" features four guests, the voices of Paulo Gonçalves (Rasgo), Flávio Lino (Deadlyforce and "The Voice" Portugal show contestant), Nélson Raposo (a film and series voice-over professional), and the beautiful violin of Inna Calori.
This year, Glasya releases their debut album through Pride & Joy Music and are scheduling their tour to play the main metal festivals.
releases on Pride & Joy Music:
Heaven's Demise (2019)