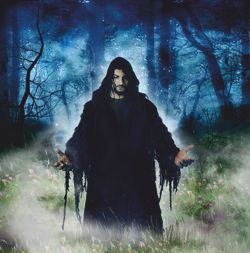 TALES OF THE OLD is a Symphonic Dark Ambient Power Metal band from Athens, Greece. The band was founded in 2010 by keyboard player Mike Tzanakis who is also the main composer and arranger of their music
His love for Symphonic Metal acts like Rhapsody, Nightwish, Therion, Haggard and such, led him to form a band and contribute to this genre with a more Dark version of his favorite music. The classical orchestrations are entwined with lyrics inspired by the Medieval Era, making the music of TALES OF THE OLD sound like a perfect soundtrack of the Dark Ages and the eternal battle of Good & Evil.

After releasing their first self-produced demo "Beware" in 2010, Tzanakis decided to make the next step and work with producer Bob Katsionis (ex - Firewind) who, in collaboration with Mike formed the sound of the band as it can be heard in their Ep '' The Passageway From Hell To Earth '' in 2012, their last act before even they start...
After eight hard struggling years, of unspeakable difficulties and obstacles (a period where actually TALES OF THE OLD did not exist), Tzanakis decided to reform the whole band and give birth to his dream. New members, new reality, a total new vision.
The band's first album "The Book Of Chaos" became reality during the past years! A project which would never take flesh and bones without the contribution and the hard work of the only possible co-producer for TALES OF THE OLD, the mastermind of Power Metal in Greece, Bob Katsionis!
Releases on Pride & Joy Music:
- The Book Of Chaos