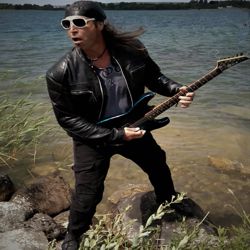 Steve Dalton is a guitarist, composer and multi-instrumentalist who was born in Sheffield, England and now is living in Sölvesborg in Southern Sweden.
In 2016, Steve Dalton released a first solo project called Steel City which consisted of demos featuring Alessandro Del Vecchio (Hardline, Edge Of Forever) on vocals.
Following on from Steel City, Steve Dalton wrote another set of songs which culminated in his debut album "Primitive".
All compositions were written by the artist himself who also played all instruments. The production was handled by Brazilian producer & vocalist Raphael Gazal who performed lead vocals on 7 out of the 9 tracks. The other 2 tracks feature English vocalist Ross Griggs and the late, great singer David Saylor.
This album offers a wide variety of styles, from classic melodic rock to power metal.
Releases on Pride & Joy Music:
- Primitive (2022)