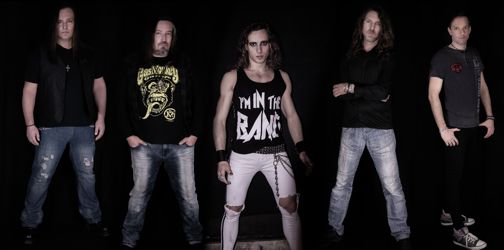 After the surprising success of their previous long player "Phase Three" DeVicious is back with their highly anticipated 4th Studio album "Black Heart"!eartHeart Having previously produced three albums in only three years, the international outfit based in Germany decided to use the pandemic enforced break wisely to take their time for the song writing and production and eventually ended up 137 days producing their most melodic, heaviest, most angry yet freshest and most unique album to date.

Being in Lockdown for 1,5 years and being forced to see the events going down around the world had a big impact on the lyrics and the music. DeVicious went back to the studio with one cardinal rule: don't copy yourself and no stylistic influence is off the table as long as it is fun to play and the melody is big enough.

Band leader & producer Alex Frey wanted to create a different atmosphere as on the previous albums. DeVicious have always defined themselves through big arena type melodies, which often comes with limitations of style and a particular lack of freedom. Black Heart" contains influences from traditional Hard Rock, Metal, Melodic Metal, Progressive Rock and even EDM sounds found their way into the production.

DeVicious will also release their own comic book series "Dollhouse DV" in 2022. The main characters of the comics are the models on the covers for the "Black Heart" album and its singles. The comics and artwork were created in entirety by the band. Three of the 12 songs are part of the official Soundtrack for the comic books…
"Black Heart" was produced by Alex Frey at Tower 13 Studios, Karlsruhe, mixed by Patrick Damiani at Tidalwave Studios Karlsdorf and mastered by Robin Schmidt at 24-96 Mastering Karlsruhe. Additional backing vocals by Michael Bormann (Michael Bormann's Jaded Hard) and Baol Bardot Bulsara (TNT).
Releases on Pride & Joy Music:
- Never Say Never (2018)
- Black Heart (2022)