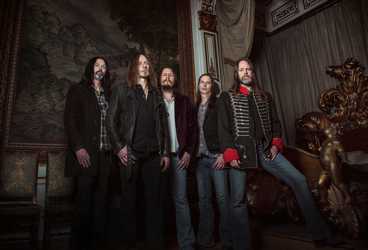 There's no escaping the motherlode - that eternal continuum of high drama and overheated ampstacks fit to raise the pulse and revivify the spirits. It's merely an unmistakable band chemistry that transforms base hard rock into gemstones, and this process is an increasingly rare phenomenon in the here and now. Luckily for Stockholm's alchemists LUGNET, they are one of the few.
Here in these steamrollering grooves and strident anthems is just the kind of swagger and bravado on which rock built its foundations in the '70s, yet without any of the cliches or the bloated self-importance. The roots of LUGNET may be visible to see, and the primal stomp of early Deep Purple, the apocalyptic sermonising of Black Sabbath and the cinematic majesty of Rainbow can easily be detected in the almighty sturm-und-drang. Yet this sound is delivered with charisma and maverick energy that effortlessly summons fresh vibrant life to a classic form.
The spark that lit LUGNET originates in 2009, when Fredrik Jansson-Punkka (also drummer of Angel Witch, and whose storied history includes stints in Witchcraft, Abramis Brama and Count Raven) met bassist Lennart 'Z' Zethzon at Sweden Rock Festival and the two first discussed getting together to jam. Three years later this finally came to fruition and guitarists Bonden Jansson and Mackan Holten joined the fray, alongside vocalist Roger Solander. An original plan to play '70s blues-rock with Swedish lyrics was ultimately warped and transformed into the monumental attack of 2016's self-titled debut proper on Pride & Joy Music.
The road to 'Nightwalker' saw changes afoot in the band, as Solander was replaced by the soulful pipes of Johan Fahlberg, who matches the swashbuckling charm of the Dio/Coverdale tradition with flourishes and personality all his own, whilst Bonden Jansson made way for wunderkind new guitarist Matti Norlin. This was a quantum leap on from the debut, replete with fiery interplay and incisive songwriting, from the slow Zeppelin-esque catharsis of 'Death Laughs At You' to the monstrous 'Stargazer'-esque grandeur of the mellotron-assisted finale 'Kill Us All'.
The aftermath saw Lugnet traverse from strength to strength, a notable highlight being packing out their tent at Sweden Rock Festival in 2018 even whilst a certain Birmingham-birthed Prince Of Darkness himself occupied the main stage across the field. Michael Linder (formerly of Troubled Horse) soon replaced Mackan Holten, and this line-up has subsequently amassed enough material for two albums, with all members throwing their hat into the ring songwriting-wise.
One of these 'Tales From The Great Beyond' has already been recorded at SolnaSound Recording with the dream-team of Simon Johansson (Wolf/ Soilwork) and Mike Wead (King Diamond/ Mercyful Fate) at the helm / mixed by Marcus Jidell (Avatarium/ Candlemass). Just like for the debut album, the front cover artwork was designed by Vance Kelly.
Whatever the future holds for Lugnet, only a fool would bet on the result not being a spectacular explosion of righteousness. This machine is firing on all cylinders, and rockers of all persuasions would be well advised to get on board or get out of the way.
"Tales From The Great Beyond" will be released on CD, LP and digitally on August 26th, 2022 via Pride & Joy Music.
Releases on Pride & Joy Music:
- Lugnet (2016)
- Nightwalker (2019)
- Tales From The Great Beyond (2022)