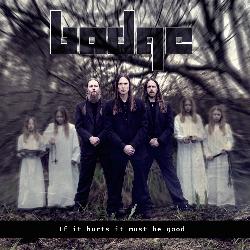 product: Badge - If It Hurts It Must Be Good
release date: 27.08.2017
territory: world
format: CD (digi-pack)
BADGE was put together by guitarist/singer Matti Norlin and drummer Fredrik Haake in 2002. Matti´s love for Pre War Blues and both their ambition to create new and exciting music is the drive.
Since then BADGE has released two albums "Kill Another Fuzz" in 2010 and "If I Could Love I'd Love This" in 2013. Their new album" If It Hurts It Must Be Good" will be available via Pride & Joy Music from July 28th, 2017.
With focus on energy, new paths and groove, but always to serve the song, BADGE has been breaking new ground ever since. Even though they started out with the old Blues in mind, they never thought about themselves as a Blues band. Rather a band that makes it's own mark with many influences.
In 2013 BADGE was picked to represent Sweden in the European Blues Challenge. In 2014 Matti Norlin and Fredrik Haake got a composer-scholarship from SKAP (Swedish Society of song-writers) for the music of BADGE, and the video for the track "If I Could Love This" reached over 135.000 views on YouTube.
With the new album "If It Hurts It Must Be Good", they have really come a long way as far as songwriting and getting a unique sound on print! The first advance single from the album, "Reap What You Sow", was picked by Swedish national radio as one of the top 30 songs of Rock in 2015!