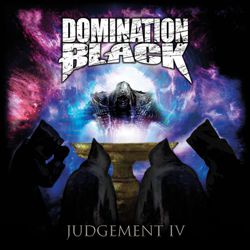 product: Domination Black - Judgement IV
release date: 17.07.2020
format: CD
territory: world
DOMINATION BLACK have come a long way since their formation in 2003. After releasing their first two albums in 2005 and 2006 with their first line-up they already had started steering into a more melodic direction with their MCD "The Haunting" in 2008. In 2009, however, original vocalist Kari Killgast left the band. About half a year later, DOMINATION BLACK found a new frontman in person of Matias Palm (Merging Flare, Heavy Metal Perse) and started recording their 3rd album "Dimension: Death" which was then released in 2012. It truly was a step into a new melodic sound and received raving reviews all over the place. Supporting the album, the band toured in Finland, Sweden, Romania and Russia.
The year 2014 saw DOMINATION BLACK releasing their new single "Master Of Deception" and visiting Estonia for the first time. Since then, there was a break for a couple of years until the band finally started demoing songs for their next full-length album. But this also meant that some changes needed to be made. Along came new drummer Ville Nissinen (formerly of ID: Exorcist) and guitarist Juuso Laitinen (Deathproof). The recordings were finally started in summer 2018 with the new energy. The group also played some gigs to introduce their new line-up to the audience.
Now, DOMINATION BLACK are ready to release their new album "Judgement IV". The band has also shot a music video for the song "Center Of The Universe" which will be released soon.
The record was produced by DOMINATION BLACK and mainly recorded at Äänilaitos Studio, Kotka by J-P Pusa and Juuso Elminen. Vocals were recorded at Sonic Pump Studios in Helsinki by Eero Kaukomies, and bass tracks & acoustic guitars and some lead guitars were recorded by Matias Palm in Helsinki. The mixing and mastering was handled by Saku Moilanen.