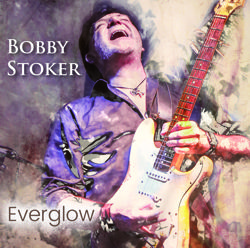 product: Bobby Stoker - Everglow (in co-operation with Vivid Music Productions)
release date: 20.05.2022
formats: CD & digitally (LP later in the year)
territory: world
Bobby Stoker (in German: Bobby Stöcker) took his first piano lessons at the age of 5. Born in Frankfurt am Main-Germany, he spent his entire childhood living abroad with his family. Having lived in Tunisia, South Korea and Egypt, he returned to Germany in 1981 at the age of 12.
He knew from incredibly early on that music was his life. At the age of 14 he devoted himself to the guitar, founded his first band and at the age of 16 began writing his own songs . After graduating from school, the artist took the plunge and has been in the music business ever since.
Since then, Stoker has been on stage with many greats such as Bobby Kimball (singer of TOTO), has organized and played at large events with his bands: he has played around 100 performances every year since the early 1990s.
In 1995 - 1996 Bobby took part in the musical "Tommy" by "The Who" in Offenbach-Germany and then went on and founded his own recording studio in Frankfurt am Main. There he made a name for himself as a guitarist in the studio scene, recording commercials, songs, and commissioned productions. Through the various producers and artists he worked for there, he also met the exceptional singer Melanie Thornton and in 1999 wrote songs for her debut solo album "Ready To Fly", which was released in 2001 and achieved gold status for 150,000 sales in 2002 and reached number 3 in the German album charts.
In 2002, he then founded the production company "Vivid Music Productions" (V.M.P) expanding his business beyond music production and song writing to include event planning. To this day, "Vivid Music Productions" has established itself as an artist pool with a broad community roster of musicians & event networks and organizes around 100 -120 events every year.
Since 2018, Bobby has been a member of Go Music, the touring band of ex Klaus Lage bassist Martin Engelien, and plays alongside other exceptional musicians such as Pitti Hecht (percussion - Scorpions), Cherry Gehring (keyboarder - Pur), Benne Neuner (drums - Glasperlenspiel) and Dirk Brand (drums – Axxis).
At the end of 2020, unable to do live shows during the Corona pandemic, Bobby founded his own label and started work on his solo album "Everglow", on which he took on the part of the lead vocals for the first time. After just over a year, together with the lyricist Nicole Göbel, 12 powerful rock songs were created, incorporating a heady mix of blues and soul. As a studio musician, he is accompanied by well-known and established names such as Willy Wagner (Fish/Marillion, Bobby Kimball,
Tony Carey/Rainbow) on bass and singers such as Oliver Hartmann and Ina Morgan from Avantasia on backing vocals. The album was mixed & mastered, in early 2022 by Tommy Newton (producer of Helloween "Keeper Of The Seven Keys Part 1&2", U.F.O, Ark, VoodooCult, Guano Apes and Molly Hatchett) The album "Everglow" will be released on May 20th 2022, via V.M.P. in collaboration with Pride & Joy Music.