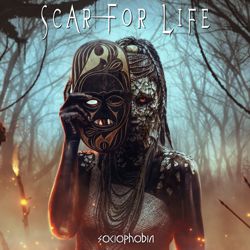 product: Scar For Life - Sociophobia
release date: 22.07.2022
formats: CD & digital
territory: world
SCAR FOR LIFE is back with their 5th album SOCIOPHOBIA, bearing 12 new tracks and some additions to Alex Santos' and Rob Mancini's past adventure, the 2014 album "World's Entwined".
Joining the line-up for the new album to reinforce SCAR FOR LIFE's ambitions are Marc Lynn (GOTTHARD) on bass, and guest musicians Tobbe Jonsson (THE LIGHTBRINGER OF SWEDEN) on drums and Darrel Treece-Birch (TEN) on keyboards.
After an almost six years break, the time was given to work on SOCIOPHOBIA reflecting the controversy of the actual world situation in their energy, songs and especially in their lyrics.

SO FAR:
Guitarist Alexandre Santos founded the Portuguese heavy rock band SCAR FOR LIFE in 2008. Creating songs from the most vitriolic, groovy assaults to soft acoustic pieces, and with a penchant for memorable hooks and vocal melodies, SCAR FOR LIFE embraced all the influences that make it emotional and powerful.
The debut album, "Scar For Life", was released in July 2008, recorded at Ultra SoundSystem studio facilities, with Daniel Cardoso (Anathema) as mixer and drummer. The reception for the debut album was very positive, called passionate and 'honest [with] a clear vision of their sound and identity' (Metal Invader) and filled with 'ace musicianship, and infectious energy' (Metal Imperium).
"It All Fades Away" recorded in May 2010 was the band's second release and the media reaction surpassed the first album. Considered Album of the Year by Brazilian Collector's Room webzine, one of the top ten Portuguese metal albums of the year by several webzines and 'deserving of any praise they get because their music speaks for itself' by My Global Mind.
The third "3 Minute Silence" was by far the most ambitious work to date. It was released in September 2012 and was exploring a heavier and more melodic side, the album features guests such as violinist Anne Vitorino d'Almeida, Finnish singer Kari Vahakuopus (Catamenia) and British keyboardist Ged Ryland.
2014 was one of some major changes in the line-up. Singer Rob Mancini (BONEYARD DOG) and Teen Asty (guitar, bass) joined the band to record the new album titled "Worlds Entwined". The epic work, mixed by Swedish producer Martin Kronlund, featured special guests such as Vinny Appice (Black Sabbath/Dio), Mikael Carlsson and Neil Fraser