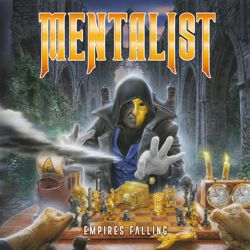 product: Mentalist - Empires Falling
release date: 16.09.2022
formats: CD, LP, Box & digital
territory: world excl. Japan
MENTALIST, the Saarbrücken Germany based Melodic Metal group, like maybe no other recently new band has managed to left big, positive marks in the Power Metal scene!
After the big success of the debut album "Freedom Of Speech" (2020), the German/ Swedish foursome consisting of Peter Moog (guitars), Thomen Stauch (dr., ex BLIND GUARDIAN), Kai Stringer (guitars) and Swedish exceptional singer Rob Lundgren just slighty scraped past of the German official media control album charts with their 2021 effort "A Journey Into The Unknown" (trend charts: #63)! On iTunes, MENTALIST reached an impressive #2 as highest position at the Metal charts, and the fans of the Facebook group "power Metal" with 110K followers voted "A Journey Into The Unknown" as best Power Metal release of the year 2021!
"Empires Falling", the third full length by the German/Swedish outfit, now continues where its predecessors have stopped! Oliver Palotai (keys, Kamelot) und Mike LePond (b., Symphony X) again joined MENTALIST as energetic guests on keyboards and bass. On this release, outstanding musicianship teams up with fabulous melodies and fine, subtle arrangements as parts of epic, stirring and enery-driven songs which reinforce the high quality of MENTALIST!
The front cover artwork again was designed by Andreas Marschall (u.a. Blind Guardian, Running Wild), the mix & the mastering once more was handled by Jacob Hansen (Volbeat, Amaranthe, Pretty Maids etc.).
"Empires Falling" will be released on September 16th, 2022 on CD, digital, and as golden-coloured 2-LP. A tour for autumn 2022 is currently in preparation.