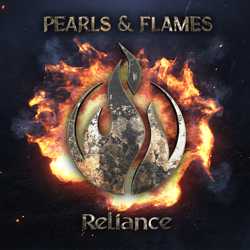 product: Pearls & Flames - Reliance
release date: 07.10.2022
formats: CD & digital
territory: world
Pearls & Flames consists of a couple of friends from Sundsvall and Söderhamn who have been active in the Melodic Rock scene since decades. Markus Nordenberg is the main-man and driving force behind this AOR and Westcoast project. He has been the lead singer in an early version of Swedish hard rock masters Lion´s Share and continued as the lead singer and one of the songwriters in Big Price before moving on as one of the members of Coastland Ride that have released three much appreciated albums in the vein of AOR and Westcoast.
Nordenberg is joined by guitarist Sven Larsson (Street Talk, Coastland Ride, Groundbreaker, Fergie Frederiksen and many more) who also has two solo albums under his belt where he was the main songwriter delivering songs in an exciting blend of AOR, Westcoast and Fusion. Tomas Coox, who is a much-appreciated session keyboardist playing live with among others Coastland Ride Live band and Roulette SWE, completes the line-up.
In 2019 when Coastland Ride made the decision to stop making music together it was a natural step for Markus to ask Tomas and Sven Larsson to join in as they both were in the Coastland Ride live band. It also felt natural to pick up the band name Pearls & Flames again. The guys started up recording some songs but due to different circumstances it nearly stopped there. During the Covid Pandemic Markus got in touch with well-known Swedish guitarist, songwriter and producer Tommy Denander (Prisoner, Radioactive, Alice Cooper, Paul Stanley, Tina Arena, House of Lords and many more). The two songwriters connected, and the recording process really got a boost. Since then, a very creative collaboration started which now has resulted in "Reliance".
"Reliance" is the debut album of Pearls & Flames, and the album title is a reminder of that all the things in the world are linked together. It´s all about different kind of relations and that we all need each other in different ways. The songs were recorded at various studios in Sweden and produced by Pearls & Flames, Tommy Denander and Anders Rybank (Can We Find The Love, Temple Of Lust, It Never Took Away Your Smile and (I Don't Know Who I Am) Anymore); Wires And Frames was produced by Sven Larsson and all other songs by Pearls & Flames and Tommy Denander. Artwork by Tomas Coox, mixed by Tommy Denander at Holliewood studios and mastered by Mike Lind at Masterplant.