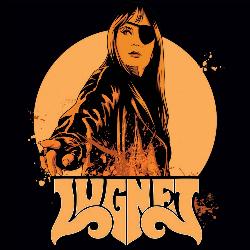 product: Lugnet - Lugnet
release date: 15.01.2016
release territory: Europe
formats: CD, vinyl & download
Lugnet is a Swedish band with the tough, gritty sounds of '70s hard rock that features well rounded musicians with touring and recording experience.
The guitar driven attack from Mackan and Bonden delivers crushing riffs and classic rock melodies, that rides on the steady and driving rhythm section of extraordinary bass player Z and drummer Jansson (ex. Witchcraft). The lead singer Roger (Ken Hensley) fronts Lugnet with a on-stage swagger, passion & voice reminiscent of the late Ray Gillen (Badlands).
Lugnet launched "All The Way" a strictly limited edition cd single (cover art by Vance Kelly) along with an exclusive grindhouse music video featuring Quentin Tarantino´s favorite Swedish actress Christina Lindberg (Thriller: They Call Her One Eye) in the lead role. The video was number one on the music video chart "musikvideotoppen.se".
They also launched an exclusive limited edition "All The Way" four-track vinyl Ep with cover art by Vance Kelly. The track was frequently played in national radio P3 Rock.
In autumn 2015 a new video will be released and again with Christina Lindberg in the lead role before the self-titled debut album will be released by German label Pride & Joy Music on January 15th, 2016 on CD and on vinyl a few weeks later with distribution via Edel. "Lugnet" was produced in various studios in Sweden by Lugnet, mixed by Lars Chriss (Lion's Share) and mastered by Micke Lind at Masterplant, Stockholm.
The band name Lugnet means tranquility (the calm) in Swedish and is also the name of the area where the band rehearses their music. But make no mistake this band is out to kill...
Line-up: Vocals: Roger Solander; ; Guitars: Marcus "Mackan" Holten and Danne "Bonden" Jansson; Bass: Lennart "Z" Zethzon; Drums: Fredrik Jansson; Special guest on Hammond Organ: Bruno Erminero
https://www.facebook.com/lugnetrock // lugnetrock.com