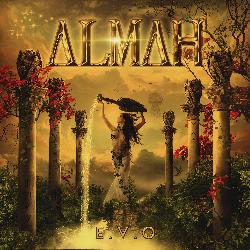 product: AlmaH- E.V.O
release date: 23.09.2016
release territory: Europe
format: CD
ALMAH, led by former Angra singer Edu Falaschi, since the very beginning has been in the focus of the metal head's attention world-wide as one of the most significant representatives on the Brazilian rock/metal stage. Edu Falaschi, Almah's leader, composer and singer, has sold more than one million albums in his 25 year spinning career.
ALMAH went on a lot of national and international tours and performed at some of the most important events in the world, like the world famous Rock In Rio Festival 2013. In the same year the band played an European co-headlining tour performing 18 shows in Italy, Spain, Germany, France and many more countries. In 2015 the Brazilians took part in ProgPower Festival in the USA and many others important festivals and shows around the globe; more than 100 shows during the band's history in total.
Since their founding in 2006, the band already has released four full-length albums world-wide ('Almah', 'Fragile Equality', 'Motion' and 'Unfold'). E.V.O is the 5th release in their career.This is a conceptual album which is based on the evolution of the people's mind and soul during the new age that the world is about to live in - called Age Of Aquarius. The author, Edu Falaschi, visited different subjects that are connected with the main concept, creating a very positive lyric and album atmosphere.
Musically, E.V.O brings a fresh and powerful album, with the modern and heavy Almah touch but also a direct connection to the Angra album "Rebirth". Angra's album (The first Angra's album with Edu's voice). In E.V.O the vocal lines are very powerful, classical and it has a higher pitch comparing with the previous Almah releases. It's very melodic, clean and more into the bel canto style. Like the old times of Edu Falaschi's vocals.The compositions are a pleasant travel between Modern Power Metal, Contemporary Rock and Prog Metal.
The artwork shows all elements which represent the main concept - especially the woman in the center who visualizes the Aquarius constellation, and also brings - for the first time - the band's logo in a golden color and a very bright and shiny yellow cover, that fits perfectly with the positive vibration of the record.