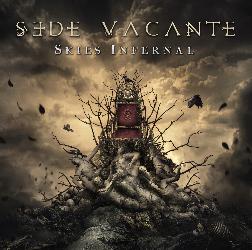 product: Sede Vacante - Skies Infernal
release date: 18.11.2016
format: CD & download
release territory: world
Sede Vacante is a heavy Goth Metal duo from Greece formed in 2013 which consists of Michael Tiko (male vocals, guitars and synths) and Constantine Alex (female vocals). Both members are highly educated in music - with Michael Tiko having studied at Berklee College of Music, Boston, USA (Master in Guitar Performance) and Constantine Alex having studied in The National Academy of Music "Prof. Pantcho Vladigerov", Sofia, Bulgaria.
Both members have got an extensive live experience. Tiko was the lead guitarist of the Goth/Power metal band "Rage of Romance" (feat. Vicky Psarakis on vocals, The Agonist) and also played as a session guitarist in many local bands, even in the Jazz genre. Alex has been singing for more than 10 years and been a session vocalist in numerous swing, jazz and rock bands.
"Skies Infernal" is their debut album which will be released on Pride & Joy Music on November 18th, 2016. The logo and the band's symbol were made by Gustavo Sazes (Arch Enemy, Firewind etc.), and the record was mixed by drummer and sound engineer Fotis Benardo (ex- Septic Flesh, Six4Nine) and mastered by the Jens Bogren (Fascination Street Studios) in Örebro, Sweden.