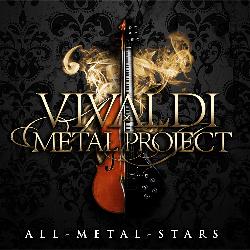 product: The Four Seasons
territory: world (excl. Japan)
release date CD & download: July 22nd, 2016
release date vinyl: September 9th, 2016
The project is a symphonic-metal opera based on Antonio Vivaldi's Baroque masterwork "The Four Seasons", featuring more than 130 amazing metal and classical artists, orchestra, a string quartet and three choirs from all over the world. The album features 14 tracks - all the movements from Antonio Vivaldi's original score plus two original new songs written by MISTHERIA. The impressive roster of artists probably makes this titanic album the biggest all-star project ever!
Back in 2013, MISTHERIA started thinking about making a metal version of "The Four Seasons", a masterpiece that he loved and kept listening to since his childhood. MISTHERIA started to play and record all the movements on the piano but then felt that a parallel symphonic-metal version would have been the perfect continuation. Therefore, he recorded and uploaded a short trailer on the web to start engaging musicians. A few days later, Italian bassist and composer Alberto Rigoni (solo artist, TwinSpirits, Kim Bingham, The Italians, BADASS), who had already collaborated with Mistheria by recording bass on his previous solo album "Dragon Fire", learned about the project and contacted MISTHERIA offering his support to work on the project as co-producer. Also, MISTHERIA made the "innovative" choice - never done so far - to add lyrics and singers to "The Four Seasons" which, as composed by Vivaldi, is an instrumental work. For this important task, he invited Douglas R. Docker who perfectly translated the producer's concept into brilliant lyrics. Additional lyrics were written by Mistheria, Rob Rock and Lance King.
A cast of 10 awesome arrangers joined MISTHERIA creating epic and memorable music, combining a standard metal band lineup with strings, orchestra and choir: Douglas R. Docker, Francesco Dall'O', Frank Caruso, Gabriels, Keiko Kumagai, Nicolas Waldo, Pawel Penksa, Tomas Varnagiris, Yannis Androulakakis and Zhivko Koev.
The cast furthermore includes performances by Mark Boals (Malmsteen, Royal Hunt), Fabio Lione (Rhapsody of Fire, Angra), Edu Falaschi (Almah), Rob Rock (Impellitteri), Mike Lepond (SymhonyX), Dani Löble (Helloween), Ruud Jolie (Within Temptation), Mark Cross (Firewind, Scorpions), Steve Di Giorgio (Testament), Rolf Pilve (Stratovarius), Victor Smolski (Rage, Almanac), Ruben Israel (Delain), John Macaluso (ARK), Marco Sfogli (James Labrie), Chris Caffery (Savatage), Mark Wood (Trans Siberian Orchestra), Dirk Verbeuren (Soilwork), Atma Anur (Tony MacAlpine), Vitalij Kuprij, Anna Portalupi (Tarja Turunen), Sean Tibbetts (Kamelot), Martijn Peters (Stream of Passion) and many more.
It took more than 2 years of intensive non-stop hard work to get the album done. Mixed and mastered by Ivan Moni Bidin at "Artesonika" recording studio in Italy and assisted by Fabio D'Amore, the album is a full 74 minutes of intense, passionate, fascinating, powerful and majestic experience!
Production, ideation, concept and artistic direction by MISTHERIA. Co-produced by Alberto Rigoni.
www.vivaldimetalproject.com / www.mistheria.com / www.albertorigoni.net
product: Voodoma - Gotland
release date: 22.09.2017
release territory: world
format: CD
VOODOMA are a Dark Rock band with Gothic and Metal influences from Düsseldorf, Germany. To date, the band has released two regular albums and some self-produced records. In addition, the group also has played numerous gigs, including major festivals such as "Wacken Open Air", "Ragnaröck Festival" and "Castle Rock".
Three years after the release of the "Secret Circle" CD, the new album "Gotland" will now hit the stores on September 22nd, 2017 via Pride & Joy Music. The band's sound still can be described as melodic, catchy Dark Rock which offers a wide range of elements and songs which will appeal to Gothic and Metal fans alike.
Once again, VOODOMA have invited a couple of guest musicians including Maike Flüshöh (Mayze), Ollie Bölke (Seelensturm), and Bernemann from the German Thrash Metal legend Sodom. The release stands up with a powerful sound – also due the amazing mastering by multi-platinum award-winning mastering studio Monoposto.