product: Black Majesty - Children Of The Abyss
release date: 21.09.2018
territory: world
formats: CD, LP and digital
Faster and louder. Australia's Black Majesty are back with their seventh album 'Children Of the Abyss' on Pride & Joy Music. Vocalist John 'Gio' Cavaliere's classy and moody vocals wail over the first single 'Dragons Unite' backed by the thunderous rhythm section of Evan Harris on bass and Ben Wignall on drums. Guitar solos galore, the twin attack of Hanny Mohamed and Stevie Janevski team up for lots of guitar wizardry, reminiscent of their heroes Judas Priest, Iron Maiden, Helloween & Queensryche.
Produced by Roland Grapow (Masterplan), the new album "Children of the Abyss" has a world class production with songs like 'Hideaway', 'Something's Going On' and the title track that are sure to become fan favorites in the live setting.
With countless live shows under their belt, Black Majesty have toured with some of the most well known heavy metal bands on the planet whilst having played at the world's best Heavy Metal festivals such as Wacken Open Air, Metal Universe, Screamfest & Headbangers Open Air.
Look no further than the mega album art by Thomas Ewerhard, "Children Of the Abyss" is one of the finest power metal albums of 2018.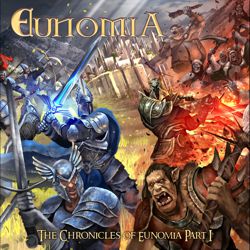 product: Eunomia - The Chronicles Of Eunomia Part 1
release date: 24.08.2018
territory: world
formats: CD & digital
Eunomia is a Power Metal band from Norway formed in 2011 by Peter Danielsen. The group released a demo EP called "Crystal Sword" in 2013, and started writing and recording the debut album "Chronicles Of Eunomia Part 1" in 2016. After two years in the making, the record is finally ready to be unleashed.
It is set place in the fantasy world of Valley Doom and Eunomia created by the two brothers Marius and Peter Danielsen. The band invited several guests to help tell the story of Eunomia. With musicians such as Alessandro Conti from Luca Turilli's Rhapsody and Twilight Force, Henning Basse from Firewind and Victor Smolski (Almanac, ex Rage), they have created an epic and cinematic concept album. The full cast is found in the attached pdf. "Chronicles Of Eunomia Part 1" was produced by the Danielsen brothers in Ålesund, Norway.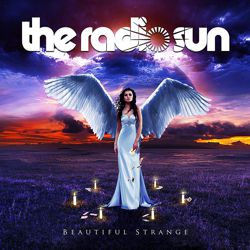 product: The Radio Sun - Beautiful Strange
release date: 24.08.2018
territory: Europe
formats: CD & download
Australian melodic rockers The Radio Sun have done it again with their new album 'Beautiful Strange'! With the band's debut album released in 2014, this will be the fifth album in five years!
The Radio Sun have worked very hard to build up their following by touring all over the world in support of each and every release. Performances in Japan, Europe, United States, United Kingdom and their home country Australia has showed the band's ability to rise. The Radio Sun are the first band to ever play Hard Rock Hell AOR Fest U.K four times in a row, whilst also having played at Melodic Rock Fest on four different occasions.
The four piece group is fronted by the charismatic Jason Old on lead vocals, guitar slinger Stevie Janevski, bassist Anthony Wong & drummer Gilbert Annese. With all four members singing backing vocals, the boys delve into layered vocal harmonies reminiscent of the classics - Queen, The Sweet & Def Leppard. This is not to say that they don't have their own sound. The Radio Sun have great unique hooks in their songs. The new album is another progression for the band, with songs like 'Hold On Tight' and 'Miss Wonderful' grooving like never before. 'As Long As You Want Me' and 'Five Years After' are both melodic bliss, boosted by a great production by Paul Laine (solo, The Defiants) and mastering by Bruno Ravel (Danger Danger, The Defiants).
The Radio Sun is feel good music and sounds just as strong acoustic or electric. Last year the boys performed acoustic shows in Japan and this year saw The Radio Sun invited to play the prestigious Sweden Rock Festival.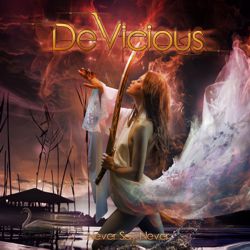 product: DeVicious - Never Say Never
release date: 24.08.2018
territory: world
formats: CD & digital
DeVicious are an international Hard Rock band with a home base in Germany. The band has so far released five video clips, and "Never Say Never" now marks their first physical release which was set for a release to August 24th, 2018 on Pride & Joy Music.
Founded in 2016 in Karlsruhe, Germany by six long time musician friends who in the past have performed and recorded with Andi Deris Band, Chryztyne, Umbra Et Imgao and Zar, the group has the intention to play 80's type of Hard Rock.
The group consists of Alex Frey (bass, song-writing, production), Radivoj Petrovic (lead guitar), Gisbert Royder (rhythm guitar), Denis Kunz (keyboards), Lars Nippa (drums), and Serbian singer Zoran Sandorov aka Mister Sanders. After the release of the first videos for the tracks ""Everything" and "Penthouse Floor" in early 2018, the band toured in Germany together with the bands Xtasy and Ammunition in March 2018. In December 2018, DeVicious will again hit the road as support for none other than US Hard Rock legends Hardline. Album No.2 already is in the making.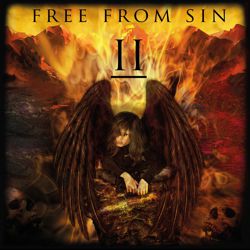 product: Free From Sin - II
release date: 20.07.2018
release territory: Europe
formats: CD & digital
Free From Sin's self-titled debut album was released in mid 2015. After good sales, reviews and press feedback, the Swedish based group is now back with a vengeance and with a new record called "Free From Sin II"!
The band has added new band members to the line-up which resulted in a much darker & heavier sounding release in comparison to the first one. Free From Sin is again going back to basics, with a classical 5 piece line-up, with hammond organ, guitar, bass & drums together with aggressively vivid vocals and now is featuring Per Englund (ex-Blacksmith, vocals), Patrik Lämborg (guitars), Fredrik Strömberg (keyboards), Ulf Kronsell (bass) and Paul Ekdahl (drums).
There is a clear message and thought throughout the lyrics, this in combination with massive guitar riffs will for sure capture the listener's attention and mind...….cast the second stone!
With strong influences from Deep Purple, Judas Priest, Rainbow, Iron Maiden etc., Free From Sin is again merging these ingredients in riff- based songs together with a modern sound. "II" was again produced by Mankan Sedenberg with Free From Sin at Pama Studios, Sweden.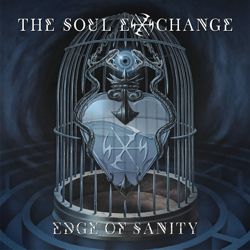 product: The Soul Exchange - Edge Of Sanity
release date: 15.06.2018
territory: world
formats: CD & digital
The Soul Exchange is a band that mixes Classic Hard Rock with a contemporary Metal sound. They have taken influences from the 70's Hard Rock scene and created their own unique style of Metal infused, guitar driven hard rock, with great attention to the melodies and grand vocal arrangements. The lyrics deals mostly with subjects from the darker side of life such as insanity and evil in various forms.
The Soul Exchange found their formula and sound with the line-up consisting of Daniel John (vocals & keyboards), Hans von Bell (guitars), Thomas von Bell (guitars), Patrik Ekelöf (bass), and Benny White (drums). Although mostly unknown to the wide public, all band members have long careers in the music business. They released the critically and likewise publicly acclaimed debut album "Bloodbound" in March 2017 on the Mervilton Records label and the five Track EP "Vow Of Seth" in December 2017 on the Pride & Joy Music label.
In the fall of 2017, the Swedish group began working on their 2nd full length release titled "Edge Of Sanity" that is penned for release on the Pride & Joy Music label on June 15th, 2018. It's not a theme album per say, but lyrically all the songs have a common theme with lyrics that are metaphorical and treats the dark side of the human psyche. Musically the record is hard hitting and dark themed but not hard listening. Sonically "Edge Of Sanity" is harder and darker than anything The Soul Exchange have produced in the past, but the trademark vocal arrangements and choruses are predominant, and grander than ever before.
In contradiction to the 2016 debut "Bloodbound", that was mainly written by Hans & Thomas von Bell with lyricist Jens Joel Evaldsson over a two year time span, all nine songs on the new effort were written in a very condensed period of time and a true team effort by Hans & Thomas von Bell, Daniel John and producer Magnus Ljungqvist with Daniel John taking over the full responsibility as the band's lyricist. This has resulted in a much more coherent effort compared to the debut.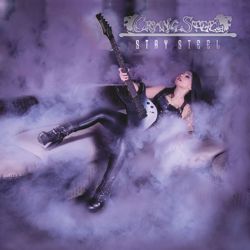 product: Crying Steel - Stay Steel
release date: 15.06.2018
territory: world
formats: CD & digital
Crying Steel were founded in Bologna in 1982 from the ashes of the Hard Rock group WURDALAK. The founding members were Alberto Simonini (guitar) and Angelo Franchini (bass), who were joined by Luke Bonzagni (vocals) and in 1983, and after various line-up changes, by Luca Ferri (drums) and Franco Grandchildren (guitar). After a couple of demos, the Italians released their debut EP "Crying Steel" in 1985.
During the next two years the group intensified their live activities throughout Italy including a performance at Heavy Metal Festival in Bologna in June 1986 with Motörhead and Twisted Sister. After more demo and promo releases, the debut LP "On The Prowl" came out in 1987. This was a revolutionary album - at least for the Italian New Wave of Heavy Metal (NWOIHM), as it was the first to be also released on CD. In September 1988 the line-up changed again. Simonini and Bonzagni left Crying Steel and were replaced by Michele Vanni and Lisa Bisognin. In March of 1990 Michele Vanni also left when Francesco Di Nicola joined the group. In the same year, the band performed some gigs in Russia with Massimiliano Merlini as new singer in the line-up. Some more gigs followed in 1994 and 2003 - reunions which saw Crying Steel perform with the classic line-up (Simonini / Grandchildren / Bonzagni / Franchini / Ferri). In 2006, Crying Steel were signed by Italian label My Graveyards Production and began to record the new record "The Steel Is Back" which was released in 2007. Shortly after the album came out, Simonini unfortunately decided to leave the group. Max Magagni stepped in for the release party. Luca Bonzagni then had to leave the band due to differences with the other members until Crying Steel announced their new singer Stephen Palmonari in November 2009. Another series of concerts followed and included a performance at the British Fest. The follow-up album, "Time Stands Steel", was released in April 2013. In June 2013, Crying Steel parted ways with singer Palmonari who was immediately replaced with Ramon Sonato and Luigi Frati. Before the concert held in Reno in February 2014, Friars Luigi replaced Max Magagni who had to leave due to increasing work commitments. After this line-up change, the group intensified it's touring schedule once more and also represented Italy at Wacken Open Air's 25th Anniversary. In 2015, they played the Greek festival "Metal Rites" in Athens with Jag Panzer and signed a record deal with local label No Remorse Records before playing with former Iron Maiden singer Blaze Bayley in 2015. In 2016, Crying Steel celebrated their 30th Anniversary with a live show at Lokomotiv Club in Bologna with their friends Rain, Markonee and later on supported the American band Riot. A special box set containing a reprint of "On The Prowl" + a DVD with the performance at Wacken Open Air 2014 was released in 2016, and Mirko Bacchilega became the new singer. In 2016, Crying Steel announced that the coming studio release will feature Tony Mills (Shy, TNT), one of the greatest voices in the international rock scene, on vocals. Crying Steel also played Paris Metal Fest in 2017.
Crying Steel during the recent years have also shared the stage as well with Twisted Sister, Motörhead, Grim Reaper, Demon, Diamond Head, Girlschool, Angel Witch, Gotthard, Praying Mmantis, Vanadium, Raven, Satan, Killer, Jag Panzer, Behemoth, Razor, Riot, Blaze Bayley, Decapitated, Van Canto, Hammerfall, Hatebreed, Black Star Riders, Carcass, Children Of Bodom, Hellyeah, King Diamond, Arch Enemy, Amon Amarth, Kreator, Accept, Megadeth, Saxon, Skid Row, Slayer, Sodom, Steel Panther, Wasp and more…