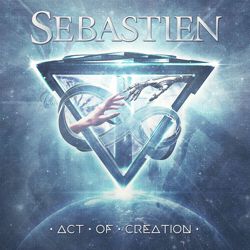 product: Sebastien - Act Of Creation
release date: 23.02.207
territory: world
format: CD & digital
SEBASTIEN is one of the very few Czech bands which are also known abroad. Their debut album, "Tears Of White Roses" (2010), was released in Europe and Japan, the second CD, "Dark Chambers Of Déjà Vu" (2015) world-wide.
In 2012, SEBASTIEN went on tour in Europe together with CIRCLE II CIRCLE and one year later with MASTERPLAN. Additionally to this, the group opened for Rock icon ALICE COOPER in Brno (CZ) in 2013 and has played on Masters Of Rock (CZ) festival's main stage three times so far, at Metalfest (CZ), and Rock Tower Festival (PL) plus at the legendary Wacken Open Air (D) in 2016.
The first two albums were produced by German guitarist Roland Grapow (ex-HELLOWEEN, MASTERPLAN). On these records, SEBASTIEN also had guests from Black Sabbath, Rainbow, Rhapsody Of Fire, Avantasia, Firewind, Jorn, Cradle Of Filth, Sirenia, and Savatage.
The third release, "Act Of Creation", is now going to be unleashed worldwide via Pride & Joy Music on 23rd February 2018 and features Apollo Papathanasio (SPIRITUAL BEGGARS, ex-FIREWIND) as guest on vocals on the track "Die In Me", Mayo Petranin (SIGNUM REGIS) on vocals on "Winner", Kristýna Dostálová as singer on "No Destination" and "Promises" plus Vendula Skalová on backing vocals.
The songs were written and arranged by George Rain, Petri Kallio & Andy Mons, except "Hero" which was arranged by Rain, Mons, Kallio & Pavel Dvorak. "Act Of Creation" was produced by George Rain, Petri Kallio and Andy Mons, and recorded by Petri Kallio, mixed and mastered by Andy Mons at DARK CHAMBER SOUNDS studios from November 2016 to November 2017. The cover artwork was designed by Hans Trasid and Dis-Art Design.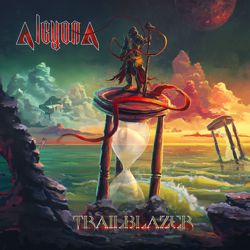 product: Alcyona - Trailblazer
release date: 23.02.2018
territory: world
format: CD & digital
ALCYONA started in the year of 2012 and at the time consisted of only two musicians, Natalia Malei (keyboards) and Evgeniy Malei (guitars), from Minsk, Belarus. The group is the brainchild of Natalia Malei who also is the lyricist and main composer in this band. Malei first got in touch with Metal music while studying at a music school with the intention to write both lyrical songs with simple melodies and delightful arrangements for different instruments which is tailor made for Metal music. In November 2012, Evgeniy Malei, the second composer, guitarist and second vocalist, joined ALCYONA and brought the light, bright colors into the songs and the music became alive. Olga Terentyeva joined the duo in April 2016 as lead vocalist. The line-up finally was completed in August 2017 by drummer Anatoly Afanasenok and the Evgeniy 's close friend Nikolai Sidorevich on guitars.
Their first album release is now ready and called "Trailblazer". All songs were composed by Natalia Malei except for "The Kings of Show", "DreamRoad", "Моя Весна" which were written by Evgeniy Malei. Natalia wrote all lyrics together with Zhanna Chernetskaya. "Trailblazer" was produced by Evgeniy & Natalia Malei and recorded at ALCYONA Records, Minsk (Belarus) between April 2016 – February 2017, and mixed & mastered in Georgia by Max Forneus in May 2017. Artwork and layout were designed by Artem Artyakov & Anna Avaeva. The music video & single for the track "Еnchantment" which was directed by Vlad Skripchenko & Anton Baidyonok will be released in advance in December 1st, 2017.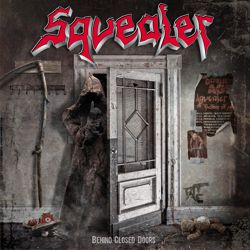 product: Squealer - Behind Closed Doors
release date: 23.02.2018
territory: world
format: CD & download
Originally founded in the 1980's as classic Power Metal band, SQUEALER from the north of Hessia, Germany so far have had a busy band history. Today, the music by SQUEALER is a melting pot of several Metal elements which has enhanced through the years, i.e. an unique and diversified mix of Melodic Thrash Metal (which nowadays builds the foundation of each new SQUEALER song), groovy Rock stuff and, of course, the still obvious Heavy, Speed & Power Metal influences.
After the release of eight studio albums and lot of career highlights such as performances at the big Summer festivals, support shows with Motörhead, Rage, Blind Guardian and many more, five-figured albums sales for the album Under The Cross followed by a tour with their big heroes Judas Priest the group faced a lot of deep hits as well. One of the biggest defeats was the accidental death of singer and founding member Andreas "Henner" Allendörfer in the year of 2005. After the angry and very aggressive album Confrontation Street (2006) which featured Gus Chambers (Grip Inc.) on vocals, SQUEALER just found back to their common theme in the year to 2008 with the release of the CD The Circle Shuts. Numerous changes in the line-up made it almost impossible to continue to work in a professional manner. So, SQUEALER was put on hold for a while to take their time to search for a suitable line-up and only to continue occasionally with playing music in a smaller set-up.
Now, in late 2017, the band is back full force and with a powerful line-up which just was completed last year. SQUEALER now consist of Lars Döring (guitars), Michael Schiel (guitars), Sebastian Werner (vocals) and Manuel Roth (bass). The band has started to perform live again in 2016 and since then played several gigs and festivals (incl. 70000 Tons Of Metal) with the new and convincing band constitution. The live shows were directly followed by the recordings for the new album Behind Closed Doors. The new record impressively proves the strength of the new SQUEALER line-up. To complete the makeover, a new, highly professional team was added for the album production. Ito Grabosch took care of the recordings while Roland Grapow (Helloween/ Masterplan) handled the mixing and Mika Jussila (Nightwish, Lordi, Him, Children Of Bodom) the mastering. The artwork was designed by Thomas Ewerhard (Amon Amarth, Avantasia).
In late 2017, SQUEALER also has revealed the name of their new record label. Out of several offers, the band decided to go with Pride & Joy Music who will now release Behind Closed Doors on February 23rd, 2018. In advance, three singles will be published from late November. SQUEALER also has found a new partner to work with at the booking sector; Nauntown Music are currently working on more dates and festivals for 2018 & 2019.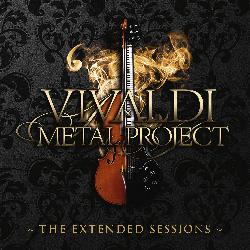 product: Vivaldi Metal Project - The Extended Sessions EP
release date: 19.01.2018
territory: world
format: CD & digital
"The Extended Sessions" EP is the follow-up release to the extremely successful "The Four Seasons" album release by VIVALDI METAL PROJECT which hit the shelves in Summer 2016 on CD & double vinyl on Pride & Joy Music. The album up to today is one of the label's best sellers and now being continued with this valuable EP which will shorten the waiting time for the fans until the next full album!
Created and produced by Mistheria, VIVALDI METAL PROJECT are currently working on bringing the project onto stage with full band, orchestra and choir. During Summer/Autumn 2017, the band played a series of unplugged shows in Finland, in Bulgaria and in Italy in advance which resulted in the idea to put some of the extraordinary material onto this EP! "The Extended Sessions" includes four tracks which are centered around the group's performance at "Kitee International Music And Art Festival" which took place in Kitee (Finland) on July 13th, 2017. Arranged by Mistheria, the performance at the "Sleeping Sun" event featured Mistheria himself on piano and Tsena Stefanova on vocals. An epic video for this track will also be available soon online.
"The Extended Sessions" EP opens with a newly recorded unplugged studio version of "The Four Seasons" medley which again was arranged by Mistheria who performed on this track on piano and was joined by vocalists Tsena Stefanova, Angel Wolf-Black and Dimitar Belchev plus Abigail Stahlschmidt on violin. Additionally to this track, the song "Vita" - one of the album's single - is featured twice on the EP: once as exclusive "original vocal session" as recorded by Dimitar Belchev on the first demo version of this song which impressed Mistheria at the first listening, and once as instrumental "karaoke". Both versions are delivered with a brand new mix by Ivan Moni Bidin at Artesonika studios.
"Vita" was originally released with different singers on last year's album. The track was arranged by Zhivko Koev and the line-up here includes Dimitar Belchev on vocals, Srdjan Brankovic on guitars, Chris Caffery (TSO, Savatage) with a guitar solo, Jeffrey Revet on keyboards, Royal Hunt's Andreas Passmark on bass and Martijn Peters on drums.
Like the Vivaldi Metal Project's "The Four Seasons" album, the "The Extended Sessions" EP was mixed and mastered by Ivan Moni Bidin at Artesonika Studios in Italy and produced by Mistheria.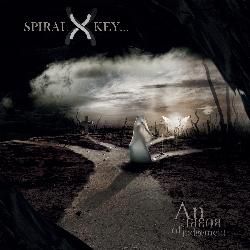 product: Spiral Key - An Error Of Judgement
release date: 19.01.2018
territory: world
format: CD & digital
Spiral Key is a UK-based symphonic progressive metal band formed in 2012, specializing in melodic, thoughtful and heavy music, diverse themes and a subtly dark sense of humour. The band features the distinctive voice and intricate guitarwork of David McCabe and the thunderous bass work of Ken Wynne (Cut the Wire).
Spiral Key released their debut "Perfect Machine" in 2013, a diverse collection of songs with a focus on melody and featuring themes of love, loss and identity. Recorded, mixed and mastered at Bentham Studios in Ken's home town of Swindon in the UK, the album was self-released. After a short hiatus and gathering live assistance from up-and-coming drummer Chris Allan (ex-Malefice, now session/independent)) and guitarist Dan Carter (Belial), Spiral Key burst onto the stage in 2016 supporting a number of bands across the spectrum including Kingcrow and Votum.
After that successful year, Spiral Key's second album "An Error of Judgement" was recorded at Outhouse Studios in the UK in early 2017, and will be released by Pride and Joy Music on January 19th, 2018. John Mitchell (Frost*, It Bites, Arena) contributes a guitar solo to the track "Dark Path", vocalist Miguel Espinoza (Persefone) features on the track "Possessive", and Dan Carter displays his inimitable style on the track "Sanctimonious". Mixing and mastering were handled by David Castillo (Katatonia, Opeth) and Tony Lindgren (Angra, James LaBrie) at Fascination Street Studios in Sweden. Artwork is the product of the mighty genre luminary Mattias Norén of ProgArt Media, touching on the paths described in the album.
"An Error of Judgement" examines the many misdeeds of mankind, from the major themes of disunity and disempowerment to the close-up and personal failings of people themselves. Darker and heavier, it elevates Spiral Key's trademark progressive sound to new symphonic heights, while still making space for the band's trademark humour and melody.
The first video for the album is for the track "Hollywood Dreams", by Patric Ullaeus (Evergrey, Amaranthe) in Sweden.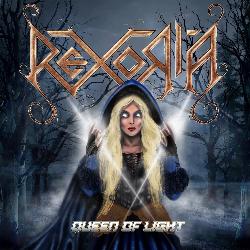 product: Rexoria - Queen Of Light
release date: 19.01.2017
territory: world
format: CD & digital
REXORIA is a female fronted Melodic Metal band with folk influences from Sweden which was formed in 2016.
The quartet spread around the word fast and toured for two weeks in eight countries with Bloodbound, Thobbe Englund (former Sabaton guitarist) and Polish Metal band Crystal Viper, and played 35 shows in total within the first year after it's founding with bands such as Hardcore Superstar, Raubtier, Electric Boys, Slade, Backyard Babies, ToxicRose, Billion Dollar Babies, Entombed A.D and Smash Into Pieces. In November 2017, they supported Battle Beast and Dynazty in Sweden.
The vocalist, Frida Ohlin, was nominated in the Swedish competition "Årets rockröst 2016" (The Rock Voice 2016).
The band's EP's "Moments Of Insanity" (2016) and "The World Unknown" (2017) are currently available on Spotify. "Queen Of Light" is their first full-length album which will be released on Pride & Joy Music on January 19th, 2018. The CD was recorded in the first half of October 2017 at Trampolin Recordings in Gothenburg, Sweden with producer and mixing engineer Henrik Pettersson and mastered by Jeffro Lackscheide in the USA.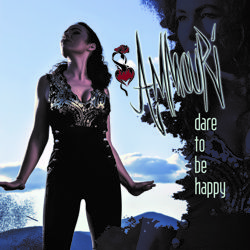 product: Ammouri - Dare To Be Happy
release date: 12.01.2018
territory: world
format: CD
AMMOURI (Marina Ammouri), is a Swedish female metal artist, rock singer, songwriter, music producer and model. Being a classical schooled pianist, and graduated sound engineer from SAE college, she previously has composed and produced songs in different genres for other artists in Sweden and abroad, among them are Therese (Terran) Andersson Lewis, Regina Lund, Ivorian band Les Patrones, Portuguese singer Mila Ferriera and more.
In 2012, her songs represented Sweden in the Baltic Song Contest with Swedish actress and singer Regina Lund and East European Band MMadCatz as front artists. Three years later she wrote and produced a crossfade opera song for a Swedish opera group Opera Light, and after a successful song release which was keeping a place in Lust Kammare at the Swedish Royal Palace, she decided to stop songwriting for others artists and to start her own solo artist carrier. And this step marked the return back to her roots, the music she burns for most from all: Rock and Metal.
In January 2017 AMMOURI released her first self-written single "Fill Your Heart With Love", from her upcoming debut album "Dare To Be Happy". She received art once remarkable feedback for her special powerful rock voice, an original sound, and rock listeners and rock forums labeled her the "new Doro Pesch". Many Metal Female internet communities featured the single and Marina in October 2017 was chosen as face of the "Metal Female Voices Community".
In spring 2017, the Swedish multi-talent was invited to collaborate with Maestro Mistheria, the creator of Vivaldi Metal Project. They went on an unplugged promo tour in Italy in October 2017 with Vivaldi Metal Project, where they performed a couple of songs from Vivaldi and introduced for the first time her second, upcoming single "Monster of Your Own Creation" and songs from the upcoming AMMOURI album "Dare to Be Happy" which will be released on January 12th, 2018 on Pride & Joy Music. For the album, she was joined by an impressive bunch of musicians which includes Pontus Egberg (bass, the Poodles, King Diamond) on all of the songs and also as co-producer of six tracks. Exceptional guitarist Staffan Österlind (Paul Dianno, Iron Maiden and more) played guitar on "Monster Of Your Own Creation", "More than Everything", "Bad Illusion", "Not Anymore", "Starlight" and also a co-produced the track "Bad Illusion". Tony Borg (guitars, Alien) co-produced the song "Fill Your Heart with Love" and played a solo on the tune "Bad Illusion". Drummer Johan Kullberg (Therion, Hammerfall), John Berg (guitar, Manipulation, Dare to Be Happy) and more can be heard on this CD.