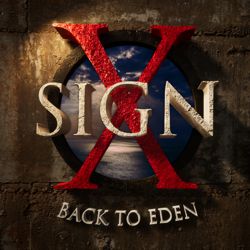 product: Sign X - Back To Eden
release date: 13.08.2022
territory: world
formats: CD & digital
SIGN X is back! After their first album "Like A Fire", which received excellent reviews worldwide and also was helped to build up a large fan base, the group's new output "Back To Eden" now is ready to be released! SIGN X emerged from the Hamburg based cult band Châlice who have released 7 CD's since the beginning of the 90s and successfully played various shows & tours with rock greats like Deep Purple, Alice Cooper, Uriah Heep, Saga, Doro and many more.
With the arrival of singer Sebastian Zierof (known as 'Udo' in the successful musical "Hinterm Horizont '"), Sign X began to work on their own sound, which already has been offered on the first album, the first single and title track of the new album "Back To Eden", still supported by Michel Jotzer on keyboards.
After causing quite a stir with the first EP at the beginning of 2018 (number 1 in the Classic Rock Charts on Amazon), the first album "Like A Fire", due to the collaboration with the label "Pride & Glory Music", was able to increase the level of awareness once again tremendously.
Again backed up with the mixing & mastering genius Andy Horn (The Red Room Studios), the new songs have once more have taken the step onto the next level!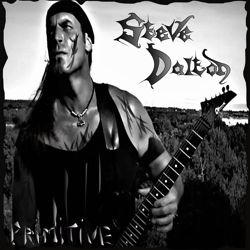 product: Steve Dalton - Primitive
release date: 18.03.2022
territory: world
formats: CD & digital
Steve Dalton is a guitarist, composer and multi-instrumentalist who was born in Sheffield, England and now is living in Sölvesborg in Southern Sweden.
In 2016, Steve Dalton released a first solo project called Steel City which consisted of demos featuring Alessandro Del Vecchio (Hardline, Edge Of Forever) on vocals.
Following on from Steel City, Steve Dalton wrote another set of songs which culminated in his debut album "Primitive".
All compositions were written by the artist himself who also played
all instruments. The production was handled by Brazilian producer & vocalist Raphael Gazal who performed lead vocals on 7 out of the 9 tracks. The other 2 tracks feature English vocalist Ross Griggs and the late, great singer David Saylor.
This album offers a wide variety of styles, from classic melodic rock to power metal.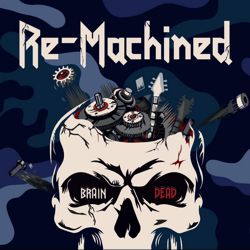 product: Re-Machined - Brain Dead
release date: 18.02.2022
territory: world
formats: CD & digital
After the big success of their debut album "Wheels Of Time", the German Heavy Metal machine RE-MACHINED returns on February 18th, 2022 with its sophomore release "Brain Dead" which will be released once again by German Heavy Metal label Pride & Joy Music!
Following the motto "never change a winning team", the band from Hessia stays true to oneself. The high class production by producer Markus Teske (The New Roses, U.D.O.) again is the icing on the cake. "Brain Dead" also combines elements from various classic Heavy Metal acts but nevertheless manages the transfer into the new century. RE-MACHINED's solid sound still is based on by the impressive twin guitars by Horst Pflaumer and Andreas Glanz, the pumping bass courtesy of Bruno Strasser, the shocking screams by singer Thomas Ritter and the classic metal beats by Volker Brecher.
In conclusion, RE-MACHINED once again offer first Class Heavy Rock which will please old and new Metal fans alike. The 11 songs powerfully breathe the spirit of classic 80's bands such as Sinner, Trance, (the German group) Bullet or Cacumen!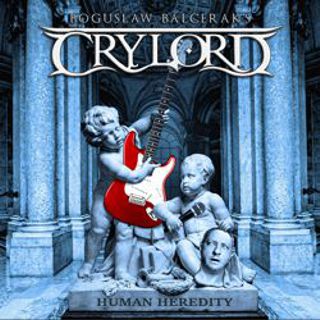 product: Boguslaw Balcerak's Crylord - Human Heredity
release date: 18.02.2022
territory: world (-JP)
formats: CD & digital
Boguslaw Balcerak's Crylord is a Neoclassical Power Metal band based in Poland which was founded in 2009. The band centered around guitarist Balcerak so far has released two albums ("Blood Of The Prophets" (2011) and "Gates Of Valhalla" (2014).
The release of the band's 3rd full length-album "Human Heredity" is now more representing a kind of hard rock sound but nevertheless still also showcases the previous, unique neoclassical style. "Human Heredity" is scheduled for a release via Pride & Joy Music on February 18th 2022.
Boguslaw Balcerak – guitars, bass, keys
Jeremiasz Baum – drums
Track list & list of singers:
Boguslaw Balcerak's Crylord - "Human Heredity"
1. It's just a wind (04:12) feat. Göran Edman
2. Thunderbolt (03:54) feat. Rick Altzi
3. Death is rising (04:31) feat. David Akesson
4. Set my heart on fire (04:06) feat. Göran Edman
5. Falling for you (05:01) feat. Ryan Beck
6. Scary dream (04:23) feat. David Akesson
7. Eyes of fire (03:39) feat. Jota Fortihno
8. Lord of the light (04:16) feat. David Akesson
9. Wind me up (04:11) feat. Göran Edman
10.Wolf at the gates (04:56) feat. Tim "Ripper" Owens
11.You are my only relief (04:36) feat. David Akesson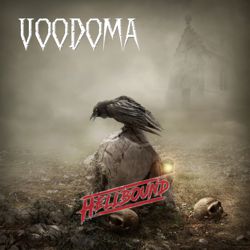 product: Voodoma - Hellbound
release date: 14.01.2022
territory: world
formats: CD & digital
VOODOMA are a Dark Rock band with Gothic and Metal influences from Düsseldorf, Germany. "Hellbound" is their second release on Pride & Joy Music after "Gotland" which saw the light of day in 2017.
After numerous album releases and festival appearances incl. "Wacken Open Air", "Ragnaröck Festival" and "Castle Rock", a new chapter now opens for the band: catchy melodies meet with tons of hooks, eclectic arrangements and a dark but still rocking atmosphere.
The group's sound still can be described as melodic, catchy Dark Rock which offers a wide range of elements and songs which will appeal to Gothic and Metal fans alike.
Recorded at Doomsday Club Studio in Düsseldorf between January 2019 and September 2021, "Hellbound" was produced & mixed by Mikk Hollenberg. The mastering was handled by Chris Beyerlein at Stem Masters in Nürnberg, Germany. Artwork designed by Martina Peschel.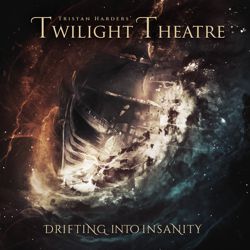 product: Tristan Harders' Twilight Theatre - Drifting Into Insanity
release date: 14.01.2022
territory: world
formats: CD & digital
Tristan Harders' Twilight Theatre is the solo project by German Power Metal Band Terra Atlantica's vocalist and guitarist Tristan Harders.
The intention behind this project is to fill the void and lack of live concerts which was created by the global pandemic in 2020 and 2021. Tristan used the obtained free time to finally record a couple of songs that were gathered over the last decade but never put to an appropriate use.
Musically the project is very close to Terra Atlantica's style of early 2000's melodic power metal with lots of catchy choruses and choirs but less dramatic and lyrically more personal in a direct sense.
product: Autumn's Child - Zenith
release date: 14.01.2022
territory: world (-Asia)
formats: CD & digital
Mikael Erlandsson needs no further introduction when it comes to melodic rock.
He has released six successful solo albums and a lot of titles with groups like Phenomena, Salute among others. Between 2006-2018 Erlandsson fronted the Swedish super group Secret Service which he toured with live all over the world.
Together with the fantastic guitar player Andy Malecek from the successful German hard rock band Fair Warning he founded the band LAST AUTUMNS DREAM in 2003 which also featured Ian Haugland, Mic Michaeli and John Leven of Europe fame at the time. The self-titled debut album was produced by Claes Andreasson and became a great success.
Last Autumn's Dream went on releasing another 14 albums with different line ups including great musicians like Jamie Borger (Treat) and Marcel Jacob (Talisman). They toured Japan, England and Germany but decided to take a break in 2018.
Shortly after, Erlandsson founded the group AUTUMN'S CHILD. Their self-titled debut album was released in January 2019 through AOR Heaven feat. Jona Tee on keyboards (H.E.A.T), Robban Bäck, former drummer of Eclipse and currently in the line-up with Swedish rock band Mustasch, Claes Andreasson of Swedish Westcoast/AOR band Heartbreak Radio who also produced the first Autumns Child album together with Mikael Erlandsson. Guitars come courtesy of Pontus Åkesson (Moon Safari). In 2020, the group released the sophomore album "Angel's Gate".
January 2022 sees Autumn's Child returning with album 3, "Zenith", this time via Pride & Joy Music, which once again features Michael Erlandsson on vocals, keyboards & guitars, Pontus Åkesson on lead guitar, Robban Bäck on drums, Claes Andreasson on piano and Magnus Rosen on bass. Guests include Jona T. (Heat) with a keyboard solo on "Emergency", Sayit Dölen on rhythm guitar on "High On Love", Martin Olsson on bass on "Angel Of Danger", "Evangeline", "Love Is A Fighter" & "Nightingale", Anna-Mia Bonde on background vocals on "Emergency", Rasmus Ehrnborn (Soilwork, Night Flight Orchestra ) on guest guitar on the track " Don't Wanna " and Roberth Nygren on acoustic guitar on "Heaven Can Wait".
"Zenith" was produced by Erlandsson & Claes Andreasson, mixed and mastered by Mikael Andersson at Soundport Studios, Sweden; drums recorded by Mikael Andersson at Soundport Studios.