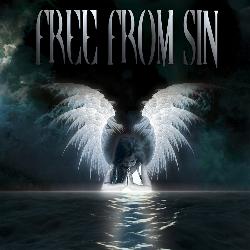 product: Free From Sin - s/t
release date: 25.09.2015
label: Pride & Joy Music
format: CD
release territory: Europe
Per Englund and Patrik Lämborg met for the first time while doing the mandatory Swedish military service 1985. Per sang at that time in a band called Blacksmith. Blacksmith had just finished recording their second album-single called "Tomorrows Mistery". The first Blacksmith recording was en EP called "Gypsy Queen".
Per got a demo that Patrik had made a few years earlier (this demo tape also placed Patrik in the highly renowned Guitar Player spotlight column). And that was that, Patrik joined Blacksmith and Blacksmith Mk II was a fact.
Blacksmith Mk II played in the limited Swedish rock scene. They also recorded an EP (1987) with songs like "World Victim" & "Angel". This EP was unfortunately never released since the band parted in 1988 (mainly due to that Patrik got some calls from USA and left to play in America). The EP master tape is unfortunately destroyed and beyond repair....
Per moved on with other bands such as 220 Volt (under the name Voltergaist) during 1992-93, Mandrake Root 1994-98 (4 albums together with the Free From Sin Hammond virtuoso Staffan Stavert). Year 2000 Blacksmith Mark III recorded an album called "Once upon a star".
During 2009-2010 Patrik & Per connected again and decided to record a demo in Patriks home studio. The demo contained new but also a couple of old songs. The demo turned out very well, and again the duo proved that they still can produce great hardrock/metal songs.
The demo was later presented to their good friend and producer Magnus "Mankan" Sedenberg. He thought this would be a great album to make. This of course triggered Per & Patrik with some new energy and they decided to record the album at Pama Records Studios.
Free From Sin is not a religious band, but as thinking human beings there is always room for questions. If you are Free From Sin, throw the first stone...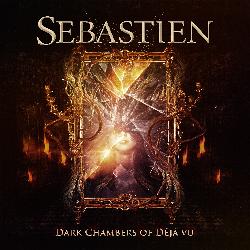 product: Sebastien - Dark Chambers Of Déjà-Vu
release date: 25.09.2015
label: Pride & Joy Music
format: CD & download
territory: world
SEBASTIEN is a melodic power metal band with symphonic and progressive influences. The band was born on roots of another heavy metal group, NAVAR, with an ambition to catch the worldwide interest, in 2008.
In November 2009 the band went to Grapow Studios (Slovakia) to record the album "Tears Of White Roses" which was produced by Roland Grapow (MASTERPLAN, ex-HELLOWEEN) himself! The album feat. various guest performances incl. Amanda Somerville (AVANTASIA, KISKE/SOMERVILLE), Apollo Papathanasio (ex-FIREWIND), Doogie White (ex-RAINBOW), Fabio Lione (RHAPSODY OF FIRE), Mike DiMeo (ex-MASTERPLAN, ex-RIOT), Roland Grapow (MASTERPLAN, ex-HELLOWEEN) and Tore Moren (ex-JORN LANDE)
During Autumn 2011, SEBASTIEN went on the first real tour (in the Czech Republic and Slovakia) with EAGLEHEART (CZ) and FLOWERWHILE (CZ). They also appeared on more gigs with SERENITY, ELVENKING, VICIOUS RUMORS, FATES WARNING and at MASTERS OF ROCK in July 2012. One live-song was also released on the official Masters of Rock DVD 2012. In August 2012 the band started its first European tour with CIRCLE II CIRCLE and played some more shows with AXXIS and with JORN LANDE. The band found a new permanent drummer - Lucas R. - and played the first show with the new line-up at METALFEST 2013 before they went on tour in 2013 with MASTERPLAN, MYSTIC PROPHECY & SIREN'S CRY.
The first half of 2014 was spent with finishing the upcoming second album, concert activities in the Czech Republic and Austria, and also with preparations for the next big gig on MASTERS OF ROCK's main stage – this time with Tony Martin (ex-BLACK SABBATH) as a special guest! This huge show happened in July and, besides the legend - Tony Martin, also Roland Grapow, Martin "Marthus" Skaroupka and Marlin Rya Poemy showed themselves. The band performed two of legendary BLACK SABBATH songs: "Headless Cross" and "Nightwing"!
In November 2014 SEBASTIEN went to Grapow Studios again to finish the mix of the new album "Dark Chambers of Déjà vu" which will be released on Pride & Joy Music/ Edel on September 25th, 2015 and includes guest performances by Tony Martin (Black Sabbath), Sergey Baidikov (Inner Fear), Zak Stevens (CircleIICircle, Savatage), Roland Grapow (Masterplan) and Aylin Gimenez (Sirenia)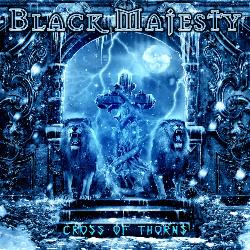 product: Black Majesty - Cross Of Thorns
release date: 04.09.2015
release territory: Europe
format: CD & download
Australia's best power metal band Black Majesty returns with their sixth studio album titled 'Cross Of Thorns'. 'Faster, heavier yet melodic as ever' the new album continues the band's evolution of finely crafted melodic power metal anthems. Charismatic frontman John Cavaliere shines on the new album with emotive vocals that showcases the fine 'timber' in his voice on songs like Phoenix, Crossroads & Vlad The Impaler - not to mention on the cover version of the Gary Moore classic anthem 'Out In The Fields'.
Cross Of Thorns is dedicated to Dirk Illing, the band's long-time friend and artist of all five previous album covers (R.I.P.). Mixed by Roland Grapow (ex Helloween/Masterplan) the album sounds amazing. Big drums, bass and guitars are all evident on the new release.
Previous appearances at fests such as Wacken Open Air, Masters Of Rock, Screamfest and tour supports with the likes of Saxon, Blind Guardian, Hammerfall, Edguy and Dragonforce, Black Majesty will continue to build on their ever growing fan base with further touring, including some upcoming special acoustic shows in Europe to coincide with the release of the new album.
Fans of Dio, Judas Priest, Helloween, Queensryche and Hammerfall will welcome Black Majesty's new album - Cross Of Thorns.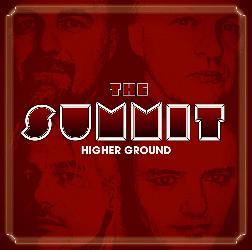 product: The Summit - Higher Ground
release date: 04.09.2015
release territory: Europe
format: CD digi-pack & download
An unexpected clash of elements, several years in the making but assembled in just a short couple of months. In October of 2011 Björn Höglund (drummer of EASY ACTION and HOVEN DROVEN) made the call to Mats Karlsson (220 VOLT) and explained what he had in mind. For him, a dream team consisting of Mats, singer and childhood friend Michael Klemmé (MARMALADE SOULS) and bass player Lars Ericsson. Both with who Björn had played with since eighth grade. A carefully picked team of great players and established songwriters with the same background, musical taste and origin. The task: a quickly assembled album with a nod to the 70's.
Tired of being tied up in several album projects, years in the making, Björn wanted to write and record quickly, just like many of his favorite albums were made in the 70's , and the music had to fit the same idea. Within hours everyone was on board. At this time Michael and Mats had never even met. Stepping up to the challenge, the boys began writing in January. Out of some 16 songs written, recording began in April and eleven songs. The result; a modern sounding 70's rock album with several nods to the all the bands that shaped Mats, Björn, Michael and Lars musically, without ripping off any of them. Well crafted songwriting in the hands of potent players with years of experience from the stage and the studio.
The digital version of this release includes the bonus track "The Way Down".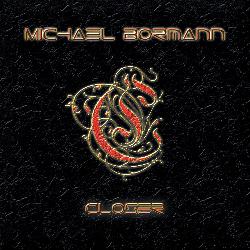 product: Michael Bormann - Closer
release date: 22.05.2015
release territory: Germany, Austria & Switzerland
format: CD
On the 22nd of May 2015, after more than four years, the long awaited fifth solo album "Closer" by Michael Bormann will see the light of the world. 2014 has been an eventful and exciting year. With his impressive performance at one of today's biggest TV-Shows "The Voice of Germany" Michael reached millions of people.
All songs were written, recorded and produced within a three-month studio session by the end of 2014.
Due to the huge demand of the Demi-Lovato song "Warrior", that got him into "The Voice" - show, Michael had no chance but taking it on the forthcoming CD. Downright refreshing, versatile and rocking Bormann presents "Closer". Ballads, mid-tempo songs and pure Rock´n´Roll: you got it all! Defining a favorite is pretty hard as every single song has its own magic.
"Because we are the world" goes straight to the heart. The children's choir makes this tune very special. Not only radio stations will love this song.
It should be mentioned, that a valuable contribution to this album has been given by Eric Ragno and Bobby Stoecker. Knowing what and how he wants it, Bormann played most of the instruments by himself. It's impressively showed on "Closer".
His strong "Voice" - performances got Michael the long deserved attention.
Now it´s time for the next level. Closer will be drawing in the crowds under its magic spell.