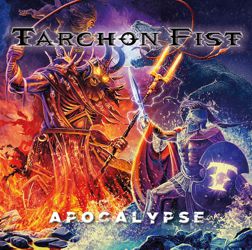 product: Tarchon Fist - Apocalypse
release date: 16.08.2019
territory: world
format: CD & digital
Tarchon Fist was created at the end of March 2005, after the split of the band Rain, the memorable Italian metal group, whose mastermind was Luciano "Lvcio" Tattini (g). This event coincided with the coming of Marco "Wallace" Pazzini (b, Basic Dreams). The name TARCHON FIST was the "logical evolution" of the "Rain" band. Tarchon being an ancient Etrurian king, hero and then also a god. The god of storm. Whereas "fist" underlines the band's power and impact on stage. By the end of 2005, a video clip was produced. Thanks to this video, the band put out two albums on an Italian label, their self-titled debut in 2008 and "Fighters" in 2009. Line-Up changes and many shows followed. October 2013 "Heavy Metal Black Force" came out.
Remembering the first decade, the band released "Celebration 2005-2015" in December 2015 with a new song called "Celebration" and a best of. In July 2017 the EP "Proud to be Dinosaurs" came out.
Since 2010 the band's line-up has been solid except for new drummer Giacomo "Jack" Lauretani (2016). So from 2010 until today, the band toured all over Europe. In August 2018, after 13 years of activity with albums, EPs, video clips and tours, the band performed a show at the mighty Wacken Open Air! On their previous albums e.g.Tom Naumann (g, Primal Fear) or Robb Weir (g, Tygers Of Pan Tang) guested.
"Apocalypse", the concept album, their first ever, is scheduled for August 16, 2019, via the German label "Pride & Joy Music" and showcases artwork by Stan W. Decker (Megadeth, Avantasia a.o.).
The tale has nothing to do with the Apocalypse of St. John the Apostle. It combines motives from literature, history, mythology and many pre-Christian cultures. It is a story that is based on the dualism of human beings: Nobody is born bad. Nobody good. Personal choices lead us towards the former or the latter. And although there cannot be one without the other, it still seems that evil takes root more easily in our soul. It is always evil that "makes the first move".
Tarchon, deified king and hero of popular Etrurian culture (from which the band began its journey almost 15 years ago) will appear in the guise of the "Lord of Light" and the forces of good. In the course of this long war, he is be accompanied by creatures that actually existed but are considered extinct today.
Darkness, on the other hand, is represented by Manth, the demonic divinity of the Felsinean cult guarding the underworld. He can make use of any kind of fantasy creature associated with evil which are found in the most disparate cultures in the history of mankind.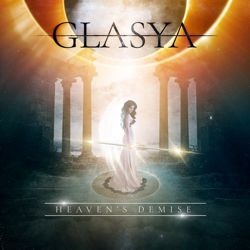 product: Glasya - Heaven's Demise
release date: 12.07.2019
release territory: world
format: CD
Glasya was founded by Hugo Esteves in 2016 with one main purpose, to create a musical project that would combine full orchestral arrangements with metal. He was already familiar with symphonic metal, but he wanted to do it in a more dramatic and cinematographic way. So later that year, Hugo invited Bruno Ramos, former drummer of My Deception, and they started writing together.
They needed to integrate the symphonic elements, so Hugo contacted Davon Van Dave, a Dutch-Portuguese keyboard player, who had been member of two well-known Portuguese bands, Urban Tales and Shadowsphere, that toured with bands like To/Die/For, Beseech, Rotting Christ and, with their albums being at the top of the metal charts in Portugal, and was the ideal person to reach out for.
With Davon Van Dave on board, the next step was to find the right voice. They heard about a Portuguese Nightwish tribute band, Nightdream, and after listening to their singer's voice and seeing her performance they immediately invited her: Eduarda Soeiro, being a classical performer and trained singer, right away became the face and voice of Glasya.
The band line-up was finally complete when Bruno Prates (b) and Manuel Pinto (g), former members of Enchantya, both being talented musicians and experienced performers, came on board.
With all the members having different influences, from classic to progressive, they were creating a very stylish and distinctive sound which offers symphonic, ethnic, slow emotional songs and powerful metal riffs, of course.
In 2018 the band released the song "Heaven's Demise" to the world in advance and it made quite a buzz among the press, creating great expectations on their upcoming debut album.
Later that year, at The Pentagon Audio Manufacturers Studios, Glasya started to record the album with Fernando Matias, who is a member of Sinistro, and has worked with bands like Moonspell, Bizarra Locomotiva, Gwydion. The upcoming album "Heaven's Demise" features four guests, the voices of Paulo Gonçalves (Rasgo), Flávio Lino (Deadlyforce and "The Voice" Portugal show contestant), Nélson Raposo (a film and series voice-over professional), and the beautiful violin of Inna Calori.
This year, Glasya releases their debut album through Pride & Joy Music and are scheduling their tour to play the main metal festivals.
product: Bonfire - Live On Holy Ground Wacken 2018
release date: 14.06.2019
formats: CD, DVD & LP
territory: world
German Hard Rock band BONFIRE for a couple of decades has been one of the busiest touring bands and consistently also is a regular guest at numerous big European Metal festivals. On August 4th, 2018 the Ingolstadt based group once again set a highlight performance at the world's biggest Heavy Metal festival: Wacken Open Air.
The show in Wacken was filmed and will now be released on June 14th, 2019 as DVD, as CD, as LP and digital under the name "Live On Holy Ground 2018". The main film offers a superb 'best of' journey through time and includes BONFIRE's own classic hits like "Ready 4 Reaction", "Sweet Obsession" and "American Nights". The DVD version with "Praying 4 A Miracle" (radio edit), "Locomotive Breath" (radio edit), "Sweet Obsession" (2019) and "American Nights" (2019) offers four bonus video clips which are also included on the CD, LP and digital as audio files. The first pressing of all three physical formats was handsigned by the band.
Filmed & recorded live at Wacken Open Air on August 4th, 2018
Mix & Mastering: Tom Müller (Flatliner Studios)
Produced by: Hans Ziller
Additional Recordings by Rolf Munkes at Empire Studios
Virtual set extensions for American Nights by Diese E-Mail-Adresse ist vor Spambots geschützt! Zur Anzeige muss JavaScript eingeschaltet sein!
Locomotive Breath – Byron Mansylla, AVMS
Artwork design: The Digital Dictators
DVD information: FSK12, Playing time: 60:09 min, , Full screen: 4:3, DTS 5.1, Dolby Digital, NTSC, Full HD, Region Code: 0
BONFIRE are: Hans Ziller – Lead, Rhythm-Guitar, Backing Vocals; Alexx Stahl – Lead Vocals; Ronnie Parkes – Bass, Backing Vocals; Frank Pané- Lead, Rhythm-Guitar, Backing Vocals; André Hilgers – Drums, Percussion
Additional Musicians: Tim Breideband, Harry Reischmann – Drums; Paul Morris, Fredrik Bergh, Alessandro DelVecchio – Keyboards; Mike Gerhold – Backing Vocals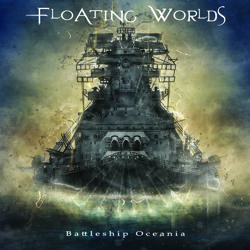 product: Floating Worlds - Battleship Oceania
release date: 17.05.2019
format: CD & digital
territory: world-JP
It all began around 1998, when two long time friends who used to spend their summer vacation together, Andreas V. – guitar and Vagelis Lekos – bass, decided to form a band, eventually named "Floating Worlds", after various changes.
After a lot of failed attempts to record their first songs, they succeeded in completing their first album, titled "Only A Dream, Can Kill A Dream…" in the autumn of 2007. Following the completion of the recordings, the obvious need to promote the new record through live performances, made the search for permanent band members imperative and finally the first gig of the "Only A Dream… Tour '10 – '12", took place on May 2010.
This tour came to an end after 17 gigs in July 2012 with a lot of lineup changes, of which the most important and crucial for the future of the band, was the taking over of the male vocals by Jon Soti, on November 2011.
The band entered the studio in December 2012, in order to record their second full length studio album, entitled "Below The Sea Of Light" which was released on October 1st 2013.
In February 2014, the premiere show of the "Sea Of Light Tour '14 – '15" took place in Athens, Greece. The milestone of this period definitely was the first European tour of FLOATING WORLDS in March 2015, simultaneously with the return of Sophia Assarioti on keyboards and female vocals and the taking over of the bass by Mike Papadopoulos.
In November 2015, the "Sea Of Light Tour '14 – '15" ended with four memorable shows in Serbia and immediately afterwards, the group entered a two year period of composing the songs of their third album entitled "Battleship Oceania", the recordings of which were completed in the end of 2017 with Nikitas Mandolas on drums.
"Battleship Oceania" is going to be the first concept album from FLOATING WORLDS, narrating the story of a legendary battleship and its crew. Through the unexpected revelations and events that take place as the story evolves, the listener takes a close look at the ugly face of war, the manipulations of vain people interested in power and money and the obscure role of global media but he also has the opportunity to witness the self-sacrifice for the greater good, the sincere repentance and the greatness of forgiveness.
In order to celebrate the completion of this long task, the band performed a small number of shows, for the first time in Russia, in March 2018. "Battleship Oceania" is set to be released on May 17th 2019.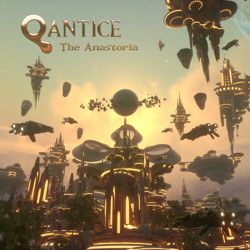 product: Qantice - The Anastoria
release date: 26.04.2019
formats: CD & digital
territory: world
Qantice is more than your average virtuoso symphonic metal band. Its sci-fi saga encompasses both a story and the craziest sci fi/fantasy movie atmospheres. Enriched by a violinist and various traditional instruments, the sound of the French quintet is unique in this scene.
On their previous album "The Phantonauts", Qantice had gathered prestigious names like PelleK (3 million subscribers on YouTube) as lead vocalist, Zaher Zorgati (Myrath) or Yossi Sassi (ex-Orphaned Land). Then, in 2016, the band recruited Swedish singer David Akesson (Aldaria, Vivaldi Metal Project, Six Foot Six, ex Moonlight Agony) to share the stage with Luca Turilli's Rhapsody on their European tour, and then Myrath in Paris.
Thanks to a lineup strengthened by touring together, the band's chemistry is stronger than ever, making this third album their most epic and collaborative effort yet. With Kevin Codfert (Adagio, Myrath) on production and many surprises such as Italian opera tenor Riccardo Cecchi from L T's Rhapsody, here's a new offering of pure epicness, served by the biggest orchestras and choirs ever deployed in a Qantice album.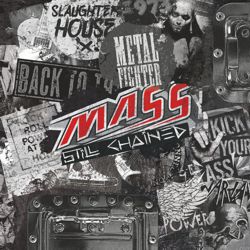 product: MASS - Still Chained
release date: 26.04.2019
format: CD & digital
territory: world-CHN
Founded in 1973 with an international line-up (from Germany, Switzerland, USA), MASS in their prime time played about 180 gigs in clubs and at festivals every year all over Europe. They sold over 200.000 albums and received radio airplay all over the continent. The album "Slaughter House" (1979) hit the top 5 of the Greek album charts. A few years later, the readers of a famous German Hard Rock magazine voted MASS on # 4 of the best German Metal Bands after the Scorpions, Accept and Warlock. But fate doesn't care about glory or fame. Just like so many musicians at the time, they had to pay the price for an excessive Rock' n Roll lifestyle which resulted in the breakup of the band in 1987.
Many years had passed before Günther V. Radny (bass) started to think about a reformation of the group when Hard Rock Label SPV released 4 of 8 successful MASS albums on CD as part of their "Rare Classic Series". In 2016, the in Metal circles, highly respected Tom "Warrior" Fischer (Hellhammer, Celtic Frost, Tryptichon) quoted the 1980 released MASS LP "Angel Power" as one of the most important albums of the era in an article in a big German Heavy Metal magazine - the call for a comeback became louder and Radny knew that the time was right.
Because of health reasons, the original line-up wasn't able to perform. So Radny formed a new line-up in January 2017 with Matthias "Wauxl" Pfaller on vocals, Hannes Heid on guitar, Andy Gmeinwieser on drums and Clemens Matejka on organ. Completing the MASS sound with organ was a long desired wish from Radny. So he is not just starting a copy but creates a new chapter of the former most famous Metal Band from the South of Germany: MASS. 40 years after beginning one thing remains and so stays like from first day on the first rule and their highest maxime: "MASS only plays for the audience – 100% Hard Rock!"
The album "Still Chained" was produced by Robert Hoffmann & MASS at Single Coil Studios/ Regensburg and Slash Zero Records/ Abensberg between March and October 2018. The cover artwork was designed by Gisella Sapiña Febrero.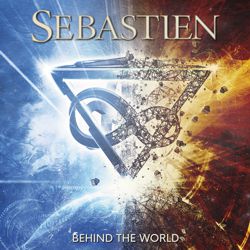 product: Sebastien - Behind The World (EP)
release date: 01.02.2019
territory: world
format: digital
Only a year after their successful third album, "Act Of Creation", SEBASTIEN are back with a brand new EP "Behind The World"!
This four-track digital release will be out worldwide on the 1st February 2019 via German record label, Pride & Joy Music. The mini-album contains a catchy duet-song "Fight For Love" with an outstanding Greek singer Yannis Papadopoulos from the international heavy metal beast - BEAST IN BLACK!!!
The cover artwork is traditionally made by Slovakian DisArt Design graphic studio. A video for the track "Behind The World" will also be released on February 1st, 2019. A lyric video for "Fight For Love" will follow in Spring.