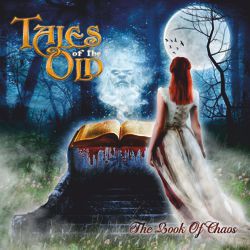 product: Tales Of The Old - The Book Of Chaos
release date: 17.09.2021
territory: world
formats: CD
TALES OF THE OLD is a Symphonic Dark Ambient Power Metal band from Athens, Greece. The band was founded in 2010 by keyboard player Mike Tzanakis who is also the main composer and arranger of their music
His love for Symphonic Metal acts like Rhapsody, Nightwish, Therion, Haggard and such, led him to form a band and contribute to this genre with a more Dark version of his favorite music. The classical orchestrations are entwined with lyrics inspired by the Medieval Era, making the music of TALES OF THE OLD sound like a perfect soundtrack of the Dark Ages and the eternal battle of Good & Evil.

After releasing their first self-produced demo "Beware" in 2010, Tzanakis decided to make the next step and work with producer Bob Katsionis (ex - Firewind) who, in collaboration with Mike formed the sound of the band as it can be heard in their Ep '' The Passageway From Hell To Earth '' in 2012, their last act before even they start...
After eight hard struggling years, of unspeakable difficulties and obstacles (a period where actually TALES OF THE OLD did not exist), Tzanakis decided to reform the whole band and give birth to his dream. New members, new reality, a total new vision.
The band's first album "The Book Of Chaos" became reality during the past years! A project which would never take flesh and bones without the contribution and the hard work of the only possible co-producer for TALES OF THE OLD, the mastermind of Power Metal in Greece, Bob Katsionis!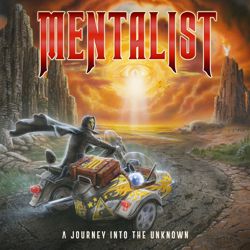 product: Mentalist - A Journey Into The Unknown
release date: 20.08.2021
territory: world
formats: CD & digital
MENTALIST is a Melodic Metal band from Saarbrücken, Germany that was founded in 2018. The group consists of Peter Moog (guitars), Thomen Stauch (drums, ex BLIND GUARDIAN), Kai Stringer (guitars, ex STARCHILD) and Swedish singer extraordinaire Rob Lundgren on vocals.
After the highly successful debut release "Freedom Of Speech" in 2020, the group now returns with its sophomore release "A Journey Into The Unknown". Just like the predecessor, this new opus puts a strong focus onto huge guitar melodies and vocals lines amongst others. MENTALIST's influences from the genre's greats such as Iron Maiden, Helloween and Blind Guardian still shine through – but they formed their own identity.
Oliver Palotai (Kamelot; keyboards on all tracks) and Mike LePond (Symphony X, bass on all tracks) together with singer Henning Basse (Metalium, Firewind; backing vocals on most tracks, plus a duet on "Live Forever") all appear as guests on this record.
"A Journey Into The Unknown" again also showcases an incredible artwork designed by Andreas Marschall (Blind Guardian, Running Wild) – starring the band's mascot, the Mentalist. The Mentalist continues his journey as recurring element in the group's artwork and during their live shows with visual effects.
Mix & mastering this time was handled by Jacob Hansen (Volbeat, Amaranthe, Pretty Maids etc.).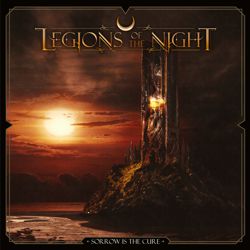 product: Legions Of The Night - Sorrow Is The Cure
release date: 20.08.2021
territory: world
formats: CD & digital
LEGIONS OF THE NIGHT were founded by Jens Faber (Dawn of Destiny, MalefistuM, ExoS) in the year 2020 during the Covid19 pandemic. Soon, DOD drummer Philipp Bock and exceptional singer Henning Basse (Metalium, ex- Firewind, Mayan) completed the group.
The band's main influence comes from the early works of US Power Metal veterans SAVATAGE as well as from their early 2000's releases. As a natural result, the album "Sorrow Is The Cure" with the cover of the classic tune "Sirens" includes an homage to SAVATAGE.
Nevertheless LEGIONS OF THE NIGHT managed to create their own identity with massive grooves, lots of soul and remarkable melodies. LEGIONS OF THE NIGHTS convince with Jens Faber's song-writing and the incredible, versatile voice of Henning Basse.
"Sorrow Is The Cure" was mixed by Dennis Köhne (Orden Ogan, Sodom, Lacuna Coil) who enriched the music with an impressive sound production.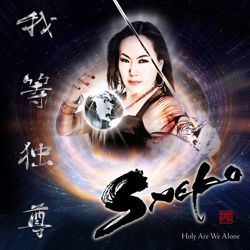 product: Saeko - Holy Are We Alone
release date: 20.08.2021
territory: world -Asia
formats: CD & digital
SAEKO was originally formed in 2003 in Germany by a Japanese singer, Saeko Kitamae, who flew to Germany to find a heavy metal band to join, with the help of well-known German musicians, such as Lars Ratz and Michael Ehré (both Metalium), Sven Lüdke (Mob Rules) etc.
After the debut album (2004), which was well affirmed by the international media, SAEKO went on tour with DORO (2004), and performed at festivals such as Wacken Open Air (2005) as the first Asian female singer, leaving the capacity audience to insist strongly on encores. It was the only power metal act by a Japanese singer whose interviews and articles were positively covered by many magazines around the world (to name a few, 
Break Out Germany, Metal Hammer Italy, La Heavy Spain and Rock Hard Brazil).

However, it was a time when no Japanese heavy metal bands had succeeded in the international music scene for years, since Loudness and Bow Wow in the 80's. Saeko Kitamae's reckless attempt, too ahead of the times, faced many troubles between two different cultures, which eventually forced her to fly back to Japan. That's how SAEKO's activity was suspended only after two albums, to the disappointment of many: "Above Heaven Below Heaven" (2004) and "Life" (2006).
The Japanese singer has never compromised at all in bringing her vision alive. Again relocating from Japan to Germany only for her music, she chose the finest members from Italy and Germany this time. The very first step, the crowdfunding campaign launched in 2020, was already a great success, quickly surpassing ¥2,000,000 (about €15,400).
SAEKO's music, affirmed by the international media as having its "own musical identity with an exotic touch" in 2004, is the unique result created by fusion of Japanese and European elements. This individual identity is even more developed and expanded on the new album: An epic with a concept story of a spirit reincarnating through different areas of the world to find his/her answer--a sequel to the 1st and 2nd albums. The blend of classic/folkloristic elements of each area and the metal approach resulted in music no one has heard of.
All lyrics were written by Saeko Kitamae, while all music composed by Saeko Kitamae and Guido Benedetti. The perfect combination of her vocals and his guitars is supported by outstanding plays of Alessandro Sala (Bass) and Michael Ehré (Drums).
Guest musicians include Derek Sherinian (Sons of Apollo, Planet X, ex. Dream Theater) and Lars Ratz (ex. Metalium, † 2021).
Produced by Saeko Kitamae, Guido Benedetti and V. Santura, the engineer well-known for his elaborate work for the artists such as Triptykon, Obscura, Secrets of the Moon, also known as the guitarist of Triptykon, Dark Fortress etc. Co-produced by Eddy Cavazza. Mixed and mastered also by V. Santura at his Woodshed Studio in Landshut, Germany.
It is an unforgettable experience made by Saeko Kitamae's non-compromising attitude combined with the top-class Italian/German collaboration. Sometimes quiet and reflective, sometimes powerful, intense and resonating, with lyrics in English, Japanese, German, even Hawaiian and Sanskrit, concluding with a citation from Plato. It will surely inspire both intellectual and emotional minds of yours.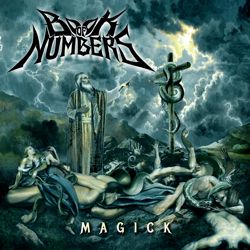 product: Book Of Numbers - Magick
release date: 20.08.2021
territory: world
format: CD & digital
From the heat of the desert southwestern United States comes BOOK OF NUMBERS. The group is a Power Doom Metal band in the vein of Ozzy, Dio, Sabbath, and Rainbow based in Phoenix, Arizona U.S.A.
BOOK OF NUMBERS was founded in June of 2019 by Brent Barker (guitars) and Kevin Schuhmacher (vocals) while rehearsing material for a Black Sabbath tribute band. They decided to join forces to write material with classic doom metal riffs, soaring powerful vocals, and virtuoso guitar solos. They then recruited bassist Dennis Hayes (Iced Earth, Tim "Ripper" Owens). Originally, Dennis was recruited to join the U.S. based Ozzy Osbourne tribute band "I Don't Know" which Kevin has led for the past 13 years and also features Brent on guitar. However, greater things were meant to be as Kevin and Brent wrote an entire album of original material which became the basis for the band BOOK OF NUMBERS. Phoenix, AZ session drummer Gary Bruzzese recorded the drums but is not an official member of the band.
The vision of BOOK OF NUMBERS is to take the listener on a journey that has elements of classic heavy metal, opera, and movie soundtracks, all tied together with great songwriting and musical performances. Recording sessions for their debut album, "Magick", took place at several studios in their hometown of Phoenix, Arizona, U.S.A. Initial recording sessions were engineered by local legend and Grammy award winning Clarke Rigsby. Final mixing for the album was completed in Nashville, TN U.S.A by the legendary David Thoener (Rainbow, AC/DC, Aerosmith). Upon reviewing final mixes David commented: "The quality of this band reminds me very much of my work on the album Rainbow Rising" which of course featured the legendary Ritchie Blackmore and Ronnie James Dio. Mastering was completed by Marc Frigo in Nashville, TN U.S.A. "Magick" includes a cover of BLACK SABBATH's classic "Children Of The Sea".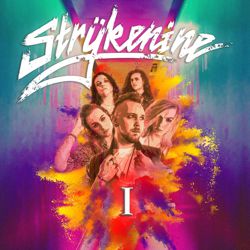 product: Strÿkenine -Strÿkenine I
release date: 16.07.2021
territory: world-JP
formats: CD & digital
The new sensation of Swedish Melodic Rock!
With influences from classic Melodic Rock, Modern Pop and Metal STRYKENINE entered the Stockholm rock scene in 2015. The band was formed in the southern suburbs of Stockholm by guitarist Andi Sarandopoulos, drummer Henrik Remesaho and singer Jacob Petäjämaa. At this point they were still in their teens dreaming big while exploring the musical influences from bands such as Europe, Whitesnake, Def Leppard and Mötley Crüe to name a few.
In 2016 the line up changed to what it is today when Sarandopoulos finally found a suitable second guitar player in Alex Zackrisson. The same year, Tony Bakirciouglu joined as the bass player.
The A-team was assembled. STRYKENINE started to elaborate their sound, in search for something that they felt was missing in the modern Melodic Rock scene: attitude and adrenaline. This set a standard for the young Swedish group to write Melodic Rock songs that still have that aggressive rock n roll spirit and to deliver the same energy live.
With this new lineup STRYKENINE perfected their craft, got to play clubs and festivals all around Sweden. Despite not having an album out at that point, they got to play festivals and open up for bigger bands like Hardcore Superstar, Santa Cruz, Shiraz Lane and Art Nation. In 2018 they released the EP "Nowhere To Run" and went on tour Europe for the first time.
Now STRYKENINE is ready to unleash the beast that is their debut album "Strykenine 1" and take on the Melodic Rock scene for real! This release was recorded at the Strykenine HQ during Summer 2020. In charge of the recording process were Calle Svennerstedt and bass player Tony Bakircioglu. Rich Gray mastered the album.
Keyboards were provided by Patrik Törnblom and Passi Oksman. Patrik Törnblom was in fact a member of the band between 2017-2020 and a big influence in developing the sound that STRYKENINE stands for today. He played keyboards on half of the album but was definitely an important partner for the songwriting for the whole album. Törnblom felt the need to step back from the band in the spring of 2020 to explore other things in life. That' s when we asked Passi Oksman to work his magic on the rest of this amazing album!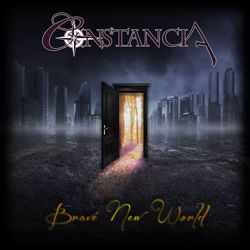 product: Constancia - Brave New World
release date: 18.06.2021
territory: world JP
formats: CD & digital
The album title "Brave New World" is both meant to be seen as inspirational for 2021, and it is also a nod to the fact that the band has a new singer. The album was written and recorded with former singer David Fremberg in mind, but when he couldn't find the time for the band, UK singer Pete Godfrey (IN FAITH, BLOOD RED SAINTS) was drafted. Being an incredibly creative guy, he took on the songs with a new view, wrote new lyrics and came up with his own vocal arrangements, which lifted the album to a whole new level.
CONSTANCIA started in 2007, as the brainchild of former Scudiero/Token keyboard player Mikael Rosengren. He had written a bunch of songs that he wanted to record. He got in touch with guitarist Janne Stark (Overdrive, Grand Design, Locomotive Breath etc) and asked him to lay down some guitars. Janne contacted drummer Peter "TrumPeter" Svensson (ex-Mercy, Faith), with whom he had worked in Overheat, Locomotive Breath and Mountain of Power. Mikael drafted Jaded Heart bassist Michael Müller, and they tried out various vocalists before finding David Fremberg (Andromeda). CONSTANCIA's debut album "Lost And Gone" was released in 2009.
In 2013, bassist Linus Abrahamson (Andromeda) replaced Michael Müller on bass, "Final Curtain" saw the light of day in 2015.
In 2019 CONSTANCIA started working on new material. Since all the members were quite busy with other bands and projects, their writing process took its time, but in early 2020 the band had enough strong material to start recording. Unfortunately, original singer David Fremberg was too heavily involved in his new Reggae Kiss project, working in his studio and other projects, so he politely made his departure. Janne had been writing and working with British singer Pete Godfrey on other stuff and felt his voice would be perfect for the band. Pete tried out a few songs, where he also wrote new vocal melodies and lyrics, and it was just the perfect match. Even magical! When it finally came to mixing the album, Janne made some pre-production mixes which sounded fine, but to get the real icing on the cake they engaged Fredrik Folkare (Token, Eclipse), who also mixed the first album.
Musically the band is still creating the nice blend of melodies, progressive touches and aggressive guitars, now topped with the stellar vocal arrangements and voice of Pete Godfrey.