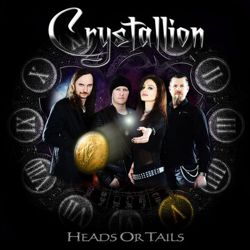 product: Crystallion - Heads Or Tails
release date: 19.02.2021
format: CD & digital
territory: world
Germany based Heavy Metal band CRYSTALLION was founded in 2003 by bassist Steve Hall and drummer Martin Herzinger. On their first two album releases, "A Dark Enchanted Crystal Night" and "Hattin", they offered a bombastic Metal sound with obvious influences from which came from groups like Rhapsody, Helloween or Dragonforce. Powerful riffs and hooks here met with elaborated songwriting and stirring melodies. Both releases were very well received by their permanently growing fanbase. Numerous live gigs and festival appearances in Germany, Austria, Switzerland and the Czech Republic with bands such as Bonfire and Running Wild amongst others followed.
With the release of the album "Hundred Days" (2009), CRYSTALLION moved away from their double-bass orientated songwriting over to rather Heavy & Hard Rock colored songs – without losing their own roots. In 2012, the Bavarians played the Metal-Fest at the prestigious Lorely venue together with other artists like Megadeth, Powerwolf & Edguy. The group's fourth studio album "Killer" saw the light of day in the beginning of 2013 and continued to follow the Heavy & Hard Rock paths.
A demo with four brand new tracks was sent to Pride & Joy Music in July 2018 and resulted in a new record deal for the band with this German Metal label. Unfortunately, singer Thomas Strübler soon afterwards, in May 2019, decided to leave the band after being a member for 15 years. His successor was found in female singer Kristina Berchtold. In Summer 2019, some festival appearances with Berchtold as frontwoman followed and included the Free & Easy Festival in Munich (with Queensryche and Rose Tattoo) and the "Trveheim" Festival in Munich with Riot V & Stormwitch. After a long break due to the Covid-19 pandemic, CRYSTALLION returned onto stage in October 2020 at the Rockokfest in Landshut, Germany.
With Munich powerhouse singer Bertchold on the micro, the quartet now has managed to leave all Power Metal clichés behind and to start the work on their new album "Heads Or Tails" with fresh breath. This release will lead the way for CRYSTALLION and be finally available in stores from February 19th, 2020. Since July 2019, the experienced and versatile guitar player Werner Hießl from Linz, Austria is part of the line-up.
The album "Heads Or Tails" was produced by CRYSTALLION, engineered & mixed by Mario Lochert @ SeriousBlack Studios and mastered by Jan Vacik @ Dreamsound Studios. The artwork comes from Martin Herzinger @ Venusworksmedia
product: Natural Born Machine - Human
release date: 19.02.2021
format: CD & digital
territory: world
NATURAL BORN MACHINE is a new international Melodic Heavy Rock band founded in 2019 by bassist & composer Alberto Rigoni (solo, BAD As, Vivaldi Metal Project etc.) which features Pink Cream 69 singer David Readman, guitarist Alessio "Lex" Tricarico (BAD AS) and drummer Denis "Denzy" Novello (Ardityon) in the line-up.
The album was recorded and mixed at AR Studio in Treviso, Italy and mixed and mastered by Alberto Rigoni. A lyric video for the track "New Future" and a full video for "Moonchild" will be released upfront to the album; both tracks will be available as singles and instant grats as well. The artwork was designed by Andreas Ballnus (Disorderly Design).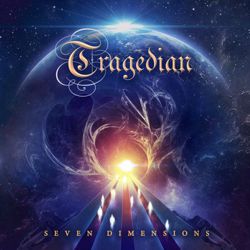 product: Tragedian - Seven Dimensions
release date: 29.01.2021
formats: CD, LP & digital
territory: world
Tragedian is a multicultural Metal band from Hamburg with a range of influences from Heavy Metal to Speed and Melodic Power Metal, taking their favorite elements from each genre and making their own interpretation.

Formed in 2002 by guitarist, songwriter and producer Gabriele Palermo, they have shared the stage with bands such as Mob Rules, Paragon, Pagan's Mind, Dark Sky, The Unity, Burning Point and Cryonic Temple, including a support tour with the latter bands through Sweden and Finland in 2009.Tragedian also played at the 2019 edition of the Hamburg Metal Dayz.

The five-piece has released three albums with several collaborations from artists such as Kai Hansen (Helloween, Gamma Ray, Unisonic) and Bob Katsionis (Firewind, Serious Black, Outloud), and their fourth album "Seven Dimensions" with a new line-up which takes them to a different direction of Melodic Metal. It features 9 new heavy power speed anthems 3 previously released tracks newly reworked. "Para Siempre" is a reworked Spanish version or "Forever" originally released in 2013 on the second release 'Decimation'.
"Seven Dimensions" was produced by Palermo and post-produced & mixed by Eike Freese (DEEP PURPLE, GAMMA RAY) at Chameleon Studios, Hamburg, This release showcases some guests performances including Wade Black (ex Crimson Glory & Leatherwolf) on "Bringer Of Dreams", Zak Stevens (ex Savatage & Circle II Circle) on "Forces Of The Light" and Dan Palmer (Zebra Head, Death By Stereo) on "Out Of The Dark". The front cover was designed by Cover artwork by Piotr Szafraniec. The CD version includes the two bonus tracks "Crying In The Rain" (duet version) and "Forces Of The Light" (Radio Edit).
"Seven Dimensions" will be released on CD, as LP and digital.
Line-up: Joan Pabón (vocals), Gabriele Palermo (guitar), Nicolò Bernini (drums), Dawid Wieczorek (bass), Denis Scheither (keyboards & piano)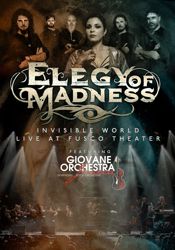 product: Elegy Of Madness - Live At Fusco Theater
release date: 29.01.2021
format: DVD & digital audio
territory: world
ELEGY OF MADNESS is an Italian Symphonic Metal band founded in 2006 by Tony Tomasicchio which has released four albums in total - including "Invisible World" on Pride & Joy Music on January 24th, 2020.
The six-piece group was amongst the winning projects of the department of culture in their hometown of Taranto, Italy. This resulted in the realization and filming of a special show with the talented locally based GOJ Symphony Orchestra directed by Fabio Orlando and filmed at Fusco Theater on February 7th, 2020. This concert will now be released on DVD and as audio download & audio stream in co-operation with Pride & Joy Music on January 29th, 2021.

A very warm audience literally filled up the theater, witnessing the premiere live show for the new album "Invisible World". For this event, ELEGY OF MADNESS was supported by a group of local talents and experts: Peppe De Lorenzo (photos and video), Marco Principato, a really young and talented fashion designer who designed Anja's dresses, Natalia Testa, a great artisan and inventor of the beautiful jewelry which the band wore during the show; Associazione Studio Gaudio who handled the audio engineering, the charming voice of Angelo Bommino, director of the first diction school in Taranto, Daniele Chiloiro and Gianmarco Costella (extras) and the precious Joe Black Production for their help in organizing the event.
DVD content:
Playing time: 83 minutes
PAL 16:9, 4:3 letterboy
Region Code: 2
Dolby Digital 2:0 Stereo / 5+1 Surround
Subtitles: English
Bonus material: Picture Gallery
FSK: 0
Line-up: Anja Irullo (Vocals), Tony Tomasicchio (Guitar,Growl Voice and sequencer), Marco Monno (Guitar), Luca Basile (Cello), Larry Ozen Amati (Bass), Francesco Paolo Caputo (Drums)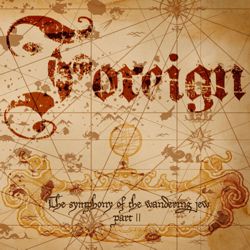 product: Foreign - The Symphony Of The Wandering Jew Part II
release date: 04.12.2020
format: CD & digital
territory: world
Foreign is a metal/rock opera from another time, like a real journey inside time and space, more gazed on melodies which can provoke dreams on you, as if you were deep inside the millennial quest of Ahasverus, the poor Jewish man cursed by Jesus Christ, condemned to immortality to have refused him a glass of water, when he was climbing the mount for the crucifixion…
Still under control of author/composer/ singer/keyboardist Ivan Jacquin (Psychanoïa, Amonya, Magnesis...), the wandering jew is following his own quest, after the time when we left him at the end of the first album.
Now's the time of Holy Crusades back in Jerusalem and Ahasverus, alias Omar Kyan for a little while, he will meet terrible Salah ad-Dîn, for a strange and short alliance…
The story of this second album will bring us until the dawn of industrial revolution, passing by Vikings lands, Cristoforo Colombo and his historical mistake, Francois the 1st and his dream of alchemy, Nostradamus' prophecies, the Shakespeare enigma, Mozart and his genius art, and it will end with several revolutions, in 1789 in France and in the beginning of the 19th century for rising industry and mechanical inventions.
When seeing the success and interest about Part I in 2014, some guests, singers and musicians from the whole world and well-known in rock, progressive and metal universe have accepted to be part of the second record of this amazing trilogy. This includes the massive talents of Leo Margarit (Pain of Salvation, Epysode) on drums, Mike Lepond (Symphony X, Silent Assassins) on bass, the vocalists Zak Stevens (Circle II Circle, Savatage, TSO), Andy Kuntz (Vanden Plas) and Tom S. Englund (Evergrey), as well as Amanda Lehmann (Steve Hackett Band) on vocals and lead guitars.
Most of the musicians playing in part I will be back in this adventure and some characters will remain in their being to perpetuate the quest…
Foreign II welcomes lots of characters, female and male singers, the mixed choir named « The sirens of time » and about twenty metal and rock musicians and other instrumentalists more « exotic » and rare (hammered dulcimer, oboe, cello, duduk, harp, hurdy-gurdy...); forty artists in total.
"The symphony of the wandering Jew Part I" is still available on the following links via the band camp site of the project at this link: http://www.foreignrockopera.bandcamp.com
Part II was mixed in Markus Teske's Bazement Studio (Vanden Plas, Red Circuit, Mob Rules...) in Germany and will be released on December 4th, 2020 via Pride & Joy Music. The fantastic human and musical adventure will continue to make you travel and dream through times of our own History…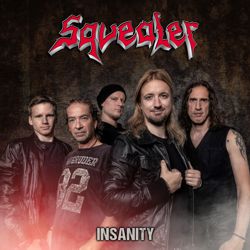 product: Squealer - Insanity
release date: 04.12.2020
format: CD & digital
territory: world
SQUEALER, one of Germany's very own Power & Thrash Metal pioneers, are now back with a vengeance! "Insanity" is the name of their 10th studio release since their foundation in the 1980's – and the new opus impressively starts where the successful predecessor "Behind Closed Doors" has stopped!
As usual, the quintet shows its versatility and intricacy: "Insanity" once again delivers everything a Metal fan may be looking for. Power ballads like "Black Rain" go hand in hand with Thrash metal hymns such as the opener "Into Flames", "Hunter Of Myself" or "My Journey" and powerful Metal tracks like "Bad tasting Sin" or "Insanity". Through the years, SQUEALER undoubtfully have managed to follow their roots but nevertheless also to create their very own, up-to-date sound that also includes huge polyphonic choirs from time to time.
SQUEALER today consists of Lars Döring (guitars), Michael Schiel (guitars), Sebastian Werner (vocals), Manuel Roth (bass) and new member Peter Schäfer on drums. Ito Grabosch took once again are of the recordings while Roland Grapow (Helloween/ Masterplan) handled the mixing and the mastering. This time, some guests have joined the band from North Hessia in the studio; i.e. on the track "Black Rain" Bernhard Weiss (AXXIS) and Zak Stevens (CIRCLE II CIRCLE, SAVATAGE, TSO) guest on vocals and Roland Grapow (Masterplan, ex Helloween) on lead guitar with one solo whilst Ingmar Klippert can be heard on piano on the song "Low-flying Brains".
"Insanity" is the second release from SQUEALER on Germany based label Pride & Joy Music and will be unleashed on December 4th, 2020. The tracks "Black Rain" and "Bad Tasting Sin" will be released as singles and audio videos in advance.
Line-up: Lars Döring (guitars), Michael Schiel (guitars, backing vocals, piano on "Black Rain"), Sebastian Werner (vocals), Manuel Roth (bass, backing vocals), Peter Schäfer (drums)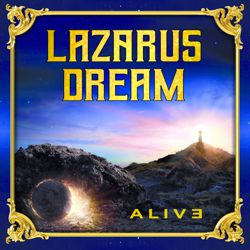 product: Lazarus Dream - Alive
release date: 13.11.2020
format: CD & digital
territory: world
With an artistry and groove that is never less than inspiring and absorbing, new German Hard Rock project LAZARUS DREAM featuring multi-instrumentalist Markus Pfeffer and powerhouse vocalist Carsten Lizard Schulz gives a pleasure as immense and deep as the sounds and abilities which pour from their album "Alive".
Carsten Lizard-Schulz delivers a powerful, emotion filled performance and makes this an album full of incredibly poignant vocals listeners worldwide are used to get delivered from him and appreciate on critically appraised albums by EVIDENCE ONE, DOMAIN, DEAD END HEROES and MIDNITE CLUB, to name only a few.
Markus Pfeffer used to be a member of internationally praised German AOR-band SCARLETT in the early nineties and delivers riffing and fret board acrobatics you rarely get to hear him play on albums by his main band WINTERLAND, which used to top the German Amazon Download charts in late 2010. On the LAZARUS DREAM album, he not only plays guitar, but also bass and keys.
The powerhouse drumming by guest Markus Kullmann (SINNER, VOODOO CIRCLE, Glenn Hughes) not only completes the hearing pleasure but also adds an incredible groove which lifts the songs to a new level. More musical guests featured are percussionist Thomas Rieder, flute player Sabrina Roth and Thomas Nitschke on Hammond and synths.
The album was mastered by Markus Teske at Bazement Studios (VANDEN PLAS, SAGA, MOB RULES,…)
Highlights on "Alive" range from undoubtedly immensely catchy chorusses and stunningly melodic twin guitar solos in songs like "Wings Of An Eagle" and "Hotel Overload" to progressive arrangements in extra-long tracks like "Dawn Of Time" and "Fleshburn", which also surprises the listener with an Arabian flute intro (and guaranteed goose bumps, by the way). Groovy guitar riffing gets combined with massive vocal arrangements and reflective lyrics especially in songs like "The Healing Echoes", "House Of Cards", "Desert Mind" and "Can't Take My Soul Away".
All in all, LAZARUS DREAM brings a fresh, vivid and eager breath to melodic hard rock and classic progressive metal without the need for indulgence and spurious tricks and charms… Pfeffer and Schulz build a strong songwriting duo and thus the foundation for the album and deliver inspired, melodic hard rock bliss which should appeal to fans of bands such as QUEENSRYCHE and DOKKEN.