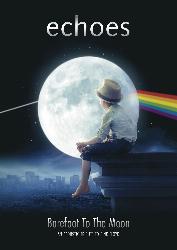 product: Echoes - Barefoot To The Moon
release date: 16.10.2015
release territory: Europe
format: DVD, CD, Blu-ray, double vinyl & download
After performing hundreds of concerts throughout Europe, enchanting thousands of people and playing festivals alongside all time greats like Jethro Tull, Joe Cocker, Manfred Mann and Asia, Echoes are now one of the premier Pink Floyd Tribute Bands. To echo the music has never been enough for this band and so the elaborate live shows convey the grandeur in all its facets. The "Süddeutsche Zeitung" simply calls it a spectacle.
In 2014 "Pink Floyd's star pupils" (Vogtland-Anzeiger) ventured a new course and on top of their typically atypical renditions of Pink Floyd's music they dared an experiment: the Pink Floyd acoustic concert - no amps, no safety net and no smoke and mirrors. Is that even possible? Can music that lives and breathes sprawling soundscapes, intricate
cascades of electronic noise and intense atmospheric density be reduced to such austerity that the spirit isn't lost? Or simply put, can you walk barefoot to the dark side of the moon?
With the acoustic show "Barefoot To The Moon" Echoes present their answer. The band centered around extraordinary guitarist and singer Oliver Hartmann (Rock Meets Classic, Avantasia) carefully dismantles the complex arrangements of the British art rock giants and uses only elementary and partly very unique Instruments to reduce the songs to their fundamental composition. All the while making sure that none of the magic is lost, but rather focused and so familiar sounds slightly change color and thus far unknown shades emerge. This stripped state shows a fascinatingly fragile beauty, that could not have been perceived before. Echoes reveals the essence of Pink Floyd.
The exceptional atmosphere of this acoustic concert reflects not only in the music but also the familiar setting; candles instead of a laser show, a string section instead of keyboard sounds, reduction instead of inflation. Floydian grandeur turns into intimate music experience, borne by creativity, wit, charm and respect for the makers who are Pink Floyd.
This DVD, recorded at the sold out Stadttheater Aschaffenburg, impressively documents the memorable evening and manifests the music of Pink Floyd in a way that it has not been heard before.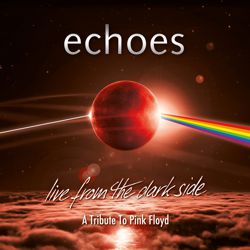 product: Echoes - Live From The Dark Side
release date: 15.03.2019
release territory: world
formats: 2-CD, Blu-ray, DVD and Box (incl. 2-CD & Blu-ray)
Since many years Echoes, the band around guitarist and singer Oliver Hartmann (Avantasia, Hartmann, ex-Rock Meets Classic), is well known as frontman of the most popular and successful German Pink Floyd Tribute meanwhile touring across Europe and far beyond the borders of Germany.
With their successful live DVD/CD "Barefoot To The Moon" (No. #20 at the Media Control Charts Germany 2015), recorded and arranged with pure acoustic instruments and supported by a four-piece string ensemble from Prague, the band has impressively shown that the original's great heritage can be interpreted in an interesting, inspiring and absolutely creative way.
Now in early 2019, the group will release their successor and electrical continuation entitled 'Live From The Dark Side (A Tribute To Pink Floyd)", recorded live at 'Rock Of Ages Festival 2018' in Rottenburg-Seebronn, Germany. Again backed-up by a string quartet on this special evening, the band was supported by the guest appearance of greats such as Midge Ure (Ultravox), Michael Sadler (Saga) and Geoff Tate (Operation Mindcrime), all of them well known as icons of the international Pop and Prog Rock scene, to celebrate and perform the music of Pink Floyd - accompanied by a real lunar eclipse!
DVD & Blu-ray: 2.0 PCM Stereo, 5.1 Dolby Surround, FSK 0, PAL, all regions, playing time: ~120 min
Bonus material: 01. Making of; 02. Interviews with Michael Sadler, Midge Ure, Geoff Tate; 03. Picture gallery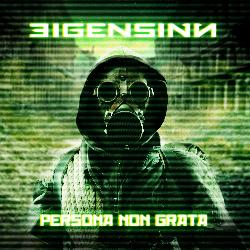 product: Eigensinn - Persona Non Grata
release date: 01.12.2017
territory: world
format: CD
About zombies, monsters and evil fairies - Persona non Grata will rise!
"Persona Non Grata" is the name of the third full-length release from the dark rockers EIGENSINN from Southern Germany. More than two years of hard work has left its mark on an album that will stand out from the crowd! During the cold and snowy January 2017 the band retired on a lonely farm house in Saxony. The magical and dark atmosphere of the abandoned landscape deeply engraved itself into the new songs. The outcome is a complex and brute Industrial Rock album, on which you can sense the sinister emotions living within each song as they touch upon subjects taboo to many. The bands lead singer Nemesis takes the listener on a journey from a morbid story teller rising up to a strong willed freedom fighter
The eleven ostentatious hard hitting tracks all stay true to EIGENSINN's trademark sound. Mastermind Kai Stahlenberg's production at the renowned Kohlekeller studio has produced an album that is both raw and punchy staying true to the bands hard hitting roots.
The album will be released on Pride & Joy Music on December 1st, 2017. EIGENSINN will tour all over Germany this November to support the US NDH legend HANZEL+GRETYL together with Reptil, to promote their new album.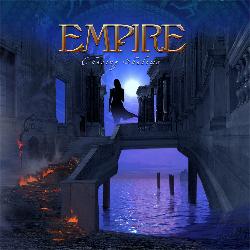 product: Empire - Chasing Shadows
release date: 17.11.2017
territory: world
format: CD
EMPIRE is the Hard Rock band of German guitarist Rolf Munkes (ex Majesty, ex Razorback, Crematory) which has released four exceptional albums in between the years of 2001 and 2007. On these releases, Munkes was accompanied by numerous high-class musicians.
The history of EMPIRE began in the year 2001 with the release of the album "Hypnotica" (Lion Music) which featured both the American singers Mark Boals (ex-Yngwie Malmsteen) and Lance King (ex Nightmare) on vocals. The line-up at the time was completed by Neil Murray (bass, ex Whitesnake, Brian May Band, Black Sabbath etc.), Gerald Klos (drums), Anders Johansson (drums, ex Stratovarius) and Don Airey (keyboards, ex Rainbow, Deep Purple). Rolf Munkes produced "Hypnotica" himself; the mix was handled by Stefan Kaufmann (ex Accept, ex U.D.O.).
Only one year later, "Trading Souls", the band's second album came out on Lion Music. The CD once again was produced by Munkes with the mix being handled by Kaufmann. On this release, singer extraordinare Tony Martin (ex Black Sabbath) replaced King and Martin on the vocal spot.
Tony Martin also sang on the – up until now – most successful CD from EMPIRE, "The Rave Ride", which was released in 2006 on German label Metal Heaven. Besides of Munkes, who, for the first also produced and mixed this release himself at his own Empire Studios in Bensheim, Germany, Neil Murray took again care of the bass work whilst the drums this time were handled by ex-Rage/ex-Axxis drummer André Hilgers.
In 2007, the so far last album of EMPIRE saw the light of day. "Chasing Shadows" was once again released on Metal Heaven and the first record feat. former Rainbow singer Doogie White in the line-up. Mike Terrana (ex Rage, ex Axel Rudi Pell, Tarja Turunen) joined the group on drums.
In 2017, German label Pride & Joy Music will re-issue all four releases in a revised version. "Chasing Shadows" which will be released on August 18th, 2017 with one bonus track.