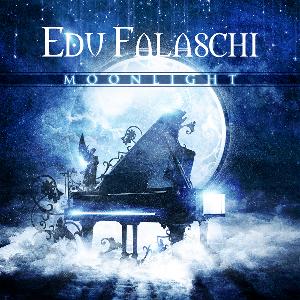 product: Edu Falaschi - Moonlight
release date: 20.05.2016
release territory: Europe
format: CD & download
"Moonlight" is the first solo album of ex-ANGRA frontman EDU FALASCHI (currently ALMAH) dedicated to the 25th career anniversary of the worldwide known Brazilian singer and composer. The album presents acoustic versions of the most significant songs of Falaschi's career in Angra and Almah, all the material was rearranged for the voice accompanied by piano, guitar and orchestra in order to present an outstanding mixture of rock, jazz, classic and popular music highlighting harmony and melody itself on the first place.
The album is a quintessence of Falaschi's career in leading Brazilian bands with 16 records released worldwide, a national "Golden disc award", more than one million CDs sold, countless world tours, appreciated by fans all around the globe, especially in Japan, Europe and South America.
"Moonlight" was recorded in São Paulo and Jundiaí (Brazil) at WINK Studio and mixed and mastered by Caio Cesar. Falaschi here performs together with several respected Brazilian musicians such as Tiago Mineiro (piano) who represents the Brazilian jazz and popular music scene; maestro and violinist Adriano Machado (string arrangements), creator and conductor of the Symphonic Orchestra Villa Lobos. Also, there are two special guests – João Frederico Sciotti known as "Derico" (flutes and saxophone) and Sandami (percussions).
The cover artwork was created by Brazilian designer Gustavo Sazes (Almah, Kamelot, Sepultura, Arch Enemy, Morbid Angel, Manowar, etc.).
Edu Falaschi's "Moonlight" includes older and more recent hits of "Angra" and "Almah" such as Nova Era, Rebirth, Heroes of Sand, Spread your Fire, Bleeding Heart, Wishing Well and Breathe.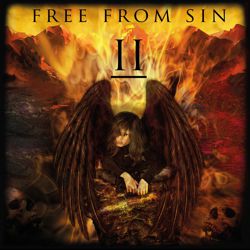 product: Free From Sin - II
release date: 20.07.2018
release territory: Europe
formats: CD & digital
Free From Sin's self-titled debut album was released in mid 2015. After good sales, reviews and press feedback, the Swedish based group is now back with a vengeance and with a new record called "Free From Sin II"!
The band has added new band members to the line-up which resulted in a much darker & heavier sounding release in comparison to the first one. Free From Sin is again going back to basics, with a classical 5 piece line-up, with hammond organ, guitar, bass & drums together with aggressively vivid vocals and now is featuring Per Englund (ex-Blacksmith, vocals), Patrik Lämborg (guitars), Fredrik Strömberg (keyboards), Ulf Kronsell (bass) and Paul Ekdahl (drums).
There is a clear message and thought throughout the lyrics, this in combination with massive guitar riffs will for sure capture the listener's attention and mind...….cast the second stone!
With strong influences from Deep Purple, Judas Priest, Rainbow, Iron Maiden etc., Free From Sin is again merging these ingredients in riff- based songs together with a modern sound. "II" was again produced by Mankan Sedenberg with Free From Sin at Pama Studios, Sweden.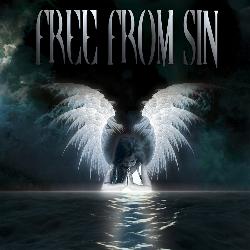 product: Free From Sin - s/t
release date: 25.09.2015
label: Pride & Joy Music
format: CD
release territory: Europe
Per Englund and Patrik Lämborg met for the first time while doing the mandatory Swedish military service 1985. Per sang at that time in a band called Blacksmith. Blacksmith had just finished recording their second album-single called "Tomorrows Mistery". The first Blacksmith recording was en EP called "Gypsy Queen".
Per got a demo that Patrik had made a few years earlier (this demo tape also placed Patrik in the highly renowned Guitar Player spotlight column). And that was that, Patrik joined Blacksmith and Blacksmith Mk II was a fact.
Blacksmith Mk II played in the limited Swedish rock scene. They also recorded an EP (1987) with songs like "World Victim" & "Angel". This EP was unfortunately never released since the band parted in 1988 (mainly due to that Patrik got some calls from USA and left to play in America). The EP master tape is unfortunately destroyed and beyond repair....
Per moved on with other bands such as 220 Volt (under the name Voltergaist) during 1992-93, Mandrake Root 1994-98 (4 albums together with the Free From Sin Hammond virtuoso Staffan Stavert). Year 2000 Blacksmith Mark III recorded an album called "Once upon a star".
During 2009-2010 Patrik & Per connected again and decided to record a demo in Patriks home studio. The demo contained new but also a couple of old songs. The demo turned out very well, and again the duo proved that they still can produce great hardrock/metal songs.
The demo was later presented to their good friend and producer Magnus "Mankan" Sedenberg. He thought this would be a great album to make. This of course triggered Per & Patrik with some new energy and they decided to record the album at Pama Records Studios.
Free From Sin is not a religious band, but as thinking human beings there is always room for questions. If you are Free From Sin, throw the first stone...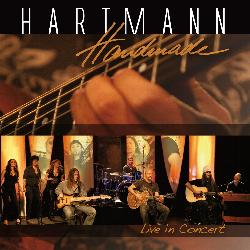 product: Hartmann - (Handmade Deluxe)
release date: 30.09.2016
release territory: world
format: CD+DVD (digi-pack)
The history of HARTMANN began in 2005 with the successful release of their debut album 'Out in the cold', many times chosen as 'album of the month', and with their follow up 'Home' released in 2007. After their support tour for THE HOOTERS where HARTMANN performed acoustic versions of their material for the first time the band decided to play two exclusive shows at Pegasus theater in Bensheim/Germany in late 2007. Supported by three female background singers as special guests both evenings were recorded for the live CD/DVD 'Handmade' released in 2008. It is uniting outstanding material like real 'handmade' versions of the first two studio albums and previously unreleased tracks.
'Handmade' has always been considered as one of the most impressive outputs of HARTMANN and this re-release now contains both CD and DVD as special limited deluxe edition. In addition, the digital version of the CD will also be released as "deluxe edition" – now containing audio versions of all songs.
Oliver Hartmann is also well known as being a member of the mega seller Avantasia and as frontman of the successful Pink Floyd Tribute Echoes with their latest release 'Barefoot To The Moon' (German charts No 20 in Oct 2015).
Line-up: Oliver Hartmann (guitar/vocals), Mario Reck (guitar), Armin Donderer (bass), Dario Ciccioni (drums), Juergen Wuest (piano/vocals), Ina Morgan (vocals), Kolinda Brozovic (vocals), Tiffany Kirkland (vocals)