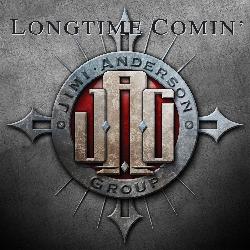 product: Jimi Anderson Group - Longtime Comin'
release date: 24.02.2017
territory: world (excluding Japan)
format: CD & download
Born in Rigside, Lanarkshire, Scotland. Jimis first Rock band was in 1978, singing mainly Rush & Deep Purple songs & so his passion for 'Classic Rock' had begun. The next few years brought many hours of practise & to Paul Rodgers, David Coverdale & Ronnie James Dio for inspiration.
He began writing songs and formed the rock band Sahara whilst spending any spare time attending a gazzillion gigs at the Legendary 'Glasgow Apollo' till it closed in 1985. Various incarnations of the band ensued including a name change to "The Hardline" until they were picked up by Wet Wet Wet's manager Elliott Davis and offered a management contract on the strength of a demo tape.
Showcasing his phenomenal voice, five years of recording demo's, touring, notable sell out gigs at Glasgow's King Tut's, London's 'Borderline Club' and a support to Wet Wet Wet in front of 30,000 people at Glasgow Green. Jimi continued writing, performing and recording, appearing on Michael Barrymore's shows ' My Kind of People' & 'Barrymore' in 1997/98 and went on to sing at concerts & festivals in Romania, Turkey and Holland. Living now in York, Jimi has continued writing.
The vocalist moved on to spend two years as lead vocalist with Tribute Band 'A Foreigners Journey ' he toured extensively in the UK and Rhodes. Meeting new friends along the way, and his voice just got better and better so a decision was made to leave "A Foreigners Journey" and the next adventure started. His latest project is a tribute to great American Melodic Rock with some great musicians and friends "Legends of AOR" debut gig was in Spain in front of a crowd of Rhodes Rockers, safe to say it was so emotional that tears were shed.
After recently recording an album of original songs at FML studios in Scotland with Sandy Jones and Greame Duffin he is now starting a new challenge to take his music on the road, and so the Jimi Anderson Group was born. The new album "Longtime Comin'" is fusion of Classic Melodic Rock and AOR, and the original tunes showcase Jimi's voice perfectly.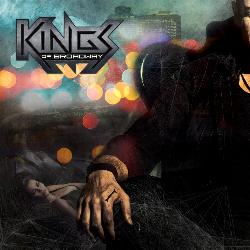 product: Kings Of Broadway - s/t
release date: 28.04.2017
territory: world
format: CD & download
KINGS OF BROADWAY were originally formed in 2011 when guitarist Aldo Lonobile (one of the most recognized guitar players/composers from the Italian metal scene, founder member of bands like Secret Sphere, Civilization One and Shadowspell) started gathering musicians and friends to fulfill his desire to create a Hard Rock band.
After a year of writing songs, making demos with his longtime friends Luca Cartasegna (ex-Secret Sphere) on drums, Ricky Messeri on guitar and JJ Andreone (Odd Dimension, A Perfect Day) on bass, the showed the ability to create amazing rock songs for the masses, once sung by the right singer!
After trying out some different options, JJ suggested his long time friend Tiziano Spigno (that later became the singer of Lucky Bastardz); Tiziano has a unique vocal tone and an amazing ability in writing rock melodies that give its best melted with KINGS OF BROADWAY!

This was 2012 - and the band then really started! From 2012 to 2015 they worked in the shadows, composing the whole debut album and recording it in the best way possible, with the aim to deliver an outstanding sound able to play the game with the rock giants out in the market!
Among the great words received by the representatives of the musical industry, the band signed a record deal with German label Pride & Joy Music in early 2017. The group's self-titled debut album "Kings Of Broadway" is set for a release on April 28th, 2017!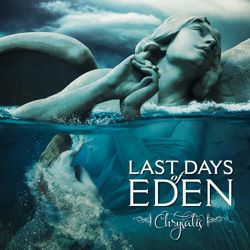 product: Last Days Of Eden - Chrysalis
release date: 23.03.2018
territory: Europe
formats: CD & digital
LAST DAYS OF EDEN is a stunning band from Spain performing symphonic folk metal. The band released their first album, "Ride The World", in 2015, getting amazing reviews from all around the globe. In 2016 they played their first European tour, with more than 25 shows in Germany, Switzerland, Belgium, and Spain.
Led by female singer Lady Ani, she puts the sweetest tones to the tunes. Their melodies not only include bagpipes, violins, and whistles, but also a full symphonic orchestra, all wrapped in a solid metal package in every song. The new album "Chrysalis" has been recorded and includes 11 amazing and encompassing tracks that will take your mind on an unforgettable journey. The record was produced by Dani G. and mastered by Mika Jussila (Nightwish, Stratovarius, Amorphis, etc.).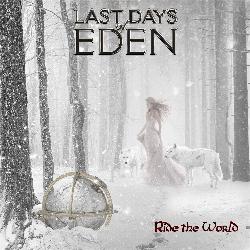 product: Last Days Of Eden - Ride The World
release date: 27.11.2015
territory: Europe
format: CD & download
LAST DAYS OF EDEN isafemalefronted symphonicmetal
band formed in 2012 in the Spanish Northern region of Asturias.
With epic folk influences added to their symphonic sound, they perform a melodic style that also carries Celtic and classical influences.
The band released an EP with six songs in 2014 which gained them a lot of recognition around the world and was extremely successful especially in Europe and in Japan.
During the year 2014 LAST DAYS OF EDEN played shows with U.D.O. and DEVIL'S TRAIN amongst others. After that, the Spanish six-piece entered the studio to record their first full album entitled "Ride The World" which includes 13 catchy and powerful songs plus one intro. The diverse song material delivers everything a fan of female fronted Symphonic, Gothic, Power Metal is longing for: Melodic Metal with driven guitars and tons of hooks, classical, orchestrated parts and folk elements plus some mega ballads. Other highlights are the more than 15 minute long epic "A Game Of War" and the bagpipe performance by Gustavo Rodríguez.
The group consists of members from other well known Spanish Metal bands such as Warcry, Avalanch, DarkSun or BandaNocturna.
Line-Up: Lady Ani – Vocals; Dani G. – guitar & vocals; Gustavo Rodríguez – Bagpipes, Juan Gómez – keyboards; Adrián Huelga – bass, Alberto Ardines – drums