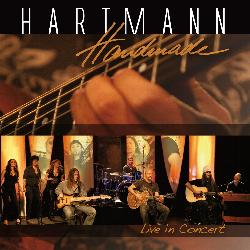 product: Hartmann - (Handmade Deluxe)
release date: 30.09.2016
release territory: world
format: CD+DVD (digi-pack)
The history of HARTMANN began in 2005 with the successful release of their debut album 'Out in the cold', many times chosen as 'album of the month', and with their follow up 'Home' released in 2007. After their support tour for THE HOOTERS where HARTMANN performed acoustic versions of their material for the first time the band decided to play two exclusive shows at Pegasus theater in Bensheim/Germany in late 2007. Supported by three female background singers as special guests both evenings were recorded for the live CD/DVD 'Handmade' released in 2008. It is uniting outstanding material like real 'handmade' versions of the first two studio albums and previously unreleased tracks.
'Handmade' has always been considered as one of the most impressive outputs of HARTMANN and this re-release now contains both CD and DVD as special limited deluxe edition. In addition, the digital version of the CD will also be released as "deluxe edition" – now containing audio versions of all songs.
Oliver Hartmann is also well known as being a member of the mega seller Avantasia and as frontman of the successful Pink Floyd Tribute Echoes with their latest release 'Barefoot To The Moon' (German charts No 20 in Oct 2015).
Line-up: Oliver Hartmann (guitar/vocals), Mario Reck (guitar), Armin Donderer (bass), Dario Ciccioni (drums), Juergen Wuest (piano/vocals), Ina Morgan (vocals), Kolinda Brozovic (vocals), Tiffany Kirkland (vocals)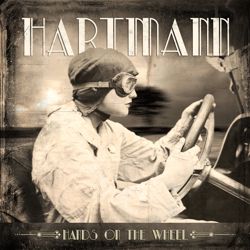 product: Hartmann - Hands On The Wheel
release date: 18.05.2018
formats: CD, vinyl & download
territory: world
The history of HARTMANN started in 2005 with the debut 'Out in the cold', often reviewed as 'Album of the month' in a wide range of rock magazines all over the world. With their successful followers 'Home' (2006), '3' (2009), 'Balance' (2012), the live & acoustic DVD/CD 'Handmade' (2008) and the compilation 'The Best Is Yet To Come' (2013) the band has meanwhile worked out their status as being one of Germany's best modern hard rock bands that is offering international high-class melodic rock. The band also enjoys the good reputation as an outstanding live band and has been called to tour with rock legends as Toto, The Hooters, Uriah Heep, Edguy, Mother's Finest, Y&T and others. Their latest album 'Shadows & Silhouettes' (2016) has been accompanied again with a club tour and many festivals last summer.
Now the forthcoming new album 'Hands On The Wheel' – way more rough and rocking and than its predecessor - will be released May 18th 2018 on the artist's label Sonic 11 Records in cooperation with Pride&Joy Music/Soulfood, again co-produced by Sascha Paeth (Avantasia, Beyond The Black, Kamelot).
Including the participation of guest musicians as Jimmy Kresic (The Roots, Rock Meets Classic), Karolina Galbavà & Irena Morisakovà (Hans Zimmer), the album will contain the catchy singles/videoclips 'Don't want back down' and the very special duet 'Simple man' feat. Mr. Big vocalist Eric Martin, accompanied by a huge promotion-/video-campaign of Germany's No 1 rock radio station Rockantenne and a special Facebook & online campaign.
Since the late 90's founder Oliver Hartmann is known as a highly respected singer and guitarist on the international music scene due to four albums with the band At Vance, studio work for hard rock and metal acts as Hammerfall, Rhapsody, Helloween or Edguy, as a long time studio and live member of top sellers as Avantasia and as part of 'Rock Meets Classic' that is featuring the big names of the international rock scene: Alice Cooper, Ian Gillan, Uriah Heep, Status Quo, Thin Lizzy, Paul Rodgers, Eric Bazilian, Jimi Jamison, Midge Ure, Steve Lukather, Chris Thompson, Bonnie Tyler and many others.
Besides that Oliver Hartmann is also fronting the successful Pink Floyd Tribute Echoes that climbed up to No 20 of the German charts in 2015 with their acoustic live DVD 'Barefoot To The Moon' and received outstanding critics world wide.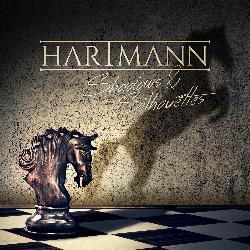 product: Hartmann - Shadows & Silhouettes
release date: 30.09.2016
release territory: world
format: CD
After numerous tours as part of Avantasia, Rock Meets Classic and as mastermind of the successful Pink Floyd Tribute Echoes the exceptional singer and guitarist Oliver Hartmann now presents his new fifth studio album "Shadows & Silhouettes" with Hartmann after nearly four years break since the latest release "Balance". The new album will be released on 30th of September on the artist owned label SONIC11 in cooperation with Pride & Joy Music.
Supported by guest musicians as the well-known session keyboarder Jimmy Kresic (Rock Meets Classic, The Roots, Soundtopia), Miro Rodenberg (Avantasia) and also the Prague cellist Irena Morisáková and violinist Adéla Pecková the album contains 12 extra class songs combining modern melodic Rock ("Irresisitible", "Glow" "High on you", I would murder for you") with many acoustic ("The letting go", "Shadow in my eyes", "Still the same") and partly very intimate moments ("Jaded heart", "Last goodbye") pointing up the broadness and complexity of Hartmann. The catchy single "When your mama was a hippie" will also be released as video clip.
The album has been co-produced again by Sascha Paeth (Avantasia, Edguy, Kamelot, Beyond The Black, etc.) and mixed/mastered at Gate Studios Wolfsburg/Germany.
product: Incertain - Rats In Palaces
release date: 22.09.2017
territory: world
format: CD
INCERTAIN was founded in October 2012 in Andernach, Rhineland-Palatinate, Germany. Being a very young band back then, they tried first on stage within their local scene. Only Luis Strietholt (drums) had went through several live experiences with his former Indie Rock project Celebrate Simon before. The five-headed Germans are musically influenced by Speed and Thrash metal legends like Overkill, Exodus or Testament, but also found inspiration in songs of the essential Death Metal representatives Vader, furthermore in modern acts like Lamb of God. These influences find evidence not only in INCERTAIN´s instrumental songwriting, but especially in singer Liane Walter's growling in traditional Death Metal manner. Being well related to one of the best known local live locations, Juz Live Club in Andernach, many chances to play at established festivals such as "A Chance for Metal Festival" & "Loud!Fest" occurred. In May 2016, INCERTAIN performed as co-headliner in front of a fulliflatched festival tent, comprising 1000 people at the "A Chance for Metal Festival". Furthermore they supported the German Thrash Metal heroes Tankard from Frankfurt at one show of their "Rest in Beer"- tour at Juz Live Club. The response on their live shows was constantly positive from crowds of all ages, and INCERTAIN soon went on stages in Cologne, Frankfurt, or also as part of the warm-up show of MISE Open Air and Taunus Metal Festival in Hessia.
The first INCERTAIN album "Rats In Palaces" was recorded by Michael "Freio" Haas (Sober Truth, The Gate, Sic Zobe, Erzfeind) at Big Easy Studio near Hennef, Germany from August 2016 to July 2017. Subsequently, the record was mastered by Aljoscha Sieg at Pitchback Studios (Eskimo Callboy, August Burns Red, Vitja, We Butter The Bread With Butter). Costin Chioreanu (Twilight Media), who designed artworks of Arch Enemy, Grave, Vader and Entombed, made the cover and booklet for "Rats in Palaces". For the upcoming music video and single release of the song "Amok", INCERTAIN worked with Pete Kunz, singer of the band Bloodspot from Limburg.