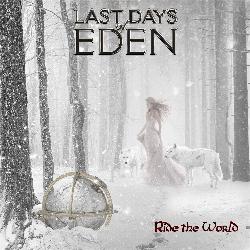 product: Last Days Of Eden - Ride The World
release date: 27.11.2015
territory: Europe
format: CD & download
LAST DAYS OF EDEN isafemalefronted symphonicmetal
band formed in 2012 in the Spanish Northern region of Asturias.
With epic folk influences added to their symphonic sound, they perform a melodic style that also carries Celtic and classical influences.
The band released an EP with six songs in 2014 which gained them a lot of recognition around the world and was extremely successful especially in Europe and in Japan.
During the year 2014 LAST DAYS OF EDEN played shows with U.D.O. and DEVIL'S TRAIN amongst others. After that, the Spanish six-piece entered the studio to record their first full album entitled "Ride The World" which includes 13 catchy and powerful songs plus one intro. The diverse song material delivers everything a fan of female fronted Symphonic, Gothic, Power Metal is longing for: Melodic Metal with driven guitars and tons of hooks, classical, orchestrated parts and folk elements plus some mega ballads. Other highlights are the more than 15 minute long epic "A Game Of War" and the bagpipe performance by Gustavo Rodríguez.
The group consists of members from other well known Spanish Metal bands such as Warcry, Avalanch, DarkSun or BandaNocturna.
Line-Up: Lady Ani – Vocals; Dani G. – guitar & vocals; Gustavo Rodríguez – Bagpipes, Juan Gómez – keyboards; Adrián Huelga – bass, Alberto Ardines – drums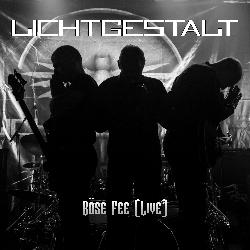 product: Böse Fee (Live)
release date: June 10th, 2016
territory: world
format: digital single
After the successful Motorenherz tour and the concerts together with Stahlmann in 2015, LICHTGESTALT, the NDH/ Metal band of the moment, will now release the single "Böse Fee" ("Evil Fairy") which was recorded live at club "Sputnik" in Münster, Germany on Dec 3rd, 2015.
The song will also be available as studio version on the next, yet untitled album of the four-piece which is scheduled for a release in 2017.
The track shows the development of the variable musical style of LICHTGESTALT which has already been received well by fans and critics in regards of the band's latest album "Motorenherz".
"Böse Fee" is mixing up "Bad Girl"-eroticism with strong NDH riffing and synth components. Singer and lyricist Thomas C. Hertz has his very own view on the fairy tale of the Sleeping Beauty, while the song offers a danceable groove and powerful guitar riffs by the Heizzer.
The audience during the 2015 tour already gratefully has appreciated the song; this digital single will be available from June 10th, 2016 as download on iTunes, Amazon and any other common platform.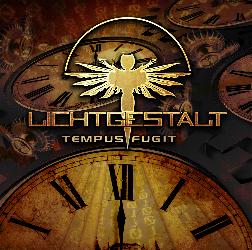 product: Lichtgestalt - Tempus Fugit
release date: 26.05.2017
release territory: world
format: CD
When the German NDH/Gothic/Metal band LICHTGESTALT from the Rhine Ruhr/ Münsterland area was founded at the end of the year 2013, it became rapidly clear that this group will start through in their scene immediately. Only a few months and steady rehearsals later, the self-titled debut EP "Lichtgestalt" was released in 2014 on the band's own label Lichtgestalt Music. The EP marked a big success and charted straight away in the Top 30 of the German DJ Club Charts.
Their first full-length album "Motorenherz" saw the light of day in April 2015 on the Danse Macabre label. The specialized press celebrated the record as, for instance, powermetal.de wrote that "the track 'Tiefenrausch' impressively demonstrates that only this band is able to the claim the rights on the crown of German, hard music…", whilst Orkus magazine even attested that the quartet had created a new musical genre: "Theatrical, spaced out, different….Lichtgestalt with their debut album firsthand creates a new genre - "Neuen Harten Stream" (new, hard Steam)….".
Since May 2015, the band around the charismatic singer Thomas C. Hertz regularly shows live that they're also capable to transfer their energy from the studio onto stage. In the year 2015, LICHTGESTALT also successfully toured twice with the German NDH iconic band STAHLMANN and started to play first headline shows.
In line with their live activities, guitarist and song-writer Der Heizzer and singer and lyricist Thomas C. Hertz began the song-writing of their sophomore album "Tempus Fugit" which will be released on May 26th, 2017 on the Pride & Joy Music label with Edel distribution in their native country of Germany.
In the meantime, the group, which furthermore still consists of Lippman on bad guitar and Brukke on drums, finished more live shows during the year 2016 which included a performance at prestigious Gothic Castle Festival and some club shows. In February 2017, LICHTGESTALT will hit the road together for a 14-day European tour together with the Metal bands ALMANAC & GLORYFUL and continue to play club shows and more festivals during the year to support the "Tempus Fugit" release.
The year 2017 will without any doubt the year of LICHTGESTALT!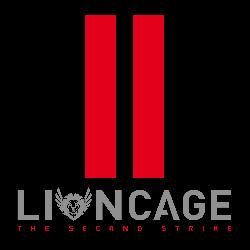 product: Lioncage - The Second Strike
release date: 24.03.2017
territory: world
format: CD & download
The band LIONCAGE was founded in 2013 by Thorsten Bertermann (vocals), Torsten Landsberger (drums) and Lars König (guitar & mix). All three musicians had known each other for many years performing in professional tribute bands, and impulsively started a band with original songs after having a couple of beers at a festival, well, a rock festival…
After two years of song-writing and recording demos, the LIONCAGE debut release "Done At Last" successfully saw the light of day in Europe and Japan.
Even though the trio has a big variety of individual musical influences they have one passion in common: Melodic Rock and Rock bands such as Toto, Foreigner, Journey, Huey Lewis, Genesis, Yes, Paul Carrack, Chicago and many more. Besides these influences, LIONCAGE's sound also showcases a contemporary, own sound on their second album "The Second Strike" which now is presented with even more finesse, power and versatility.
Some fantastic and talented musicians and friends helped the German three-piece to complete their new record. The bass guitar was handled by Lars Slowak, Sven Zimmermann, Andreas Laude-Schwedewsky and Dirk Meyer, keyboards by Mitch Knauer and Shanger Ohl, and backing vocals by Madeleine Lang, Anja Bublitz, Olaf Senkbeil and Billy King. Last but not least, one of the finest studio guitarists, Tim Pierce, (Bruce Springsteen, Michael Jackson, Rascal Flatts, Joe Cocker, Rick Springfield, Elton John etc.) took over some guitar parts on the track "Secrets".
On "The Second Strike", Lioncage impressively prove that Germany is able to offer great productions in the Westcoast, AOR and Melodic Rock genre.