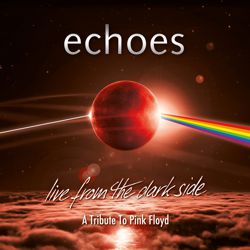 product: Echoes - Live From The Dark Side
release date: 15.03.2019
release territory: world
formats: 2-CD, Blu-ray, DVD and Box (incl. 2-CD & Blu-ray)
Since many years Echoes, the band around guitarist and singer Oliver Hartmann (Avantasia, Hartmann, ex-Rock Meets Classic), is well known as frontman of the most popular and successful German Pink Floyd Tribute meanwhile touring across Europe and far beyond the borders of Germany.
With their successful live DVD/CD "Barefoot To The Moon" (No. #20 at the Media Control Charts Germany 2015), recorded and arranged with pure acoustic instruments and supported by a four-piece string ensemble from Prague, the band has impressively shown that the original's great heritage can be interpreted in an interesting, inspiring and absolutely creative way.
Now in early 2019, the group will release their successor and electrical continuation entitled 'Live From The Dark Side (A Tribute To Pink Floyd)", recorded live at 'Rock Of Ages Festival 2018' in Rottenburg-Seebronn, Germany. Again backed-up by a string quartet on this special evening, the band was supported by the guest appearance of greats such as Midge Ure (Ultravox), Michael Sadler (Saga) and Geoff Tate (Operation Mindcrime), all of them well known as icons of the international Pop and Prog Rock scene, to celebrate and perform the music of Pink Floyd - accompanied by a real lunar eclipse!
DVD & Blu-ray: 2.0 PCM Stereo, 5.1 Dolby Surround, FSK 0, PAL, all regions, playing time: ~120 min
Bonus material: 01. Making of; 02. Interviews with Michael Sadler, Midge Ure, Geoff Tate; 03. Picture gallery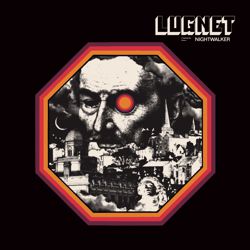 product: Lugnet - Nightwalker
release: 25.01.2019
territory: Europe
format: CD, LP & digital
With a dedicated, tough, gritty sound of 70´s hard rock, the Swedish band Lugnet strikes with full expression. Their debut album was released 2016 and struck a chord around the world with great reviews.
The band thrives on new singer Johan Fahlbergs (Jaded Heart) voice with immense power and range. The extraordinary driving rhythm section consists of bass player Lennart "Z" Zethzon (Badge) and drummer Fredrik Jansson (Angel Witch, ex Witchcraft). New guitar player Matti Norlin adds (Badge and solo artist) a great bluestone, together with heavy guitar riffs from Marcus "Mackan" Holten.
The new album "Nightwalker" will take the listener to a new experience with a wide range of arrangements and sounds, where each song tells it's own story which will take all 70's Hard Rock fans by storm. Swedish cover artist Robin Gnista designed the artwork. "Nightwalker" will be released on January 25th, 2019 on Pride & Joy Music as CD, LP and on all digital platforms in Europe.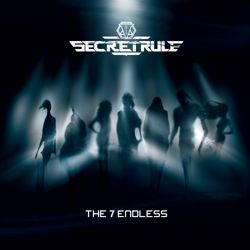 product: Secret Rule - The 7 Endless
release date: 25.01.2019
territory: world
format: CD & digital
Secret Rule was formed in the beginning of 2014 with the intention to create a special sound with powerful rhythms and catchy melodies. During these five years, Secret Rule conquered their space in the metal scene.The band is fronted by the powerful and crystal clear vocals from Angela Di Vincenzo, masterminded by lead guitarist Andy Menario, with accurate bass playing by Michele Raspanti and the powerful drumming from Nicola Corrente.
Secret Rule's live shows offer a lot of energy and consist of a mix of heavy guitar riffs with electronic elements and incredible keyboard lines – a total impact between metal music and awesome melodies.
Three albums, "Transposed Emotions" (2015), "Machination" (2016) and "The key to the world" (2017), so far have been released. The group built a solid fan base, supported by their live activity and featured special guests like Aylin (Sirenia), Stefan Helleblad (Within Temptation), Henrik Klingenberg (Sonata Arctica), Timo Somers (Delain), Sander Zoer (Delain, Leah) and Henning Basse (Mayan, Firewind).
Secret Rule played a lot of shows all over the Europe, including headlining European tours, sharing the stage with great bands such as Delain, Beyond the Black, Xandria, Serenity, Kobra & the Lotus, Blaze Bayley, Visions of Atlantis and Cellar Darling and performing festivals including the Barcia Metal Fest and the Metal Fest Event - Femme.
Secret Rules' new, fourth album is called "The 7 Endless" and shows a progress in the band's sound. This time, all aspects were handled of by the band themselve. The concept was inspired by "The Endless", characters created by Neil Gaiman for the comic book "The Sandman".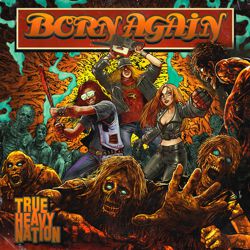 product: Born Again - True Heavy Nation
release date: 07.12.2018
territory: world
format: CD
BORN AGAIN is a French Heavy Metal band which originally was formed in 2016, set on creating a melodic and heavy sound enlivened by a strong vocal performance.
The result is a mix between 1970's and 1980's bands like Motörhead, Judas Priest, Thin Lizzy and Black Sabbath. Their first album "Strike With Power" received very good feedback all around the world.
The sophomore release "True Heavy Nation" now is the first album on Pride & Joy Music and will be released on December 7th, 2018.
Stan W. Decker (Primal Fear, Ross The Boss, Stryper) designed the artwork. The mix was handled by Pierre-Emmanuel Péllison at Studio PE in Besancon, France.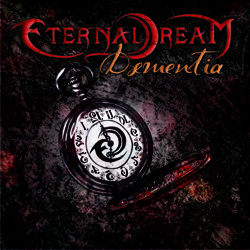 product: Eternal Dream - Daementia
release date: 07.12.2018
territory: world
format: CD
Eternal Dream is a Female Fronted Power Metal band with plain European influences and an epic, unique and catchy sound. The band was founded in Malaga, Spain in 2008.
In 2012 the first album, "The Fall of Salanthine", was released and gained a lot of great feedback from the media. Several live shows with known Spanish bands followed.
Since then, the six-piece hasn't stopped improving their live shows and song-writing skills, and continued to release new singles and EP's which gained Eternal Dream a solid fan base.
"Daementia" is the name of the second Eternal Dream full-length album which will be released on Pride & Joy Music on December 7th, 2018. It offers a full concept in which artwork, music and lyrics are parts of a whole.
The spectre of emotions and feelings in a human being transport us to her psyche using C. Lewis work "Alice in Wonderland" and "Through the Looking Glass and What Alice Found There", it's sociocultural context, different versions (TV, movies, video games…) to give the band's work it's own identity and lore. "Daementia" connects the listener with different feelings and evokes memories.
The compositions developed and now have a more smashing and direct power metal sound. Each song represents a feeling or a mental state, identifying characters or paragraphs created by C. Lewis, leading into a different atmosphere for each song. This results in a journey through mind guided by the music, drawings and literature. The artwork designed by singer Ana Moronta completes its perception.
"Daementia" was mixed and mastered by one of the best Spanish producers, Dani G, in Dynamita Studios (Asturias) who's best known for his work with bands such as Darksun and Last Days Of Eden.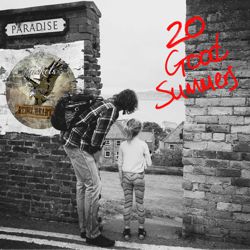 product: Buckets Rebel Heart - 20 Good Summers
release date: 07.12.2018
format: CD
territory: world-wide
Buckets Rebel Heart is the new band formed by exBad Company and Humble Pie guitarist Dave "Bucket" Colwell, along with former 720 & New Torpedoes drummer, Paul "Taff" Edwards. The line-up is completed by lead vocalist Jim Stapley and bass player Dave "Boycie" Boyce, previously of The Quireboys.
December 7th, 2018 sees the release of the band's debut album 20 GOOD SUMMERS via Pride & Joy Music, showcasing 12 songs written by Colwell and Edwards. Mixed in Nashville, by Grammy Award Winner Ben Fowler, the album also features vocal contributions from Mollie Marriott and Rick "Georgia Satellites" Richards, among others. Hit the Song tab to hear three songs from the album.
The band made their live debut in June, going down a storm at the SWEDEN ROCK FESTIVAL 2018 – go to Youtube to see some great footage from the show, plus the official video for the song "Rebel Heart".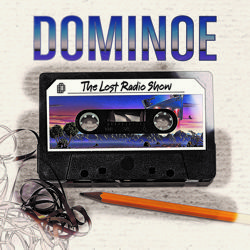 product: Dominoe - The Lost Radio Show
release date: 16.11.2018
format: CD
territory: world
The Past
1988. The debut single from a previously unknown Hard Rock band dominates the singles charts for many weeks. The track is called "Here I Am" and well-known from a Renault-5 TV commercial. Many TV show performances and intense touring all over Europe followed for the band DOMINOE.
The Present
2018. DOMINOE now since 30 years have been producing new albums every now and then – whenever they had fun to enter the studio again. The forces behind are mastermind Robert Papst on guitars and singer Jörg Sieber. "The Lost Radio Show" now will be released in November and is the 6th album by this group. The content: the long lost studio live session recordings for a radio show from 2008.
The "Tapes"
Originally recorded for a British radio show in 2008, parts of these recordings got lost at the time because of a hard disk crash. The planned radio show never happened and the incomplete "tapes" ended up in the archives. By surprise, Robert Papst discovered these "tapes" again in the year 2018. Most of the tracks were used and only the really lost tracks now have been newly recorded. The result: The Lost Radio Show
The Music
Guitars. Keyboards. Bass. Drums. A lot of great voices. And the classic instruments of the Mainstream Rock genre. Former band members and longtime musical friends helped to complete the recordings. The new release covers the atmosphere from the original sessions and offers a state of the art production, too. The 15 tracks cover songs from all five Dominoe albums and will take you onto a journey back to the year 2008. Grammy winner Gavin Lurssen, L.A. handled the mastering.