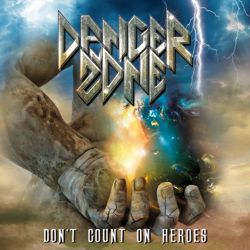 product: Danger Zone - Don't Count On Heroes
release date: 18.10.2019
format: CD & digital
territory: world
When Roberto Priori (g) started the Italian band DANGER ZONE in the early 80s a long hard road lay ahead of them. After various demos and line-up changes, they released the LP "Victim Of Time" (1984). But it wasn't until 1987 when they gained bigger attention in Italy from audiences and media alike, followed by live performances with e.g. Saxon and on some hard rock festivals. The aim was to break the US market and resulted in at least a successful gig at the legendary Whiskey A Go Go in Los Angeles in the summer of '88. In 1989 "Line Of Fire" was recorded in Venice/Italy under the wings Stephan Galfas (e.g. Meat Loaf, Savatage and Stryper) and produced by Jody Gray and Mark Cobrin (Loudness/EZO). Later that year, fate saw the members moving to L.A. for half a year and playing shows. Unfortunately, the finished album got shelved, but as the years went by, "Line Of Fire" reached an underground cult status with both press and fans.
Finally in 2011, "Line Of Fire" saw the light of day, carefully remastered by Roberto Priori. The band already got back together in 2010 working on new material and playing live. Before original DANGER ZONE band members Roberto Priori (g), Paolo Palmieri (d) and Giacomo Gigantelli (v) entered the studio, they added Roberto Galli (b) to their line-up.
First sessions took place in Roberto's PriStudio in Bologna, followed by a trip of singer Giacomo Gigantelli to New York, where he met Jody Gray, one of the key members of the production team of the "Line Of Fire" album more than 20 years ago, resulting in creative work. "Undying" (2012), being full of catchy melodies and powerful guitar riffs firmly build on DANGER ZONE's musical roots of the 80s while adding a slightly modern edge.
With new bass player Matteo Minghetti, the band started to write for the new album featuring Pier Mazzini (Perfect View) and Whitesnake's Michele Luppi on keyboards. "Closer To Heaven" (2016) has been released by Pride & Joy Music on April 2016 and has been unanimously acclaimed as their best album so far and one of the best AOR/hard rock albums of 2016.
The band, now being joined by Danio Faggiolino (g), kept playing live while working on new songs. Keyboards brought new possibilities, adding a new and more "cinematic" dimension. In 2018, recordings of the new album, again produced by Priori and Gray, started.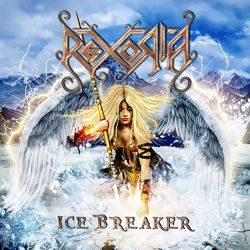 product: REXORIA - Ice Breaker
release date: 18.10.2019
format: CD & digital
territory: world
The Swedish melodic heavy metal band REXORIA is now back with their second album 'Ice Breaker' which delivers a lot of power, speed and metal feeling!
Band members are Jonas Gustavsson (b/g), Cristofer Svensson (g), Martin Gustavsson (d) and the charismatic singer Frida Ohlin. Together they create a sound with various folk and power influences which will bring you right into the dark forests and up on high mountains!
'Ice Breaker' has been mixed and mastered in the famous studio Studio Fredman in Gothenburg by Fredrik Nordström.
Joining the band as a guest singer on their Swedish song "Vår Verklighet" is Niklas Isfeldt (Dream Evil). Jobert Mello created the artwork (Sabaton, Primal Fear).
The four-piece has been touring and sharing the stage with bands like Battle Beast, Bloodbound, Thobbe Englund (ex Sabaton) and Dynazty. So if that's the type of music you like, you should make sure you check out REXORIA and their new album 'Ice Breaker'!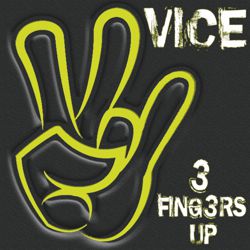 product: Vice - 3 Fingers Up
release date: 13.09.2019
format: CD
territory: world
The Bavarian Party Metal Band VICE has released it's first album "MADE FOR PLEASURE" through the major label BMG Ariola (today Sony Music) in 1989. Countless media appearances and stories as well as extensive touring helped to break the band all over Europe. As a direct result "Made For Pleasure" and the follow-up "Second Excess" sold more than 100.000 copies.
27 years later VICE returned with a new album and a new line-up. "Veni Vidi Vice" – released in November 2017 - marked the first chapter of the new band era.
In 2019 the "VICE-Autumn-Party-Tour", side-by-side with bands like AXXIS and HARDLINE, will be backed up by the new album "3 Fingers Up" which contains 9 brand new highly energetic songs, a storming cover version of the JOAN JETT/DESMOND CHILD classic-track "I Hate Myself For Loving You" as well as a new version of the band classic "Made 4 Pleasure". "3 Fingers Up" was produced by Chris Limburg and mastered by Andy Knote (Toyco Studios).
VICE 2019: Mario "Mitch" Michel (vocals), Chris "Yps" Limburg (guitar), Jürgen "Bam Bam" Wiehler (drums), Sebi Weininger (bass)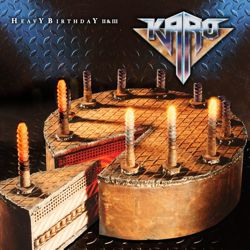 product: KARO - Heavy Birthday II & III
release date: 18.06.2019
format: 2-CD
territory: world
Berlin-based hard rock outfit KARO put out their only album release "Heavy Birthday" in 1988. Praised by critics and fans alike their melodic but somehow rough style was met by great songwriting and musical talent. It has since been an open secret that KARO recorded more than thirty songs between 1987 and 1989 of which only ten ended up on their debut. Whereas Robert "Karo" Straub played keyboard in Morgenrot and Lutz Salzwedel (v) fronted Karusell, both having German lyrics, Salzwedel later on put out several records under the name of Dan Lucas and recently won The Voice Of Germany Senior, it was the talent of Erich Holstein (g) that literally ignited the band KARO. Soon after recordings in Berlin and Frankfurt with producers Peter Hauke and Andy Lunn took place.
Recordings in London followed. Especially working on the songs "One Of A Kind", "Sister Sister" and "Wanna Be Loved" in London with producer Tony Platt, who then already had worked with AC/DC, was quite an experience for the band and obviously brought attention, too. The idea of going there for production was to give the band more of an international sound. KARO right away played support shows for Meat Loaf but was dropped by the label in 1989.
The idea to put out "Heavy Birthday II & III" as a double-decker CD was born. All tracks featured on any Karo release have been recorded within those three years of activity. With Holstein and Bosien having passed away already, this is the ultimate legacy of KARO. "This way KARO comes full circle", says "Karo" Straub.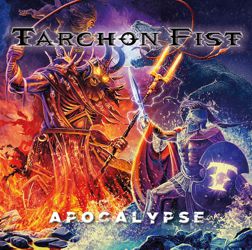 product: Tarchon Fist - Apocalypse
release date: 16.08.2019
territory: world
format: CD & digital
Tarchon Fist was created at the end of March 2005, after the split of the band Rain, the memorable Italian metal group, whose mastermind was Luciano "Lvcio" Tattini (g). This event coincided with the coming of Marco "Wallace" Pazzini (b, Basic Dreams). The name TARCHON FIST was the "logical evolution" of the "Rain" band. Tarchon being an ancient Etrurian king, hero and then also a god. The god of storm. Whereas "fist" underlines the band's power and impact on stage. By the end of 2005, a video clip was produced. Thanks to this video, the band put out two albums on an Italian label, their self-titled debut in 2008 and "Fighters" in 2009. Line-Up changes and many shows followed. October 2013 "Heavy Metal Black Force" came out.
Remembering the first decade, the band released "Celebration 2005-2015" in December 2015 with a new song called "Celebration" and a best of. In July 2017 the EP "Proud to be Dinosaurs" came out.
Since 2010 the band's line-up has been solid except for new drummer Giacomo "Jack" Lauretani (2016). So from 2010 until today, the band toured all over Europe. In August 2018, after 13 years of activity with albums, EPs, video clips and tours, the band performed a show at the mighty Wacken Open Air! On their previous albums e.g.Tom Naumann (g, Primal Fear) or Robb Weir (g, Tygers Of Pan Tang) guested.
"Apocalypse", the concept album, their first ever, is scheduled for August 16, 2019, via the German label "Pride & Joy Music" and showcases artwork by Stan W. Decker (Megadeth, Avantasia a.o.).
The tale has nothing to do with the Apocalypse of St. John the Apostle. It combines motives from literature, history, mythology and many pre-Christian cultures. It is a story that is based on the dualism of human beings: Nobody is born bad. Nobody good. Personal choices lead us towards the former or the latter. And although there cannot be one without the other, it still seems that evil takes root more easily in our soul. It is always evil that "makes the first move".
Tarchon, deified king and hero of popular Etrurian culture (from which the band began its journey almost 15 years ago) will appear in the guise of the "Lord of Light" and the forces of good. In the course of this long war, he is be accompanied by creatures that actually existed but are considered extinct today.
Darkness, on the other hand, is represented by Manth, the demonic divinity of the Felsinean cult guarding the underworld. He can make use of any kind of fantasy creature associated with evil which are found in the most disparate cultures in the history of mankind.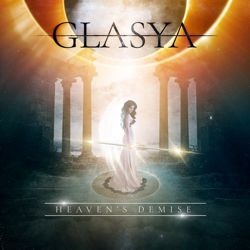 product: Glasya - Heaven's Demise
release date: 12.07.2019
release territory: world
format: CD
Glasya was founded by Hugo Esteves in 2016 with one main purpose, to create a musical project that would combine full orchestral arrangements with metal. He was already familiar with symphonic metal, but he wanted to do it in a more dramatic and cinematographic way. So later that year, Hugo invited Bruno Ramos, former drummer of My Deception, and they started writing together.
They needed to integrate the symphonic elements, so Hugo contacted Davon Van Dave, a Dutch-Portuguese keyboard player, who had been member of two well-known Portuguese bands, Urban Tales and Shadowsphere, that toured with bands like To/Die/For, Beseech, Rotting Christ and, with their albums being at the top of the metal charts in Portugal, and was the ideal person to reach out for.
With Davon Van Dave on board, the next step was to find the right voice. They heard about a Portuguese Nightwish tribute band, Nightdream, and after listening to their singer's voice and seeing her performance they immediately invited her: Eduarda Soeiro, being a classical performer and trained singer, right away became the face and voice of Glasya.
The band line-up was finally complete when Bruno Prates (b) and Manuel Pinto (g), former members of Enchantya, both being talented musicians and experienced performers, came on board.
With all the members having different influences, from classic to progressive, they were creating a very stylish and distinctive sound which offers symphonic, ethnic, slow emotional songs and powerful metal riffs, of course.
In 2018 the band released the song "Heaven's Demise" to the world in advance and it made quite a buzz among the press, creating great expectations on their upcoming debut album.
Later that year, at The Pentagon Audio Manufacturers Studios, Glasya started to record the album with Fernando Matias, who is a member of Sinistro, and has worked with bands like Moonspell, Bizarra Locomotiva, Gwydion. The upcoming album "Heaven's Demise" features four guests, the voices of Paulo Gonçalves (Rasgo), Flávio Lino (Deadlyforce and "The Voice" Portugal show contestant), Nélson Raposo (a film and series voice-over professional), and the beautiful violin of Inna Calori.
This year, Glasya releases their debut album through Pride & Joy Music and are scheduling their tour to play the main metal festivals.
product: Bonfire - Live On Holy Ground Wacken 2018
release date: 14.06.2019
formats: CD, DVD & LP
territory: world
German Hard Rock band BONFIRE for a couple of decades has been one of the busiest touring bands and consistently also is a regular guest at numerous big European Metal festivals. On August 4th, 2018 the Ingolstadt based group once again set a highlight performance at the world's biggest Heavy Metal festival: Wacken Open Air.
The show in Wacken was filmed and will now be released on June 14th, 2019 as DVD, as CD, as LP and digital under the name "Live On Holy Ground 2018". The main film offers a superb 'best of' journey through time and includes BONFIRE's own classic hits like "Ready 4 Reaction", "Sweet Obsession" and "American Nights". The DVD version with "Praying 4 A Miracle" (radio edit), "Locomotive Breath" (radio edit), "Sweet Obsession" (2019) and "American Nights" (2019) offers four bonus video clips which are also included on the CD, LP and digital as audio files. The first pressing of all three physical formats was handsigned by the band.
Filmed & recorded live at Wacken Open Air on August 4th, 2018
Mix & Mastering: Tom Müller (Flatliner Studios)
Produced by: Hans Ziller
Additional Recordings by Rolf Munkes at Empire Studios
Virtual set extensions for American Nights by Diese E-Mail-Adresse ist vor Spambots geschützt! Zur Anzeige muss JavaScript eingeschaltet sein!
Locomotive Breath – Byron Mansylla, AVMS
Artwork design: The Digital Dictators
DVD information: FSK12, Playing time: 60:09 min, , Full screen: 4:3, DTS 5.1, Dolby Digital, NTSC, Full HD, Region Code: 0
BONFIRE are: Hans Ziller – Lead, Rhythm-Guitar, Backing Vocals; Alexx Stahl – Lead Vocals; Ronnie Parkes – Bass, Backing Vocals; Frank Pané- Lead, Rhythm-Guitar, Backing Vocals; André Hilgers – Drums, Percussion
Additional Musicians: Tim Breideband, Harry Reischmann – Drums; Paul Morris, Fredrik Bergh, Alessandro DelVecchio – Keyboards; Mike Gerhold – Backing Vocals