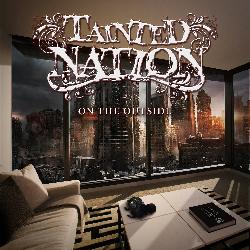 product: Tainted Nation - On The Outside
release date: 26.02.2015
format: CD
release territory: Europe
Tainted Nation comprises of five musicians who have all in their own right been involved in world tours, festivals and recordings. Boasting members and ex-members of Helloween, Firewind, King Diamond, The Poodles, Eden's Curse, Lionsheart and others. This line up has so far released an acclaimed debut title F.E.A.R, which hit like a hammer across the loins of Rock music. Possibly a slightly unexpected direction taken in this hard hitting commercial slice of music, the album has helped Tainted Nation to move forward at a rapid pace. With live appearances in the UK and Europe, including festivals and a hugely successful tour of Spain. All of these received some great reviews.
On 26.02.2016, Tainted Nation is looking forward to the release of their follow-up album entitled "On The Outside". This record was recorded in Tewkesbury, UK and Stockholm, Sweden, and produced & mixed by Pete Newdeck. Pontus Norgren of Hammerfall has co-written the tracks "Live And Die", "Karma" and "Back To Earth" and provided a couple of guest solos, Nick Workman (Vega) appears as backing vocalist on the track "On The Outside" and Issa is performing a duet with singer Pete Newdeck at "Pulling Me Under".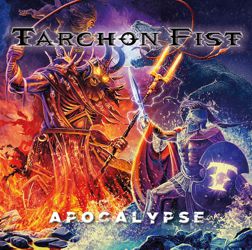 product: Tarchon Fist - Apocalypse
release date: 16.08.2019
territory: world
format: CD & digital
Tarchon Fist was created at the end of March 2005, after the split of the band Rain, the memorable Italian metal group, whose mastermind was Luciano "Lvcio" Tattini (g). This event coincided with the coming of Marco "Wallace" Pazzini (b, Basic Dreams). The name TARCHON FIST was the "logical evolution" of the "Rain" band. Tarchon being an ancient Etrurian king, hero and then also a god. The god of storm. Whereas "fist" underlines the band's power and impact on stage. By the end of 2005, a video clip was produced. Thanks to this video, the band put out two albums on an Italian label, their self-titled debut in 2008 and "Fighters" in 2009. Line-Up changes and many shows followed. October 2013 "Heavy Metal Black Force" came out.
Remembering the first decade, the band released "Celebration 2005-2015" in December 2015 with a new song called "Celebration" and a best of. In July 2017 the EP "Proud to be Dinosaurs" came out.
Since 2010 the band's line-up has been solid except for new drummer Giacomo "Jack" Lauretani (2016). So from 2010 until today, the band toured all over Europe. In August 2018, after 13 years of activity with albums, EPs, video clips and tours, the band performed a show at the mighty Wacken Open Air! On their previous albums e.g.Tom Naumann (g, Primal Fear) or Robb Weir (g, Tygers Of Pan Tang) guested.
"Apocalypse", the concept album, their first ever, is scheduled for August 16, 2019, via the German label "Pride & Joy Music" and showcases artwork by Stan W. Decker (Megadeth, Avantasia a.o.).
The tale has nothing to do with the Apocalypse of St. John the Apostle. It combines motives from literature, history, mythology and many pre-Christian cultures. It is a story that is based on the dualism of human beings: Nobody is born bad. Nobody good. Personal choices lead us towards the former or the latter. And although there cannot be one without the other, it still seems that evil takes root more easily in our soul. It is always evil that "makes the first move".
Tarchon, deified king and hero of popular Etrurian culture (from which the band began its journey almost 15 years ago) will appear in the guise of the "Lord of Light" and the forces of good. In the course of this long war, he is be accompanied by creatures that actually existed but are considered extinct today.
Darkness, on the other hand, is represented by Manth, the demonic divinity of the Felsinean cult guarding the underworld. He can make use of any kind of fantasy creature associated with evil which are found in the most disparate cultures in the history of mankind.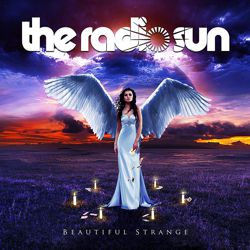 product: The Radio Sun - Beautiful Strange
release date: 24.08.2018
territory: Europe
formats: CD & download
Australian melodic rockers The Radio Sun have done it again with their new album 'Beautiful Strange'! With the band's debut album released in 2014, this will be the fifth album in five years!
The Radio Sun have worked very hard to build up their following by touring all over the world in support of each and every release. Performances in Japan, Europe, United States, United Kingdom and their home country Australia has showed the band's ability to rise. The Radio Sun are the first band to ever play Hard Rock Hell AOR Fest U.K four times in a row, whilst also having played at Melodic Rock Fest on four different occasions.
The four piece group is fronted by the charismatic Jason Old on lead vocals, guitar slinger Stevie Janevski, bassist Anthony Wong & drummer Gilbert Annese. With all four members singing backing vocals, the boys delve into layered vocal harmonies reminiscent of the classics - Queen, The Sweet & Def Leppard. This is not to say that they don't have their own sound. The Radio Sun have great unique hooks in their songs. The new album is another progression for the band, with songs like 'Hold On Tight' and 'Miss Wonderful' grooving like never before. 'As Long As You Want Me' and 'Five Years After' are both melodic bliss, boosted by a great production by Paul Laine (solo, The Defiants) and mastering by Bruno Ravel (Danger Danger, The Defiants).
The Radio Sun is feel good music and sounds just as strong acoustic or electric. Last year the boys performed acoustic shows in Japan and this year saw The Radio Sun invited to play the prestigious Sweden Rock Festival.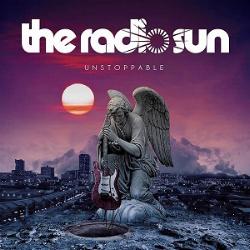 product: The Radio Sun - Unstoppable
release date: 20.10.2017
format: CD & download
territory: Europe
Australian melodic hard rock band The Radio Sun will release their fourth full-length album "Unstoppable" on October 20th, 2017. Vocalist Jase Old and guitarist Stevie Janevski have written a bunch of new catchy, well constructed melodic rock songs with the guidance of producer Paul Laine (solo, Dark Horse, The Defiants). Lush vocals and soaring solos are a big part of the band's sound, further enhanced by bassist Anthony Wong and drummer Gilbert Annese.
Andy Shanahan of Australian AOR favourites Roxus is a special guest on the forthcoming new album 'Unstoppable'. The Radio Sun guitar player Stevie Janevski goes on to say, "it's awesome to have Andy play keyboards on the song " and be a part of our new album. Roxus were by far the best AOR band Australia has had - a real honour!"
The Radio Sun will launch the new album with touring right around the world. The boys head to Japan in November and back to Europe in March 2018 with shows at HRH AOR Fest amongst others.
"Unstoppable" was mixed by Paul Laine. More shows for Germany, the UK and Greece are currently being booked.