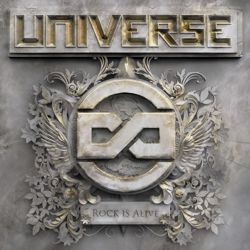 product: Universe Infinity - Rock Is Alive
release date: 13.04.2018
territory: world (excl. Asia)
formats: CD & digital
UNIVERSE started in 1982 in Upplands Väsby, Sweden, where hard rock ruled the streets. The members hailed from several different local bands. After leaving the band Moon, lead guitarist Michael Kling, who founded the band WC in the late 70's with John Norum, became one of UNIVERSE's founding members. Bassist Hasse Hagman, who played in Joey Tempest's first band, along with drummer Anders Wetterström and guitarist Per Nilsson, all came from the band Twilight. Once UNIVERSE got their hands on keyboard player Fredrik Kriström and singer Kjell Wallen, the band was complete. They played diligently for a couple of years all over Sweden, opening for Nazareth, among many other gigs. In 1985, the band released its self-titled debut album with songs like "Rollin' On", "Stories from the Old Days", and "Strong Vibrations". In 1986, Kjell Wallen left the band on good terms following creative differences and was subsequently replaced by Janne Åström. With Janne as the new frontman, the band focused fully on a follow-up to their debut album. Several demos were recorded but never ended up in the right hands. The band dissolved in early 1988 and then had a short reunion for a final show in the ice hall in Upplands Väsby later that year.
The band members went their separate ways, each showing up here and there in different contexts with connections to music. Everyone maintained occasional contact and eventually Per Nilsson reached out to the others to see if they were interested in playing together again. In 2002, all the members met up together for the first time in 14 years. They immediately knew they wanted to play again, and became convinced that the old material still had potential. Everyone agreed that a new album had to be released, but also that they were being pulled in different directions. For several years they kept continuous contact, waiting for the time when recording an album became inevitable. At first, UNIVERSE lacked a singer, but suddenly one day he was just there. Andreas Eklund (ex-House Of Shakira) became the new front man, his narrative lyrics and tasteful melodies opening the door to another dimension, so the band could take a bigger step into the galaxy. Now, finally, UNIVERSE is back as UNIVERSE INFINITY with "Rock Is Alive", a powerful album that is a tribute to the music of the 70's and 80's, and to their youth in Upplands Väsby. "Rock Is Alive" was produced by Michael Kling and Per Nilsson at Kling Studios, and mixed and mastered by Stefan Helleblad; drums were recorded in Standstraight Studio One Scandinavia. The artwork was created by Sylvain Lucchina at Razor Images.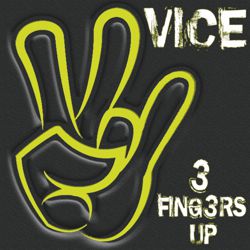 product: Vice - 3 Fingers Up
release date: 13.09.2019
format: CD
territory: world
The Bavarian Party Metal Band VICE has released it's first album "MADE FOR PLEASURE" through the major label BMG Ariola (today Sony Music) in 1989. Countless media appearances and stories as well as extensive touring helped to break the band all over Europe. As a direct result "Made For Pleasure" and the follow-up "Second Excess" sold more than 100.000 copies.
27 years later VICE returned with a new album and a new line-up. "Veni Vidi Vice" – released in November 2017 - marked the first chapter of the new band era.
In 2019 the "VICE-Autumn-Party-Tour", side-by-side with bands like AXXIS and HARDLINE, will be backed up by the new album "3 Fingers Up" which contains 9 brand new highly energetic songs, a storming cover version of the JOAN JETT/DESMOND CHILD classic-track "I Hate Myself For Loving You" as well as a new version of the band classic "Made 4 Pleasure". "3 Fingers Up" was produced by Chris Limburg and mastered by Andy Knote (Toyco Studios).
VICE 2019: Mario "Mitch" Michel (vocals), Chris "Yps" Limburg (guitar), Jürgen "Bam Bam" Wiehler (drums), Sebi Weininger (bass)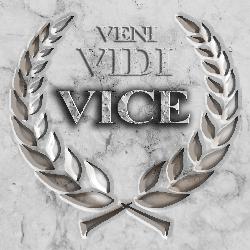 product: Vice - Veni, Vidi, Vice
release date: 17.11.2017
territory: world
format: CD
VICE was founded in Munich Germany in the late 80's and signed by major label BMG Ariola back in 1988. The former line-up consisted of Jörg Hargesheimer (guit), Peter Juhre (bass), Roland Schmidt (drums), Chris Limburg (guit), Jan Ghiantinie (vocals 1st album), Alan Keen (vocals 2nd album). These two records brought the band charts positions and several tours all over Europe. With more than 100.000 sold copies, VICE had a huge presence on TV and radio. They became quite famous and attracted their fans with their rather simple & rocking songs and positive attitude on stage.
Now after almost 30 years, VICE is back for more…The new album "Veni Vidi Vice" was produced, recorded and mixed by Chris Limburg at lictoc studios in Munich, will be released on November, 17th and continues the old style of VICE in a modern way. The first single & video for the song "Where do I belong" was released in advance in Summer 2017.
Further singles will be available soon, as well as an "hot summer night" release party on October 21st in a Caribbean atmosphere, near Munich at "Roberto Beach" (www.robertobeach.de)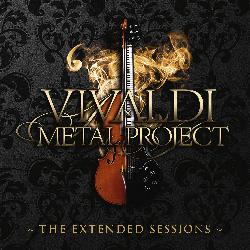 product: Vivaldi Metal Project - The Extended Sessions EP
release date: 19.01.2018
territory: world
format: CD & digital
"The Extended Sessions" EP is the follow-up release to the extremely successful "The Four Seasons" album release by VIVALDI METAL PROJECT which hit the shelves in Summer 2016 on CD & double vinyl on Pride & Joy Music. The album up to today is one of the label's best sellers and now being continued with this valuable EP which will shorten the waiting time for the fans until the next full album!
Created and produced by Mistheria, VIVALDI METAL PROJECT are currently working on bringing the project onto stage with full band, orchestra and choir. During Summer/Autumn 2017, the band played a series of unplugged shows in Finland, in Bulgaria and in Italy in advance which resulted in the idea to put some of the extraordinary material onto this EP! "The Extended Sessions" includes four tracks which are centered around the group's performance at "Kitee International Music And Art Festival" which took place in Kitee (Finland) on July 13th, 2017. Arranged by Mistheria, the performance at the "Sleeping Sun" event featured Mistheria himself on piano and Tsena Stefanova on vocals. An epic video for this track will also be available soon online.
"The Extended Sessions" EP opens with a newly recorded unplugged studio version of "The Four Seasons" medley which again was arranged by Mistheria who performed on this track on piano and was joined by vocalists Tsena Stefanova, Angel Wolf-Black and Dimitar Belchev plus Abigail Stahlschmidt on violin. Additionally to this track, the song "Vita" - one of the album's single - is featured twice on the EP: once as exclusive "original vocal session" as recorded by Dimitar Belchev on the first demo version of this song which impressed Mistheria at the first listening, and once as instrumental "karaoke". Both versions are delivered with a brand new mix by Ivan Moni Bidin at Artesonika studios.
"Vita" was originally released with different singers on last year's album. The track was arranged by Zhivko Koev and the line-up here includes Dimitar Belchev on vocals, Srdjan Brankovic on guitars, Chris Caffery (TSO, Savatage) with a guitar solo, Jeffrey Revet on keyboards, Royal Hunt's Andreas Passmark on bass and Martijn Peters on drums.
Like the Vivaldi Metal Project's "The Four Seasons" album, the "The Extended Sessions" EP was mixed and mastered by Ivan Moni Bidin at Artesonika Studios in Italy and produced by Mistheria.