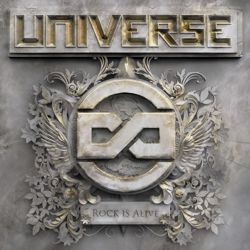 product: Universe Infinity - Rock Is Alive
release date: 13.04.2018
territory: world (excl. Asia)
formats: CD & digital
UNIVERSE started in 1982 in Upplands Väsby, Sweden, where hard rock ruled the streets. The members hailed from several different local bands. After leaving the band Moon, lead guitarist Michael Kling, who founded the band WC in the late 70's with John Norum, became one of UNIVERSE's founding members. Bassist Hasse Hagman, who played in Joey Tempest's first band, along with drummer Anders Wetterström and guitarist Per Nilsson, all came from the band Twilight. Once UNIVERSE got their hands on keyboard player Fredrik Kriström and singer Kjell Wallen, the band was complete. They played diligently for a couple of years all over Sweden, opening for Nazareth, among many other gigs. In 1985, the band released its self-titled debut album with songs like "Rollin' On", "Stories from the Old Days", and "Strong Vibrations". In 1986, Kjell Wallen left the band on good terms following creative differences and was subsequently replaced by Janne Åström. With Janne as the new frontman, the band focused fully on a follow-up to their debut album. Several demos were recorded but never ended up in the right hands. The band dissolved in early 1988 and then had a short reunion for a final show in the ice hall in Upplands Väsby later that year.
The band members went their separate ways, each showing up here and there in different contexts with connections to music. Everyone maintained occasional contact and eventually Per Nilsson reached out to the others to see if they were interested in playing together again. In 2002, all the members met up together for the first time in 14 years. They immediately knew they wanted to play again, and became convinced that the old material still had potential. Everyone agreed that a new album had to be released, but also that they were being pulled in different directions. For several years they kept continuous contact, waiting for the time when recording an album became inevitable. At first, UNIVERSE lacked a singer, but suddenly one day he was just there. Andreas Eklund (ex-House Of Shakira) became the new front man, his narrative lyrics and tasteful melodies opening the door to another dimension, so the band could take a bigger step into the galaxy. Now, finally, UNIVERSE is back as UNIVERSE INFINITY with "Rock Is Alive", a powerful album that is a tribute to the music of the 70's and 80's, and to their youth in Upplands Väsby. "Rock Is Alive" was produced by Michael Kling and Per Nilsson at Kling Studios, and mixed and mastered by Stefan Helleblad; drums were recorded in Standstraight Studio One Scandinavia. The artwork was created by Sylvain Lucchina at Razor Images.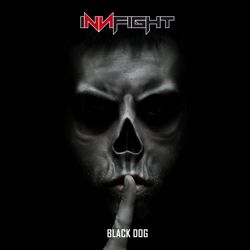 product: Innfight - Black Dog
release date: 13.04.2018
territory: world
formats: CD & digital
The story of INNFIGHT started at the end of the year 2013 in Mannheim, Germany with a line-up consisting of Sascha Wagner (guitar),
Michael Heck (keys) und Frank Widderson (vocals). About a year later and after writing songs together they began to record their debut CD "Boulevard Of Pain" in Rolf Munkes' Empire Studios in Bensheim (Hessia), Germany.
INNFIGHT later on were joined by the new members Udo Boppré (drums), Eugen Leonhardt (lead guitar) and Thomas Klesius (bass). After they were complete, they began to play live to bring INNFIGHT and the album into the focus of their fans.
In October 2017, INNFIGHT started to record their second album "Black Dog" which is now set for a release on Pride & Joy Music on April 13th, 2018. During the recordings, bass player Thomas Klesius died due to serious illness. Tommy Schmitt, bass player of RED CIRCUIT, stepped in to help in these hard times and completed the bass recordings.
Impulsive rhythms, loaded with energetic guitar riffs, combined with spherical keyboard melodies and the distinctive voice of
Frank Widderson are the major trademarks of the band's Alternative Rock/Metal sound – always with their own kind of interpretation. The songs themselves deal with emotions, experiences, impressions and topics such as human interaction and the daily struggle with the world both around and within us. "Black Dog" was once again produced by Rolf Munkes at Empire Studios.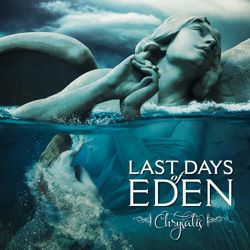 product: Last Days Of Eden - Chrysalis
release date: 23.03.2018
territory: Europe
formats: CD & digital
LAST DAYS OF EDEN is a stunning band from Spain performing symphonic folk metal. The band released their first album, "Ride The World", in 2015, getting amazing reviews from all around the globe. In 2016 they played their first European tour, with more than 25 shows in Germany, Switzerland, Belgium, and Spain.
Led by female singer Lady Ani, she puts the sweetest tones to the tunes. Their melodies not only include bagpipes, violins, and whistles, but also a full symphonic orchestra, all wrapped in a solid metal package in every song. The new album "Chrysalis" has been recorded and includes 11 amazing and encompassing tracks that will take your mind on an unforgettable journey. The record was produced by Dani G. and mastered by Mika Jussila (Nightwish, Stratovarius, Amorphis, etc.).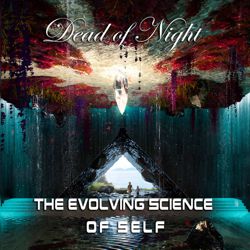 product: Dead Of Night - The Evolving Science Of Self
release date: 23.03.2018
territory: world
formats: CD & digital
Dead Of Night are a five piece Symphonic Rock/Metal band with members from various parts of the UK. Formed in 2013 by composer Carl Eden as a vehicle for an album that he had in mind at the time, and with the release of 'The Dead Shall Rise' in 2014 they began receiving much critical acclaim.
Following on from the success of this self-released debut album the band went on to re-record their first album under the title 'The Dead Shall Rise Again'. This was accompanied by their first live performance at The Railway - Bolton, UK, which spurred them on to continue gigging across the UK.
Their second release titled 'In Search of Ancient Magic' saw progression and them reaching new heights in terms of what Dead Of Night are capable of. "The musicianship is absolutely outstanding and this band is knocking on the door of the Premier League indeed they may already be there.", says Dave Smith of Ravenheart Music.
The band have gigged throughout the UK enjoying festival slots at 'A Splendid Day Out' (Morecambe's Victorian and Steampunk Festival 2016/2017), 'The Quinphonic Festival 4' (Birmingham's Female Fronted Metal Festival 2017), as well as gigs in Lancaster, Morecambe and Burnley for the '2017 Metal 2 The Masses - Battle of the bands' competition. The band won the online 'Life You Choose Battle of the Bands' competition in 2016, proving that their dedicated fans are behind them all the way!
"The Evolving Science Of Self" is the name of their new album which was produced, mixed and mastered by Carl Eden at The Creative Room in Manchester, UK. Carl comments: "This is our fourth studio album and, I think, our strongest so far. The title comes from that fact that we are really interested in consciousness and perception and the way that science and spirituality are starting to overlap. Plus, if you read the lyrics, it all sounds like a session on the psychiatrist's couch!" The artwork design was handled by Graphyx.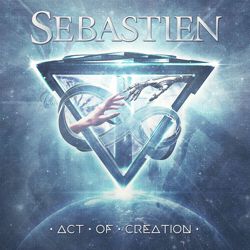 product: Sebastien - Act Of Creation
release date: 23.02.207
territory: world
format: CD & digital
SEBASTIEN is one of the very few Czech bands which are also known abroad. Their debut album, "Tears Of White Roses" (2010), was released in Europe and Japan, the second CD, "Dark Chambers Of Déjà Vu" (2015) world-wide.
In 2012, SEBASTIEN went on tour in Europe together with CIRCLE II CIRCLE and one year later with MASTERPLAN. Additionally to this, the group opened for Rock icon ALICE COOPER in Brno (CZ) in 2013 and has played on Masters Of Rock (CZ) festival's main stage three times so far, at Metalfest (CZ), and Rock Tower Festival (PL) plus at the legendary Wacken Open Air (D) in 2016.
The first two albums were produced by German guitarist Roland Grapow (ex-HELLOWEEN, MASTERPLAN). On these records, SEBASTIEN also had guests from Black Sabbath, Rainbow, Rhapsody Of Fire, Avantasia, Firewind, Jorn, Cradle Of Filth, Sirenia, and Savatage.
The third release, "Act Of Creation", is now going to be unleashed worldwide via Pride & Joy Music on 23rd February 2018 and features Apollo Papathanasio (SPIRITUAL BEGGARS, ex-FIREWIND) as guest on vocals on the track "Die In Me", Mayo Petranin (SIGNUM REGIS) on vocals on "Winner", Kristýna Dostálová as singer on "No Destination" and "Promises" plus Vendula Skalová on backing vocals.
The songs were written and arranged by George Rain, Petri Kallio & Andy Mons, except "Hero" which was arranged by Rain, Mons, Kallio & Pavel Dvorak. "Act Of Creation" was produced by George Rain, Petri Kallio and Andy Mons, and recorded by Petri Kallio, mixed and mastered by Andy Mons at DARK CHAMBER SOUNDS studios from November 2016 to November 2017. The cover artwork was designed by Hans Trasid and Dis-Art Design.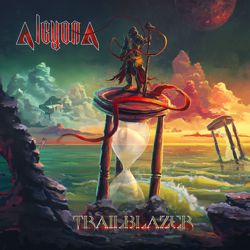 product: Alcyona - Trailblazer
release date: 23.02.2018
territory: world
format: CD & digital
ALCYONA started in the year of 2012 and at the time consisted of only two musicians, Natalia Malei (keyboards) and Evgeniy Malei (guitars), from Minsk, Belarus. The group is the brainchild of Natalia Malei who also is the lyricist and main composer in this band. Malei first got in touch with Metal music while studying at a music school with the intention to write both lyrical songs with simple melodies and delightful arrangements for different instruments which is tailor made for Metal music. In November 2012, Evgeniy Malei, the second composer, guitarist and second vocalist, joined ALCYONA and brought the light, bright colors into the songs and the music became alive. Olga Terentyeva joined the duo in April 2016 as lead vocalist. The line-up finally was completed in August 2017 by drummer Anatoly Afanasenok and the Evgeniy 's close friend Nikolai Sidorevich on guitars.
Their first album release is now ready and called "Trailblazer". All songs were composed by Natalia Malei except for "The Kings of Show", "DreamRoad", "Моя Весна" which were written by Evgeniy Malei. Natalia wrote all lyrics together with Zhanna Chernetskaya. "Trailblazer" was produced by Evgeniy & Natalia Malei and recorded at ALCYONA Records, Minsk (Belarus) between April 2016 – February 2017, and mixed & mastered in Georgia by Max Forneus in May 2017. Artwork and layout were designed by Artem Artyakov & Anna Avaeva. The music video & single for the track "Еnchantment" which was directed by Vlad Skripchenko & Anton Baidyonok will be released in advance in December 1st, 2017.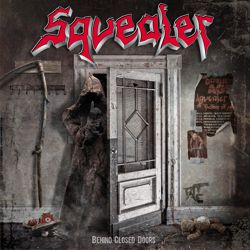 product: Squealer - Behind Closed Doors
release date: 23.02.2018
territory: world
format: CD & download
Originally founded in the 1980's as classic Power Metal band, SQUEALER from the north of Hessia, Germany so far have had a busy band history. Today, the music by SQUEALER is a melting pot of several Metal elements which has enhanced through the years, i.e. an unique and diversified mix of Melodic Thrash Metal (which nowadays builds the foundation of each new SQUEALER song), groovy Rock stuff and, of course, the still obvious Heavy, Speed & Power Metal influences.
After the release of eight studio albums and lot of career highlights such as performances at the big Summer festivals, support shows with Motörhead, Rage, Blind Guardian and many more, five-figured albums sales for the album Under The Cross followed by a tour with their big heroes Judas Priest the group faced a lot of deep hits as well. One of the biggest defeats was the accidental death of singer and founding member Andreas "Henner" Allendörfer in the year of 2005. After the angry and very aggressive album Confrontation Street (2006) which featured Gus Chambers (Grip Inc.) on vocals, SQUEALER just found back to their common theme in the year to 2008 with the release of the CD The Circle Shuts. Numerous changes in the line-up made it almost impossible to continue to work in a professional manner. So, SQUEALER was put on hold for a while to take their time to search for a suitable line-up and only to continue occasionally with playing music in a smaller set-up.
Now, in late 2017, the band is back full force and with a powerful line-up which just was completed last year. SQUEALER now consist of Lars Döring (guitars), Michael Schiel (guitars), Sebastian Werner (vocals) and Manuel Roth (bass). The band has started to perform live again in 2016 and since then played several gigs and festivals (incl. 70000 Tons Of Metal) with the new and convincing band constitution. The live shows were directly followed by the recordings for the new album Behind Closed Doors. The new record impressively proves the strength of the new SQUEALER line-up. To complete the makeover, a new, highly professional team was added for the album production. Ito Grabosch took care of the recordings while Roland Grapow (Helloween/ Masterplan) handled the mixing and Mika Jussila (Nightwish, Lordi, Him, Children Of Bodom) the mastering. The artwork was designed by Thomas Ewerhard (Amon Amarth, Avantasia).
In late 2017, SQUEALER also has revealed the name of their new record label. Out of several offers, the band decided to go with Pride & Joy Music who will now release Behind Closed Doors on February 23rd, 2018. In advance, three singles will be published from late November. SQUEALER also has found a new partner to work with at the booking sector; Nauntown Music are currently working on more dates and festivals for 2018 & 2019.