PRIDE & JOY MUSIC is proud to announce the signing of German Symphonic Metal band ONCE! Based in Münster, Germany the female-fronted four-piece is currently working on their full length-debut album "After Earth" which is scheduled for a release in January 2018!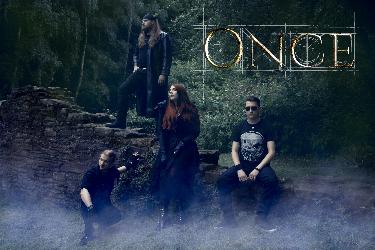 Formed in the year 2012, ONCE first started to work on creating a fully orchestrated Metal project. This process resulted in the release of a first demo EP and two video clips in the year 2015 which were recorded and filmed at the conservatory in Enschede, The Netherlands. Singer Alina Lesnik is now already known for her popular Youtube cover channel and her participation in our best selling release the VIVALDI METAL PROJECT. The line-up next to Alina consists of Frank Wypchol (keys), Alexander Hey (drums) and Marco Paulzen (male vocals, guitars).
In late 2016, ONCE caught the attention of PRIDE & JOY MUSIC with their demo and met up with the label to work on ideas on how to realize the concept together. In January 2017, the four-piece group finally signed a record deal with the label.
Earlier this week, ONCE have started an Indiegogo campaign to raise funds to complete the album production. Please read the complete story about the group, watch & share their videos and support ONCE at this link:
https://www.indiegogo.com/projects/once-after-earth-debut-album-metal#/
Further band links:
https://www.youtube.com/once-official
https://www.facebook.com/pg/once.official.music
https://www.instagram.com/once.official.music/
https://twitter.com/official_ONCE
Band pic in hi-res: www.germusica.com/pics/once-hires.JPG