Liebe Medienpartner,
wir bitten um Aufnahme der folgenden Termine der Gothic/NDH/Metal-Band LICHTGESTALT aus dem Ruhrgebiet/Münsterland in Eure Veranstaltungskalender. Wir nehmen Presseanfragen aller Art gerne entgegen!
LICHTGESTALT:
03.12.16 Oberhausen, Helvete (mit Schlagwetter, Aeranea & Herzparasit)
22.12.16 Münster, Sputnik (Jahresabschluss-Konzert + Support: Nachtsucher)
08.01.17 Köln, Blue Shell (+ Sterilium & Brüder)
13.01.17 Hannover, Subkultur (+ Nachtsucher & Staub)
14.01.17 Fassberg, Anders (+ Nachtsucher)
25.03.17 Wuppertal, Underground (+ Nachtsucher +2)
27.05.17 Kierspe, Gut Haarbecke (Gothic Meets Rock Festival)
Weitere Termine für 2017 werden in Kürze bekanntgegeben!
Lichtgestalt Pressetext:
Als LICHTGESTALT sich Ende 2013 gründeten, verdeutlichte sich schnell, dass der Vierer aus dem Ruhrgebiet/Münsterland in der Szene unaufhaltsam durchstarten wird. Nach nur einigen Monaten gemeinsamen Probens stand bereits das beeindruckende Songmaterial für die Debüt-EP "Lichtgestalt", welche die Band schon im Jahr 2014 in Eigenregie erfolgreich veröffentlichte und zugleich in die MRC30 Clubcharts hievte.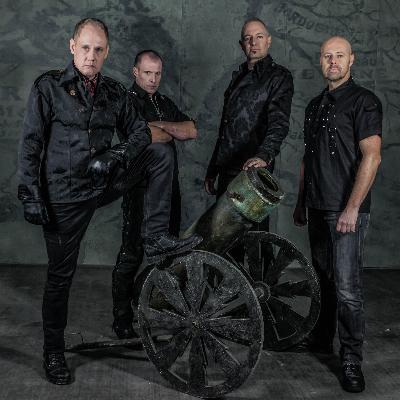 Das folgende Album "Motorenherz" erschien im April 2015 bei Danse Macabre und wurde von der Fachpresse allseits gefeiert und geadelt; so schrieb u.a. powermetal.de, "dass (der Song "Tiefenrausch") grandios zu Gehör stellt, warum diese Band und keine andere ein Anrecht auf die Krone der deutschen harten Musik hat...", während das Magazin Orkus dem Vierer gar bescheinigt, gleich einen neuen Stil erfunden zu haben: "...Theatralisch, abgefahren, anders....Lichtgestalt kreieren mit ihrem Debütalbum direkt ein neues Genre: den "Neuen Harten Steam"....
Dass der harmonische Vierer um den charismatischen Frontmann Thomas C. Hertz ebenso in der Lage ist, die Energie aus dem Studio auf die Bühnen zu transportieren, stellt die Band seit Mai 2015 eindrucksvoll und regelmäßig auch live unter Beweis. Mit niemand geringerem als der NDH-Ikone Stahlmann absolvierten LICHTGESTALT 2015 gleich zwei erfolgreiche Tourneen.
Im Anschluss an die Konzerte begann Gitarrist und Songwriter Der Heizzer gemeinsam mit Sänger und Texter Thomas C. Hertz mit dem Songwriting für das noch unbetitelte Zweitwerk, das Ende Mai 2017 nach einem Wechsel der Plattenfirma im Vertrieb von Edel erscheinen wird. In der Zwischenzeit gastierte die Formation, die weiterhin von Lippmann am Bass und Brukke am Schlagzeug vorangetrieben wird, 2016 u.a. beim Gothic Castle Festival auf Burg Satzvey und absolvierte diverse Club-Gigs, bevor dann zum Album-VÖ die Liveaktivitäten noch weiter ausgebaut werden sollen. Das Jahr 2017 wird ohne jeden Zweifel das Jahr von Lichtgestalt!
Line-up: Thomas C. Hertz (Gesang), Der Heizzer (Gitarre), Lippmann (Bass), Brukke (Schlagzeug)
Livevideo (Berlin, K17): https://www.youtube.com/watch?v=eQ36YjucBYA
Web:
Sede Vacante is a heavy Goth Metal duo from Greece formed in 2013 which consists of Michael Tiko (male vocals, guitars and synths) and Constantine Alex (female vocals). Both members are highly educated in music - with Michael Tiko having studied at Berklee College of Music, Boston, USA (Master in Guitar Performance) and Constantine Alex having studied in The National Academy of Music "Prof. Pantcho Vladigerov", Sofia, Bulgaria.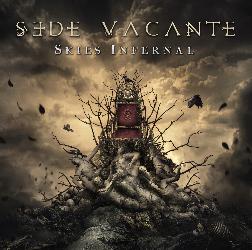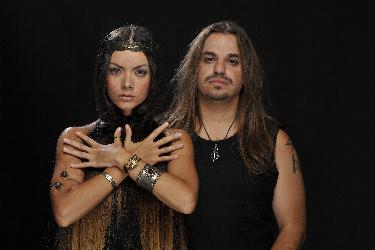 Both members have got an extensive live experience. Tiko was the lead guitarist of the Goth/Power metal band "Rage of Romance" (feat. Vicky Psarakis on vocals, The Agonist) and also played as a session guitarist in many local bands, even in the Jazz genre. Alex has been singing for more than 10 years and been a session vocalist in numerous swing, jazz and rock bands.
"Skies Infernal" is their debut album which will be released on Pride & Joy Music on November 18th, 2016. The logo and the band's symbol were made by Gustavo Sazes (Arch Enemy, Firewind etc.), and the record was mixed by drummer and sound engineer Fotis Benardo (ex- Septic Flesh, Six4Nine) and mastered by the Jens Bogren (Fascination Street Studios) in Örebro, Sweden.
The PR for this release will start via Haulix next week; promo CD's will be available from late October. Please send us your requests to GerMusica PR - Diese E-Mail-Adresse ist vor Spambots geschützt! Zur Anzeige muss JavaScript eingeschaltet sein!!
Facebook: www.facebook.com/Sede-Vacante-Music-557209527645282
Dear media partners,
after numerous tours as part of Avantasia, Rock Meets Classic and as mastermind of the successful Pink Floyd Tribute Echoes the exceptional singer and guitarist Oliver Hartmann now presents his new fifth studio album "Shadows & Silhouettes" with Hartmann after nearly four years break since the latest release "Balance". The new album will be released on 30th of September on the artist owned label SONIC11 in cooperation with Pride & Joy Music.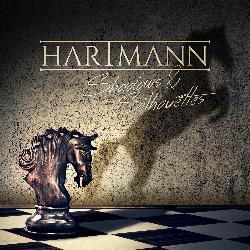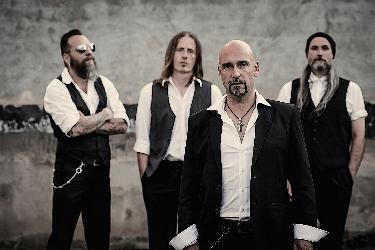 Supported by guest musicians as the well-known session keyboarder Jimmy Kresic (Rock Meets Classic, The Roots, Soundtopia), Miro Rodenberg (Avantasia) and also the Prague cellist Irena Morisáková and violinist Adéla Pecková the album contains 12 extra class songs combining modern melodic Rock ("Irresisitible", "Glow" "High on you", I would murder for you") with many acoustic ("The letting go", "Shadow in my eyes", "Still the same") and partly very intimate moments ("Jaded heart", "Last goodbye") pointing up the broadness and complexity of Hartmann. The catchy single "When your mama was a hippie" will also be released as video clip and instant grat on September 2nd.
"Shadows & Silhouettes" was co-produced again by Sascha Paeth (Avantasia, Edguy, Kamelot, Beyond The Black, etc.) and mixed/mastered at Gate Studios Wolfsburg/Germany. The iTunes version will include the bonus track "Soul Asylum".
Additionally to the new studio album, HARTMANN also will re-release the thought after and completely sold out "Handmade" 2008 DVD release as Deluxe Digi-Pack with DVD & CD included on September 30th, 2016 on Sonic11 in co-operation with Pride & Joy Music.
Line-up 2016: Oliver Hartmann (guitar/vocals), Mario Reck (guitar), Armin Donderer (bass), Markus Kullmann (drums), Jimmy Kresic (add. keys)
Track list "Shadows…": 1. Irresistible, 2. High on you, 3. Glow, 4. When your mama was a hippie, 5. Jaded heart, 6. Amazing, 7. Still the same, 8. I would murder for you, 9. The letting go, 10. Too good to be true, 11. Shadow in my eyes, 12. Last goodbye; Bonus track iTunes: Soul asylum
Web: www.oliverhartmann.com // www.facebook.com/HartmannBand
Tour dates: 01.10.16 Colossaal/D-Aschaffenburg, 08.10.16 Jonny's Lion Cave/CH-Trübbach, 04.11.16 Tommi's Bistro/D-Jettingen, 27.11.16 HEAT Festival/D-Ludwigsburg, more dates coming soon
The PR for "Shadows & Silhouettes" is handled by us world-wide and started yesterday via Haulix. Please requests this release if you have not received a download link yet!
Brazilian metallers ALMAH led by ex-Angra singer Edu Falaschi are proud to announce that the brand new album entitled E.V.O will be released on September 23th worldwide via Pride & Joy Music (EU), Test Your Metal (US/MX/CA) and King Records (Japan).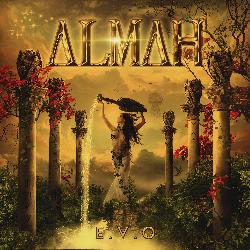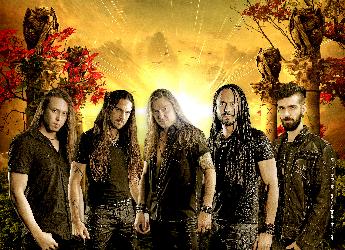 E.V.O is the 5th studio album of ALMAH, it was recorded in São Paulo, Brazil at IMF studios by Tito Falaschi and mixed and mastered by Damien Rainaud (Fear Factory, Dragonforce, Baby Metal, etc) at Mix Unlimited in Los Angeles, California/USA. It is a concept album and the main idea is based on evolution of people's mind and soul during so-called AGE OF AQUARIUS - the new era that the world is about to live. The author of the concept, Edu Falaschi, touches different subjects connected to the main idea, creating very positive lyrics and the whole album's atmosphere.
Musically E.V.O brings a fresh and powerful sound with typical modern and heavy Almah's touch but this time one will be able to realize that it also has a direct connection with the ANGRA's "Rebirth" (the first Angra's album with Edu's voice). The compositions are pleasant travel between the modern power metal, contemporary rock and prog metal. The vocal lines on E.V.O are very powerful, classic and the voice has a higher pitch comparing to the previous Almah's records. It's very melodic, clean and into the bel canto style.
Track list
1- AGE OF AQUARIUS
2- SPERANZA
3- THE BROTHERHOOD
4- INNOCENCE
5- HIGHER
6- INFATUATED
7- PLEASED TO MEET YOU
8- FINAL WARNING
9- INDIGO
10- CORPORATE WAR
11- CAPITAL PUNISHMENT​​
Almah is: Edu Falaschi – vocals, Marcelo Barbosa – guitars, Raphael Dafras – bass, Diogo Mafra – guitars, Pedro Tinello – drums
Web: www.facebook.com/official.almah //www.almah.com.br
PRIDE & JOY MUSIC is proud to announce the signing of Norwegian Melodic Metal band DAKEST SINS!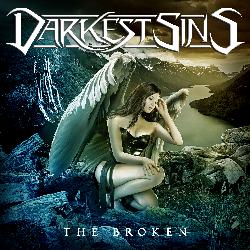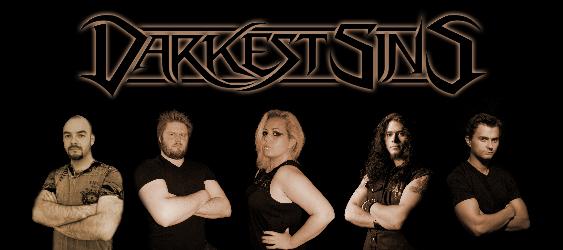 Darkest Sins is a five-piece Melodic Metal band from Ålesund, Norway founded by Marius Danielsen and Anniken Rasmussen in 2009. For the last three years, the five-piece has been working on their debut album "The Broken" which now will be released on Pride & Joy Music on October 21th, 2016.
Previously, Darkest Sins have released a demo album back in 2011 and an EP in 2013. So, "The Broken" marks the first real album coming from Darkest Sins.
The debut album "The Broken" was mixed and mastered by Piet Sielck (Iron Saviour) who also has mixed albums for Blind Guardian, Gamma Ray, Grave Digger, Paragon and many more.
Line-up:
Marius Danielsen – Vocals, guitar
Anniken Rasmussen – Vocals, bass
Sigurd Kårstad – Guitar
Peter Danielsen – Keyboard and orchestration
Ludvig Pedersen - Drums
Guest appearances on "The Broken" by:
Fabio Lione (Rhapsody of Fire) lead vocals on the 8th track, «Far Away».
Esa Ahonen (Cryonic Temple) guitar solo on the 8th track, «Far Away».
Jimmy Hedlund (Falconer) guitar solo on the 1st track, «The Broken».
Spanish Symphonic Metal band LAST DAYS OF EDEN will support MOB RULES on the following dates in October: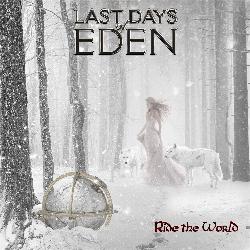 Here come the dates:
01.10.16 CH-Wetzikon, Hall Of Fame
02.10.16 D-Weiher, Live Music Hall
04.10.16 D-Munich, Backstage
05.10.16 D-Siegburg, Kubana
06.10.16 D-Wilhelmshaven, Pumpwerk
07.10.16 B-Roeselare, De Verlichte Geest
09.10.16 D-Bochum, Matrix
current album: "Ride The World": https://goo.gl/iO6tXY
PRESS RELEASE
The VIVALDI METAL PROJECT is a music creation born from an idea conceived and developed by Italian keyboard player, composer and producer MISTHERIA (solo artist, Bruce Dickinson, Rob Rock, Roy Z, Artlantica).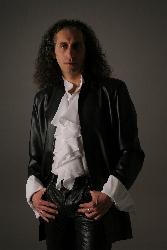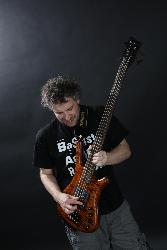 Product: Vivaldi Metal Project – The Four Seasons
Release date: July 22nd, 2016
Label: Pride & Joy Music (world-wide, excluding Japan)
Trailer: https://youtu.be/YBFaqkvzaIg
PR: Diese E-Mail-Adresse ist vor Spambots geschützt! Zur Anzeige muss JavaScript eingeschaltet sein!
The project is a symphonic-metal opera based on Antonio Vivaldi's Baroque masterwork "The Four Seasons", featuring more than 130 amazing metal and classical artists, orchestra, a string quartet and three choirs from all over the world. The album features 14 tracks - all the movements from Antonio Vivaldi's original score plus two original new songs written by MISTHERIA. The impressive roster of artists probably makes this titanic album the biggest all-star project ever!
Back in 2013, MISTHERIA started thinking about making a metal version of "The Four Seasons", a masterpiece that he loved and kept listening to since his childhood. MISTHERIA started to play and record all the movements on the piano but then felt that a parallel symphonic-metal version would have been the perfect continuation. Therefore, he recorded and uploaded a short trailer on the web to start engaging musicians. A few days later, Italian bassist and composer Alberto Rigoni (solo artist, TwinSpirits, Kim Bingham, The Italians, BADASS), who had already collaborated with Mistheria by recording bass on his previous solo album "Dragon Fire", learned about the project and contacted MISTHERIA offering his support to work on the project as co-producer. Also, MISTHERIA made the "innovative" choice - never done so far - to add lyrics and singers to "The Four Seasons" which, as composed by Vivaldi, is an instrumental work. For this important task, he invited Douglas R. Docker who perfectly translated the producer's concept into brilliant lyrics. Additional lyrics were written by Mistheria, Rob Rock and Lance King.
A cast of 10 awesome arrangers joined MISTHERIA creating epic and memorable music, combining a standard metal band lineup with strings, orchestra and choir: Douglas R. Docker, Francesco Dall'O', Frank Caruso, Gabriels, Keiko Kumagai, Nicolas Waldo, Pawel Penksa, Tomas Varnagiris, Yannis Androulakakis and Zhivko Koev.
The cast furthermore includes performances by Mark Boals (Malmsteen, Royal Hunt), Fabio Lione (Rhapsody of Fire, Angra), Edu Falaschi (Almah), Rob Rock (Impellitteri), Mike Lepond (SymhonyX), Dani Löble (Helloween), Ruud Jolie (Within Temptation), Mark Cross (Firewind, Scorpions), Steve Di Giorgio (Testament), Rolf Pilve (Stratovarius), Victor Smolski (Rage, Almanac), Ruben Israel (Delain), John Macaluso (ARK), Marco Sfogli (James Labrie), Chris Caffery (Savatage), Mark Wood (Trans Siberian Orchestra), Dirk Verbeuren (Soilwork), Atma Anur (Tony MacAlpine), Vitalij Kuprij, Anna Portalupi (Tarja Turunen), Sean Tibbetts (Kamelot), Martijn Peters (Stream of Passion) and many more.
It took more than 2 years of intensive non-stop hard work to get the album done. Mixed and mastered by Ivan Moni Bidin at "Artesonika" recording studio in Italy and assisted by Fabio D'Amore, the album is a full 74 minutes of intense, passionate, fascinating, powerful and majestic experience!
Production, ideation, concept and artistic direction by MISTHERIA. Co-produced by Alberto Rigoni.
www.vivaldimetalproject.com / www.mistheria.com / www.albertorigoni.net
The pre-sale for the CD digi-pack will start during this week. The download on iTunes and the first instant grat for the track "The Age Of Dreams" already is available at this link: https://itunes.apple.com/de/album/the-four-seasons/id1117818690
A double vinyl release of "The Four Seasons" will be scheduled for a release in September.
The PR campaign will start via Haulix on Wednesday, June 1st with additional promo CD's available in ~ mid June. Mistheria and Alberto Rigoni will be available for interviews as well – please send us your requests!