This month with news from: Last Days Of Eden and some tour dates…quiet times here during this year's hot Summer.
:::New video clip from LAST DAYS OF EDEN :::
LAST DAYS OF EDEN have uploaded a new video clip for the track "The Roots Of Life", a song from their current album "Chrysalis". The footage was recorded during their recent tour.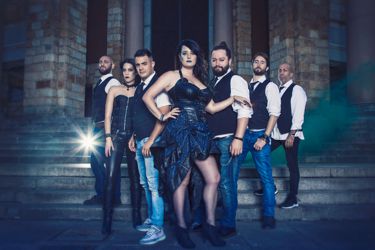 Check the clip out here:
https://www.youtube.com/watch?v=3SECCU66Wz4&feature=youtu.be
Current album: "Chrysalis"
******************************
::: TOUR DATES :::
BLACK MAJESTY
08.09. AUS-Melbourne (with Dragonland)
10.10. BE-De Roeselare, De Verlichte Geest (with Squealer)
26.10. AUS-Melbourne (album launch)
27.10. AUS-Sydney (album launch)
CRYING STEEL
31.08. I-Bologna, Ca de Mandorli
19.10. I-Rome, Let It Beer
20.10. I-Florence, Circus Club
24.11. I-Misano Adriatico (Rimini), Wave Alternative Club
ECHOES
24.08. D-Lemberg, Burg Lemberg
05.10. D-München, Circus Krone (L-Show)
12.10. D-Reinbek (near Hamburg), Sachsenwald Hotel (L-Show)
13.10. DK-Knebel, Hotel Fuglsocentret (L-Show)
27.10. D-Schwetzingen, Lutherhaus
02.11. D-Osnabrück, Rosenhof
14.11. RUS-Moscow, Crocus City Hall (XL-Show)
30.11. D-Fulda, Alte Piesel
01.12. D-Rastatt, Badnerhalle (L-Show)
07.12. D-Landau, Universum, Kinocenter
15.12. D-Bautzen, Körsehalle Kirschau
EIGENSINN
01.09. Mannheim, Maimarkt - Black Castle Festival (with Lord of the Lost, Stahlmann and more)
EIGENSINN with Stoneman, Root4 & Reptil
12.09. D-Frankfurt, Nachtleben
13.09. D-Nürnberg, Cult
14.09. D-Erfurt, From Hell
15.09. D-Stuttgart, Club Zentral
16.09. D-Mannheim, 7er Club
DEVICIOUS with Xtasy & Hardline:
06.12. D-Hamburg, Logo
07.12. D-Bochum, Rockpalast
08.12. D-Mörlenbach, Live Music Hall
09.12. D-Munich, Backstage Club
14.12. ES-Donostia, VII Gabonak In HELL Festival
15.12. ES-Zaragoza, Forever Rock Festival
JAG (Jimi Anderson Group)
04.08. UK-York, The Crescent
17.11. UK-Motherwell, Concert Hall (Firestorm Rocks)
LAST DAYS OF EDEN
10.11. ES-Malaga, Sala Eventual Music (Female Metal Fest)
17.11. ES-Salamanca, Nave Bunker
LIONCAGE
14.09. D-Aldenhoven, Rockheaven
REXORIA
25.08. SE-Hästveda, Äskebergafestivalen
SECRET RULE (headline shows & festivals)
03.08 ES - Puertollano - Sala Krater
04.08 ES - Torreperogil - Barcia Metal Fest
31.10 CH - Sursee - Kulturwerk 118 *
01.11 FR - Colmar - Le Grillen *
02.11 BE - Diest - Moonlight Music Hall *
03.11 NL - Podium Gorcum *
04.11 DE - Mannheim, 7er Club *
(* = with supports: Beyond God and Shadowrise)
SECRET RULE (as support for Visions Of Atlantis):
14.09 D-Geislingen, MieV
15.09 D-Bad Friedrichshall, Lemmy's
SQUEALER
10.10. BE-De Roeselare, De Verlichte Geest (with Black Majesty)
SOUL SECRET
12./13.10. F-Toulouse, Very Prog Festival (with Sons Of Apollo, Persifone and more)
STAMINA
01.09. PL-Zgierz City of Power Fest
VICE
11.08. SL-Snina, Rock Pod Kamenom Festival
01.12./02.12. D-Ludwigsburg, Rockfabrik (Heat Festival)
VOODOMA
01.09. D-Mannheim, Maimarkt, Black Castle Festival
22.09. D-Düsseldorf, Summer Moon Festival
05.10. D-Magdeburg, Benefiz for Kids Festival
30.10. D-Aldenhoven, Rockheaven - Darkrock Festival