Italian female fronted Metal band SECRET RULE will kick-off their next European headliner tour in Mörlenbach, Germany on April 26th, 2019! All dates are found below.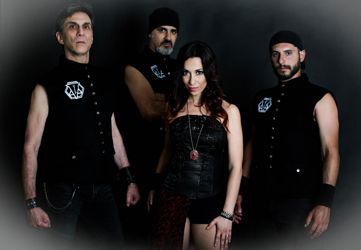 To promote the shows and their current album "The 7 Endless", the band just released a new video clip for the track "Birth".
Youtube link "Birth": https://www.youtube.com/watch?v=N3R9uYeAlwI
Secret Rule played numerous shows all over the Europe, including headlining European tours, sharing the stage with great bands such as Delain, Beyond the Black, Xandria, Serenity, Kobra & the Lotus, Blaze Bayley, Visions of Atlantis and Cellar Darling and performing at festivals including the Barcia Metal Fest and the Metal Fest Event - Femme.
Secret Rules' new, fourth album is called "The 7 Endless" and shows a progress in the band's sound. The concept story was inspired by "The Endless", characters created by Neil Gaiman for the comic book "The Sandman".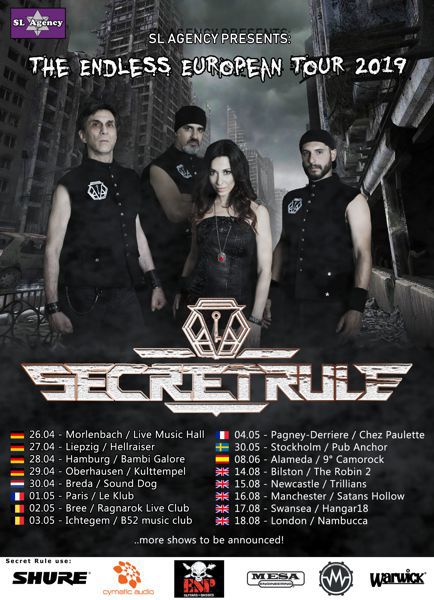 26.04 - DE - Mörlenbach / Live Music Hall
27.04 - DE - Leipzig / Hellraiser
28.04 - DE - Hamburg / Bambi Galore
29.04 - DE - Oberhausen / Kulttempel
30.04 - NL - Breda / Sound Dog
01.05 - FR - Paris / Le Klub
02.05 - BE - Bree / Ragnarok Live Club
03.05 - BE - Ichtegem / B52 music club
04.05 - FR - Pagney-Derriere / Chez Paulette
30.05 - SE - Stockholm / Pub Anchor
08.06 - ES - Alameda / 9° Camorock
14.08 - UK - Bilston / The Robin 2
15.08 - UK - Newcastle / Trillians
16.08 - UK - Manchester / Satans Hollow
17.08 - UK - Swansea / Hangar18
18.08 - UK - London / Nambucca
Secret Rule are: Angela Di Vincenzo – Vocals; Andy Menario - Guitar & Keyboards; Michele Raspanti – Bass; Nicola Corrente - Drums
Current album: "The 7 Endless" (Pride & Joy Music)
Official Website: https://www.secretrule.it
Official Facebook: http://www.facebook.com/secretruleband
Official YT Channel: http://www.youtube.com/c/SecretRule
Official Label Website: www.prideandjoy.de
Official Label Facebook Page: www.facebook.com/prideandjoymusic