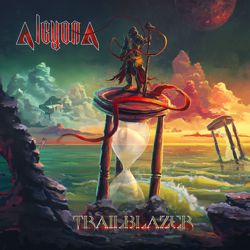 product: Alcyona - Trailblazer
release date: 23.02.2018
territory: world
format: CD & digital
ALCYONA started in the year of 2012 and at the time consisted of only two musicians, Natalia Malei (keyboards) and Evgeniy Malei (guitars), from Minsk, Belarus. The group is the brainchild of Natalia Malei who also is the lyricist and main composer in this band. Malei first got in touch with Metal music while studying at a music school with the intention to write both lyrical songs with simple melodies and delightful arrangements for different instruments which is tailor made for Metal music. In November 2012, Evgeniy Malei, the second composer, guitarist and second vocalist, joined ALCYONA and brought the light, bright colors into the songs and the music became alive. Olga Terentyeva joined the duo in April 2016 as lead vocalist. The line-up finally was completed in August 2017 by drummer Anatoly Afanasenok and the Evgeniy 's close friend Nikolai Sidorevich on guitars.
Their first album release is now ready and called "Trailblazer". All songs were composed by Natalia Malei except for "The Kings of Show", "DreamRoad", "Моя Весна" which were written by Evgeniy Malei. Natalia wrote all lyrics together with Zhanna Chernetskaya. "Trailblazer" was produced by Evgeniy & Natalia Malei and recorded at ALCYONA Records, Minsk (Belarus) between April 2016 – February 2017, and mixed & mastered in Georgia by Max Forneus in May 2017. Artwork and layout were designed by Artem Artyakov & Anna Avaeva. The music video & single for the track "Еnchantment" which was directed by Vlad Skripchenko & Anton Baidyonok will be released in advance in December 1st, 2017.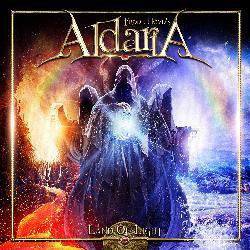 product: Aldaria - Land Of Light
release date: 24.03.2017
territory: world
format: CD & download
"Land Of Light" is the highly anticipated debut release by the new all-star metal opera ALDARIA! The album contains 11 epic tracks in the vein of old Helloween & Avantasia, with fast-paced hymns to beautiful ballads.
The band is masterminded by guitarist Frode Hovd from the Norwegian metal group MEMORIZED DREAMS who was joined by a host of world known guests from the metal community including Fabio Lione (Rhapsody Of Fire, voc), Todd Michael Hall (Riot V, voc), Rick Altzi (Masterplan, voc), Mathias Blad (Falconer, voc), Jonas Heidgert (Dragonland, voc), Jimmy Hedlund (Falconer, guit.), Roland Grapow (Masterplan, guit.), Mike LePond, (Symphony X, bass), Uli Kusch (ex Helloween, dr.), Peter Danielsen (Darkest Sins, synths) and Mistheria (Vivaldi Metal Project, keys). The album has been in production for over two years.
Produced and fully written by Hovd himself, this concept album was mixed by Roland Grapow (Masterplan) at Grapow Studios and mastered by Jacob Hansen (Primal Fear, Volbeat, Doro etc) at Hansen Studios. Artwork by Stan W. Decker (Jorn, Serious Black…).
The full cast of musicians performing on this release and an essay about the lyrical concept is found on www.aldariaband.com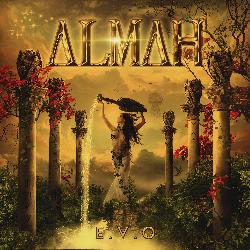 product: AlmaH- E.V.O
release date: 23.09.2016
release territory: Europe
format: CD
ALMAH, led by former Angra singer Edu Falaschi, since the very beginning has been in the focus of the metal head's attention world-wide as one of the most significant representatives on the Brazilian rock/metal stage. Edu Falaschi, Almah's leader, composer and singer, has sold more than one million albums in his 25 year spinning career.
ALMAH went on a lot of national and international tours and performed at some of the most important events in the world, like the world famous Rock In Rio Festival 2013. In the same year the band played an European co-headlining tour performing 18 shows in Italy, Spain, Germany, France and many more countries. In 2015 the Brazilians took part in ProgPower Festival in the USA and many others important festivals and shows around the globe; more than 100 shows during the band's history in total.
Since their founding in 2006, the band already has released four full-length albums world-wide ('Almah', 'Fragile Equality', 'Motion' and 'Unfold'). E.V.O is the 5th release in their career.This is a conceptual album which is based on the evolution of the people's mind and soul during the new age that the world is about to live in - called Age Of Aquarius. The author, Edu Falaschi, visited different subjects that are connected with the main concept, creating a very positive lyric and album atmosphere.
Musically, E.V.O brings a fresh and powerful album, with the modern and heavy Almah touch but also a direct connection to the Angra album "Rebirth". Angra's album (The first Angra's album with Edu's voice). In E.V.O the vocal lines are very powerful, classical and it has a higher pitch comparing with the previous Almah releases. It's very melodic, clean and more into the bel canto style. Like the old times of Edu Falaschi's vocals.The compositions are a pleasant travel between Modern Power Metal, Contemporary Rock and Prog Metal.
The artwork shows all elements which represent the main concept - especially the woman in the center who visualizes the Aquarius constellation, and also brings - for the first time - the band's logo in a golden color and a very bright and shiny yellow cover, that fits perfectly with the positive vibration of the record.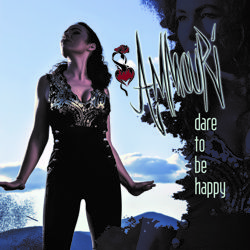 product: Ammouri - Dare To Be Happy
release date: 12.01.2018
territory: world
format: CD
AMMOURI (Marina Ammouri), is a Swedish female metal artist, rock singer, songwriter, music producer and model. Being a classical schooled pianist, and graduated sound engineer from SAE college, she previously has composed and produced songs in different genres for other artists in Sweden and abroad, among them are Therese (Terran) Andersson Lewis, Regina Lund, Ivorian band Les Patrones, Portuguese singer Mila Ferriera and more.
In 2012, her songs represented Sweden in the Baltic Song Contest with Swedish actress and singer Regina Lund and East European Band MMadCatz as front artists. Three years later she wrote and produced a crossfade opera song for a Swedish opera group Opera Light, and after a successful song release which was keeping a place in Lust Kammare at the Swedish Royal Palace, she decided to stop songwriting for others artists and to start her own solo artist carrier. And this step marked the return back to her roots, the music she burns for most from all: Rock and Metal.
In January 2017 AMMOURI released her first self-written single "Fill Your Heart With Love", from her upcoming debut album "Dare To Be Happy". She received art once remarkable feedback for her special powerful rock voice, an original sound, and rock listeners and rock forums labeled her the "new Doro Pesch". Many Metal Female internet communities featured the single and Marina in October 2017 was chosen as face of the "Metal Female Voices Community".
In spring 2017, the Swedish multi-talent was invited to collaborate with Maestro Mistheria, the creator of Vivaldi Metal Project. They went on an unplugged promo tour in Italy in October 2017 with Vivaldi Metal Project, where they performed a couple of songs from Vivaldi and introduced for the first time her second, upcoming single "Monster of Your Own Creation" and songs from the upcoming AMMOURI album "Dare to Be Happy" which will be released on January 12th, 2018 on Pride & Joy Music. For the album, she was joined by an impressive bunch of musicians which includes Pontus Egberg (bass, the Poodles, King Diamond) on all of the songs and also as co-producer of six tracks. Exceptional guitarist Staffan Österlind (Paul Dianno, Iron Maiden and more) played guitar on "Monster Of Your Own Creation", "More than Everything", "Bad Illusion", "Not Anymore", "Starlight" and also a co-produced the track "Bad Illusion". Tony Borg (guitars, Alien) co-produced the song "Fill Your Heart with Love" and played a solo on the tune "Bad Illusion". Drummer Johan Kullberg (Therion, Hammerfall), John Berg (guitar, Manipulation, Dare to Be Happy) and more can be heard on this CD.