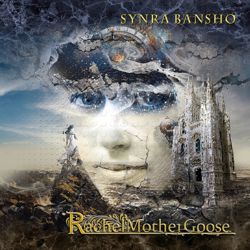 product: Rachel Mother Goose - Synra Bansho
release date: 03.12.2021
territory: world (-Asia)
formats: CD & digital
In 1999, led by Hideshi Ueki (G), RMG was formed with Die (Vo), Seigen (B), Rinnba (Key), Yasuhiro Iida (Dr) in Nagoya, Japan. They played neoclassical heavy metal, taking Hideshi's guitar-playing, heavily influenced by Yngwie Malmsteen and Rainbow RMG recorded and released first album, Magic Wand, independently in 2000, and signed with Japanese heavy metal label, Jackhammer Music.
Following the release of the 2nd album, Nadir (2002), the group changed all members but Hideshi Ueki, and performed at World Rock Fest in August, 2003, held by the Universiade in South Korea. Other bands who played there included BOWWOW, XYZ➔A, and Lolita No.18. The group performed in front of 6000 fans there. The 3rd album, Fortune Missionary (2004), and 4th record, Signs (2006) followed next.
In 2014, RMG changed into a solo project of Hideshi Ueki with first-rate support members: singer Sunghoon Kim from South Korea, bassist Kaz Nakamura of Kelly Simonz's Blind Faith, keyboardist Takumi Matsubara and a session drummer. After writing new songs for the new album, they got down to pre-production in early 2016. Seeking for vivid acoustic sounds, they started recordings at Tapestry Recording Studio with engineer Fuyuhiko Inui in July, where Japanese bands like Solitude, Outrage and United have recorded as well. While Shinya Tange produced the drum sounds, Yusuke Abe from OUTRAGE and Saeko Kitamae also guested in some songs. Last but not least, they got Alessandro Del Vecchio (Hardline) to mix and master their songs.
On January 25th, 2017, the RACHEL MOTHER GOOSE released their 5th album, TOKIWA NO SAI via Spiritual Beast (Universal Music). In March 2018, the session drummer left the band and was replaced by Hiroki Hori.

In January 2018, RMG participated in a band competition to get to Wacken Open air in Germany and made it into the finals.This was followed by a Japanese tour together with POWERIZED from The Netherlands. A concert with Circus Maximus from Norway followed in Nagoya Japan later that year. In the meantime, the group has developed from a "neo classical HM band" to a "progressive melodic HM' band.
In June 2020, the recordings of "Synra Bansho" started at Inui Joy sound 601 studio with engineer Fuyuhiko Inui. Alessandro Del Vecchio (Hardline) mixed and mastered it in September 2020. The Asian release date was Japan was set to Summer 2021, in September 2021 RACHEL MOTHER GOOSE went into the studio again to record the European bonus track "The Earth Bounder".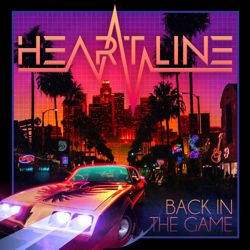 product: Heart Line - Back In The Game
release date: 19.11.2021
territory: world
formats: CD & digital
HEART LINE is the new AOR/Melodic Rock project by French guitarist and producer Yvan Guillevic (YGAS, PYG, United Guitars).
Surrounded by a fantastic team, the group consists of vocalist Emmanuel Creis (Shadyon, Equinox), keyboardist Jorris Guilbaud (Devoid, Shadyon), drummer Walter Français (Shadyon) and bassist Dominique Braud (YGAS, EBH).
Formed in 2020, HEART LINE has strongly been inspired by legendary 80's bands, from Whitesnake, to Foreigner, Journey, Winger, Bad English, Giant, and many more.
Powerful and melodic, the quintet takes us back to the beating heart of the 80's, with heroic guitar solos and soaring vocal lines, supported by a stunning rhythm section and virtuoso keyboard licks.
The brilliant artwork was designed by Stan W. Decker. HEART LINE are currently working on setting up a tour for 2022.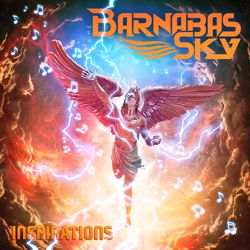 product: Barnabas Sky - Inspirations
release date: 19.11.2021
territory: world
format: CD & digital
The new all-star hard & heavy project BARNABAS SKY comes from the mind of guitarist, composer and multi-instrumentalist Markus Pfeffer (Lazarus Dream, Winterland, ex-Scarlett) from Kaiserslautern/Germany.
The debut album full of catchy hooklines, edgy-groovy rocking guitar riffs and filigree guitar solos is titled "Inspirations" for a certain reason: Pfeffer was able to hire singers from internationally known bands for it, which had influenced him significantly during his musical beginnings: Jesse Damon (SILENT RAGE), Steve Grimmett (GRIM REAPER/LIONSHEART), Danny Martinez Jr. (GUILD OF AGES), Rob Rock (IMPELLITTERI/AXEL RUDI PELL), Zak Stevens (SAVATAGE) and Danny Vaughn (TYKETTO) do the lead vocals on the album.
TYKETTO's "Don't Come Easy" was one of the first CDs Markus Pfeffer listened to on an endless loop as a schoolboy in 1991. Three decades later, he composes two songs together with TYKETTO's golden throat Danny Vaughn, the appropriately titled epic opener "Legends Rise" and "Say Farewell To Darker Days" with elaborate vocal arrangements and poignant lyrics.
SAVATAGE singer Zak Stevens contributed lyrics about the psychological effects of the pandemic for the heavy stomping track "What Lies Beneath", which is underpinned with down-tuned guitar riffs and subtle orchestral arrangements, and he sings about a legendary figure of Russian folklore in the form of a bird with a woman's head on "The Alkonost".
GUILD OF AGES frontman Danny Martinez Jr. from Denver/Colorado dominates the melodic hard rock songs "Breathe Again" and "In My Mind" with his very own timbre and velvety voice. The latter is the album's first video track with a more than hooky guitar riff and lyrics about the increasingly important attention to mental health.
SILENT RAGE's smoky-throated frontman Jesse Damon carries the epic ballad "Till The End Of Time" and the rocker "Youngblood", with AOR legend PAUL SABU contributing backing vocals for both tracks. Nostalgia fact on the side: Interestingly, the Hollywood classic movie "The Thief of Bagdad" starring Sabus's father was Markus Pfeffer's favourite film during his childhood. Damon recorded his vocals in North Hollywood at the studio of Bill Metoyer (FATES WARNING, ARMORED SAINT etc.).
Melodic metal siren Rob Rock (AXEL RUDI PELL, IMPELLITTERI, M.A.R.S. etc.) takes over the mic on the riff monster "Yesterday's Gone" and GRIM REAPER's Steve Grimmett's unmistakable voice convinces on the straight rocker "Never Enough".
As a tribute, Pfeffer has adapted the title tune of the seventies TV series "Timm Thaler" in a "GARY MOORE way" and provided it with deliberate sonic and stylistic reminiscences of Moore's classic "The Loner".
Musical guests on the album are keyboardist Thomas Nitschke and pianist Michael Weickenmeyer, drummer/percussionist Thomas Rieder and bassist Bernd Schreiber. The album's artwork was designed by well-known French artist Stan W. Decker (RAGE, BLUE ÖYSTER CULT, MASTERPLAN) and mastering was done at Rolf Munkes' (CREMATORY) Empire studios in Bensheim, Hessia.
The names of the contributors speak for themselves - there can hardly be more arguments to lend BARNABAS SKY's debut album an attentive ear.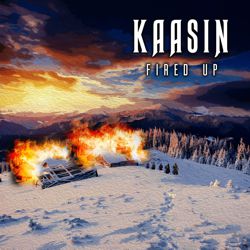 product: KAASIN - Fired Up
release date: 19.11.2021
territory: world
format: CD & digital
Debut album from hardrock band KAASIN.
KAASIN was founded by guitarist, JO HENNING KAASIN, collaborator with JOE LYNN TURNER (Deep Purple/Rainbow), GLENN HUGHES (Deep Purple/Black Sabbath), DOOGIE WHITE (Rainbow/Michael Schenker), BERNIE MARSDEN (Whitesnake), founding member, guitarist and songwriter with COME TASTE THE BAND.
After 23 years and great success with the album "REIGNITION", feat. JOE LYNN TURNER & DOOGIE WHITE, COME TASTE THE BAND was put on ice in January 2020. Guitarist and main songwriter, JO HENNING KAASIN, then went on to form his own band, simply called KAASIN. He recruited his cousin, STAALE KAASIN from SPIDER and 2020VISION, to handle bass.The band also features the Norwegian singer, JAN THORE GREFSTAD, known for his incredible vocal duties with SAINT DEAMON, HIGHLAND GLORY and TNT. KAASIN also includes BENJAMIN DEHLI on hammond organ/analog synth and CHRIS BRUSH on drums.
KAASIN released two singles "RUNAWAY TRAIN" and "REVELATION" on Streampeak Music in 2020. Both have been a great success, streaming in thousand upon thousand on Spotify, Youtube, iTunes, and other download/streaming services. "RUNAWAY TRAIN" also went Top 10 on rock radio stations in France, the UK, Sweden and Norway.
KAASIN released a third single, "HIDDEN" on Pride & Joy Music in July 2021, i.e.the first single from the upcoming album, "Fired Up".
Recorded and engineered in JUKE JOINT STUDIO, Notodden – Norway and at DEHLI MUSIKK, Bø in Telemark. Produced by Benjamin Dehli, Halvor Halvorsen & KAASIN
The CD version of this release contains last year's two digital singles, "Runaway Train" and "Revelation" as bonus tracks.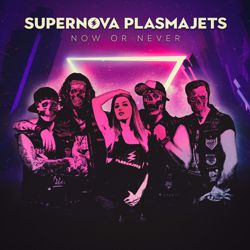 product: Supernova Plasmajets - Now Or Never
release date: 22.10.2021
territory: world-JP
formats: CD & LP
80s series such as, "Stranger Things" are breaking records on Netflix, fashion labels throw "80s retro models" on the market every month and Mötley Crüe are returning to a US stadium tour after the apocalypse with Poison and Def Leppard.
It smells, tastes and almost feels like it was 1984 again!
The Supernova Plasmajets have come to take you by the hand and travel back to the future with you:
That means modern female fronted metal with the spirit of the long-missed 80s stadium rock. Since 2013 and releasing two records, they are on the road as ambassadors of the 80s and have come to present the music of this great time as gnarly rockers to a new generation.
Whether at big festivals like Summer Breeze Open Air, Rock The Ring, Metal Hammer Paradise, Baltic Open Air, Rock Of Ages, the European tour with Kissin 'Dynamite, The New Roses, or rockin out on tour with Eskimo Callboy, JBO, and Sinner...
The Mannheim Supernova Plasmajets were born to inspire an audience and take them into an 80s parallel universe!
On October 22nd, 2021 the eagerly awaited new album "Now Or Never" will be released via Pride & Joy Music, followed by a big tour with John Diva & The Rockets Of Love, across the German republic!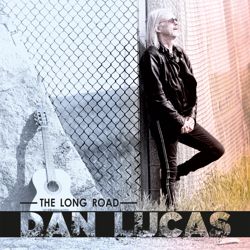 product: Dan Lucas - The Long Road
release date: 22.10.2021
territory: world
format: CD
DAN LUCAS first came to fame in the German Democratic Republic during the early 80's as the front man of different successful German Rock groups. After his escape from the GDR, he moved to West Berlin where he soon became the singer of classic German Hard Rock group KARO who released the album "Heavy Birthday" (Frontrow/ Warner) in 1988 and went on tour with MEAT LOAF. After the split of KARO in 1989, LUCAS moved to Munich in 1990.
During the following years, he put out two solo albums under the name of DAN LUCAS on the Canadian label Marloboro Music, i.e. "Canada" in 1992 and "2000!" in 1995. The hit single "Heart Of America" from the "Canada" album, which was recorded in Vancouver, Canada with musicians from LOVERBOY and Manny Charlton (NAZARETH) participating, was used for a McDonald's commercial later on. In 1993, LUCAS won a song contest in Istanbul, Turkey with the track "Canadian Dream".
Numerous guests including Robin Beck, Lisa Dalbello, John Pierce, Kane Roberts, Michael Landau & Reb Beach appeared on the "2000!" release. This record was recorded in Burbank, California and includes the track "Close Your Eyes And Say Goodbye" which LUCAS wrote together with Desmond Child. In 1996, the singer changed to the Arcade label which put out the album "News" in the same year.
In 2018/2019, DAN LUCAS won the casting show "Voice Of Germany Senior" which brought him massive attention both from fans and media alike. In the following time, he joined the Rock Meets Classic 2019 tour and released a cover version of JOURNEY's smash hit "Don't Stop Believin'" via Universal Music Germany.
"The Long Road" now is his very personal, brand new solo album which shows the singer from a more intimate side.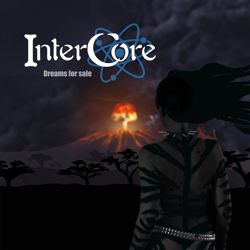 product: InterCore - Dreams For Sale
release date: 17.09.2021
territory: world
format: CD
Guitarist, songwriter and producer Raimo Rommedahl (ex COUSIN BILL) and singer/guitarist Jesper Max (ex FRAISE) were touring musicians who met in early 2014. They shared a deep desire for making their own music, and a dream of building their own professional studio. The result was the opening of premium Rockstone studio in 2016.
While studying sound engineering they started to record what would become INTERCORE's first album. In order to complete it they brought in session drummer Thomas "Shuffle" Persson (ex HIGHLANDER) to lay down the basics and who laster agreed to become a steady member of the band. After a series of testing bass players they fell in love for Robert Fallqvist's impressive skills and the group's line-up was completed!
Raimo Rommedahl wrote most of the tunes and Jesper completed the lyrics and melodies to suit his voice. The album was recorded over a span of 4 years as the songs grew into something ever greater.
INTERCORE's mission is to spread the great heavy metal music of the 80's and 90's. Bands like Scorpions, Thin Lizzy and Europe are major influences.
The band members all grew up on the west coast of Sweden close to Gothenburg which is widely known for its metal scene. With strong melodies, pounding drums and screaming guitars, INTERCORE hope to remind you of the golden age of metal music, where the inner core was made of great songs and melodies.
The album "Dreams For Sale" was recorded, mixed and produced by Raimo Rommedahl and Jesper Max in Rockstone studios in the Gothenburg-area and mastered by Henrik Heinrich at Nevo Mastering in Sweden. Band logo by Merja Niklasson, album cover designed by artist Elsa Eliasson Hallström.