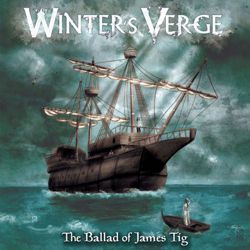 product: Winter's Verge - The Ballad Of James Tig
release date: 11.09.2020
format: CD & digital
territory: world
Winter's Verge is one of Cyprus' most successful metal bands. Since its formation in 2005, the band has released four studio albums and three EPs, and built a strong reputation as one of the most exciting live acts in Cyprus, with a powerful blend of epic, melodic and symphonic metal. The band is made up of the most experienced and respected musicians in the Cypriot rock and metal scene – George Charalambous (v), Deniel Pavlovsky and Savvas Parperi (g), Stavry Michael (keys), Miguel Trapezaris (b) and Danny Georgiou (d).
Winter's Verge's music is highly conceptual and takes place within a mythological realm called Tiberon – all songs and lyrics allowing fans to explore the themes, characters and locations for their own interpretation.
Their discography covers the albums "Eternal Damnation" (LMP Records, 2008) which was produced by RD Liapakis (MYSTIC PROPHECY). The band then released 2010's "Tales of Tragedy", this time on Massacre Records. The album was highly regarded by the metal press and developed the band's sound further, with fan favorites like 'The Captain's Log' or 'Reflections of the Past'. The release of the album coincided with a European tour with power metal legends Stratovarius, which won the band thousands of new fans. 2012 brought "Beyond Vengeance". This album was also critically acclaimed and was followed by extensive live performances, where tracks like 'Unto the Darkness' or 'Dying' becoming staples of the live setlist. After a brief hiatus and line-up changes, Winter's Verge got back to business, recording the band's 4th album, 'IV', as independent release in 2015. It was supported by Winter's Verge's second European tour in 2016 winning new fans in e.g. countries like Greece, Romania and Bulgaria with an appearance at the Metalhead Meeting festival in Romania.
After a short break Winter's Verge got back to the business of writing and recording. An EP entitled "Wolves of Tiberon" released in 2016. Its concept further explored the world of Tiberon that exists as a setting for Winter's Verge mythology, giving more details, characters and stories for the deep mythology.
Now in 2020, after three years in the making, Winter's Verge are ready to release one of their most ambitious projects to date, "The Ballad of James Tig". With a concept and lyrics by renowned local author and playwright Frixos Masouras, the new album is another concept storyline with a huge sounding scope and symphonic sound. It's the story of James Tig, a man who lost his family at sea when he was a young boy, and had set his life-long dream to find the legendary Killagorak a sea monster, who he believes was what killed his family when he was very young, seeking revenge. Teodora Stoyanova Freya (MAGIC OF THE NORTH) provided vocals - playing the part of Nina in the story.
The drums were recorded at Panasound Studio, with the rest of the album recorded and mixed at Winter's Verge Studios between mid 2018 and the end of 2019. George Charalambous (v) mixed & produced the album; the mastering was handled by George Eracleous (Oneirism Studios). The artwork was designed by George Vasiliou.
product: Mentalist - Freedom Of Speech
release date: 28.08.2020
format: CD & digital
territory: world
MENTALIST is a Melodic Metal band from Saarbrücken, Germany that was founded in 2018. The group consists of Peter Moog (guitars), Thomen Stauch (drums, ex BLIND GUARDIAN), Kai Stringer (guitars, STARCHILD), Florian Hertel (bass) and Youtube star Rob Lundgren on vocals.
Mentalist's music is comprised of Melodic Metal/ Power Metal with a slightly progressive touch. The music is defined through a multitude of guitar melodies and vocal hooklines. Its major influences come from renowned bands like Iron Maiden, Helloween and Blind Guardian (through Thomen Stauch's drums).
Daniel Heiman (ex LOST HORIZON) performs a duet with Lundgren on the song "Belief"; Oliver Palotai (KAMELOT) appears as guest on all tracks on keyboards except on "Whispering Winds". The band's name has a kind of mystical background. It is supported through the band's mascot "Mentalist", which was designed by Thomas Ewerhard (known as the artist of the cover artwork of the band Avantasia). The Mentalist mascot is a recurring element in the cover artwork and fits in with both, the good and the bad aspects. During the live concerts some magical tricks are planned on stage, while the Mentalist in unique clad attire (robe, gloves, etc.) is supported by fog and a crystal ball. The front cover was designed by Andreas Marschall (Blind Guardian, Running Wild); the mix & mastering was handled by Christian "Moschus" Moos at www.spacelab-mixing.com in Viersen, Germany.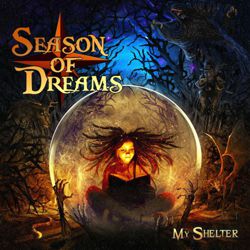 product: Season Of Dreams - My Shelter
release date: 14.08.2020
format: CD & digital
territory: world
SEASON OF DREAMS was founded by Jean-Michel Volz, the main composer in the band A TASTE OF FREEDOM. He wanted to create a Heavy/Power band with Power Metal influences.
Volz was looking for a singer with powerful vocals and first asked his friend Pasi Humppi (FRETERNIA) but due to a busy schedule, Humppi was not able to provide the vocals and introduced Volz to Johannes Nyberg (ZONATA, vocals & keyboards).
A good chemistry was there from the beginning, and the duo started to write songs for their debut album "My Shelter". Nyberg's brother John joined the project on some songs after listening to the first recordings. Four months later, the album was written, recorded, mixed and mastered. Jean-Michel Volz handled the music parts at the MindMirror Studios; the cover artwork was created by Stan W. Decker (RAGE, BLUE ÖYSTER CULT, MASTERPLAN).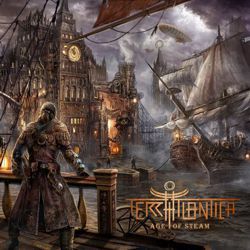 product: Terra Atlantica - Age Of Steam
release date: 14.08.2020
format: CD & digital
territory: world
Terra Atlantica was founded in December 2014 by singer Tristan Harders and drummer Nico Hauschildt, who knew each other from a former project. Both could finally fulfil their dream of playing in a classic Power Metal Band in the vein of their idols like Edguy, Avantasia or Rhapsody. They completed their crew with bassist Nick and guitarist Mike. Quickly, the idea of singing about the saga of Atlantis and other nautical myths developed and the first album 'A City Once Divine' was written. Catchy choruses, polyphone vocals and epic orchestration became of great importance to the band. The debut record was released in 2017, along with the video to the all-time favorite 'Atlantica'. In the following years they played some bigger shows with bands like Majesty, Stormwarrior, Grailknights or Victorius.
Over time there were some changes made to the line-up, causing the second album to become a solo effort by Harders and Hauschildt for the most part. Recordings started in 2018 and took place at Tonlabor/ HAW, in Hamburg, Germany mainly.
Furthermore, the crew is complete again with Julian Prüfer on bass and Freddie Akkermann on guitar.
"Age Of Steam" will now be released on August 14th, 2020 via German label Pride & Joy Music and once again offers a lyrical concept. The fictional story continues the saga of Atlantis and takes place in the 19th century. Atlantis arises again and, with its advanced technologies, heralds the start of the Industrial Revolution. The British Empire feels menaced by this new power and, by an act of treason, tries to eliminate the new rival in the fight for domination on the seven seas.
The orchestral arrangements again come courtesy of guitarist/singer Alex Hunzinger (Aeternitas) from Lübeck, Germany. Singer Oleg Rudych (Magistarium) and Gabriel Tuxen (Seven Thorns) appear as guests.
Mix and mastering was handled by Marc Wüstenhagen (guitars, Thunder And Lightning) from Berlin; the cover artwork was created by Dusan Marcovic (Dragony, Symphonity).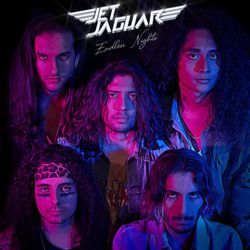 product: Jet Jaguar - Endless Nights
release date: 17.07.2020
format: CD
territory: world
JET JAGUAR was formed in 2014 and hails from Cancun, a city located in the Mayan region of Mexico. The band's name was inspired by the Jaguar, a sacred animal for the Mayan civilization and for the areas inhabited by the Mayans.
In early 2016, their "Zero Hour" EP was released. The title track and their first Spanish song "Rompiendo el Acero" have become fan favorites.
2017 was a busy year for JET JAGUAR. This year saw them tour Mexico twice (for a total of 35 dates). The group also embarked on their first European tour across Germany, Belgium, The Netherlands, Poland, Hungary and Romania.
JET JAGUAR received worldwide recognition by being the first Hispanic-American band to ever win the Wacken Open Air Metal Battle in Germany in August 2017.
In 2018 JET JAGUAR performed in Mexico City at the biggest metal festival in Latin America, "Corona Hell and Heaven", alongside acts such as Ozzy Osbourne, Deep Purple, the Scorpions, Judas Priest and Megadeth. They also performed at "Tecate Mexico Metal Fest" and had their first gig at the Lunario del Auditorio Nacional (Mexico City). JET JAGUAR kicked off 2019 with performing at the biggest festival in Costa Rica "Grito Latino Fest".
Currently, JET JAGUAR is planning the release of their debut album "Endless Nights", which will see the light on July 17th, 2020 on German Heavy Metal label Pride & Joy Music.
Future plans include touring throughout Mexico, Europe and Latin America in support of the album.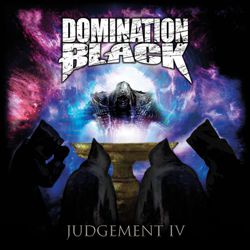 product: Domination Black - Judgement IV
release date: 17.07.2020
format: CD
territory: world
DOMINATION BLACK have come a long way since their formation in 2003. After releasing their first two albums in 2005 and 2006 with their first line-up they already had started steering into a more melodic direction with their MCD "The Haunting" in 2008. In 2009, however, original vocalist Kari Killgast left the band. About half a year later, DOMINATION BLACK found a new frontman in person of Matias Palm (Merging Flare, Heavy Metal Perse) and started recording their 3rd album "Dimension: Death" which was then released in 2012. It truly was a step into a new melodic sound and received raving reviews all over the place. Supporting the album, the band toured in Finland, Sweden, Romania and Russia.
The year 2014 saw DOMINATION BLACK releasing their new single "Master Of Deception" and visiting Estonia for the first time. Since then, there was a break for a couple of years until the band finally started demoing songs for their next full-length album. But this also meant that some changes needed to be made. Along came new drummer Ville Nissinen (formerly of ID: Exorcist) and guitarist Juuso Laitinen (Deathproof). The recordings were finally started in summer 2018 with the new energy. The group also played some gigs to introduce their new line-up to the audience.
Now, DOMINATION BLACK are ready to release their new album "Judgement IV". The band has also shot a music video for the song "Center Of The Universe" which will be released soon.
The record was produced by DOMINATION BLACK and mainly recorded at Äänilaitos Studio, Kotka by J-P Pusa and Juuso Elminen. Vocals were recorded at Sonic Pump Studios in Helsinki by Eero Kaukomies, and bass tracks & acoustic guitars and some lead guitars were recorded by Matias Palm in Helsinki. The mixing and mastering was handled by Saku Moilanen.
product: Operus - Score Of Nightmares
release date: 19.06.2020
format: CD
territory: world
OPERUS' world class performance style is a cross breed of a metal band with the dramatic performance of theatre that come together to produce a unique sound and thrilling live show.
Formed by six professional musicians, OPERUS' depth comes from the vast musical experience each member brings with them. From extensive studio time, to worldwide performances in metal bands, Symphonic/chamber orchestras and the stages of musical theatre. OPERUS has come for all metalheads and music lovers around the globe.
The combined musical knowledge in OPERUS comes from decades of intense dedication to music with University and Masters Degrees, Royal Conservatory of Music certifications and first-hand experience from performing live across North and South America, Europe, and Asia.
These experiences from the band members include well known ensembles such as Trans-Siberian Orchestra (Robin Howe), Annihilator (Oscar Rangel), Vital Remains (Dean Paul Arnold), Skull Fist (J.J. Tartaglia), Eclipse Eternal (Wojciech Sokolowski), and leading roles in professional theatrical productions such as Jukebox Hero and Beauty & the Beast (David Michael Moote).
OPERUS has brought their world class performance to such great stages as Wacken in Germany and Force Fest in Mexico in addition to opening for power metal heavy hitters Sonata Arctica and the Rhapsody Reunion Tour.
In 2015 OPERUS recorded and produced their debut EP, "Opus I", which was followed by their debut full length album "Cenotaph" recorded at Silverwings Studios, Montreal in early 2017. Cenotaph was released worldwide on October 13, 2017 through Dark Star Records in Association with MVD Entertainment and Sony Music.