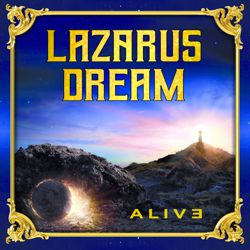 product: Lazarus Dream - Alive
release date: 13.11.2020
format: CD & digital
territory: world
With an artistry and groove that is never less than inspiring and absorbing, new German Hard Rock project LAZARUS DREAM featuring multi-instrumentalist Markus Pfeffer and powerhouse vocalist Carsten Lizard Schulz gives a pleasure as immense and deep as the sounds and abilities which pour from their album "Alive".
Carsten Lizard-Schulz delivers a powerful, emotion filled performance and makes this an album full of incredibly poignant vocals listeners worldwide are used to get delivered from him and appreciate on critically appraised albums by EVIDENCE ONE, DOMAIN, DEAD END HEROES and MIDNITE CLUB, to name only a few.
Markus Pfeffer used to be a member of internationally praised German AOR-band SCARLETT in the early nineties and delivers riffing and fret board acrobatics you rarely get to hear him play on albums by his main band WINTERLAND, which used to top the German Amazon Download charts in late 2010. On the LAZARUS DREAM album, he not only plays guitar, but also bass and keys.
The powerhouse drumming by guest Markus Kullmann (SINNER, VOODOO CIRCLE, Glenn Hughes) not only completes the hearing pleasure but also adds an incredible groove which lifts the songs to a new level. More musical guests featured are percussionist Thomas Rieder, flute player Sabrina Roth and Thomas Nitschke on Hammond and synths.
The album was mastered by Markus Teske at Bazement Studios (VANDEN PLAS, SAGA, MOB RULES,…)
Highlights on "Alive" range from undoubtedly immensely catchy chorusses and stunningly melodic twin guitar solos in songs like "Wings Of An Eagle" and "Hotel Overload" to progressive arrangements in extra-long tracks like "Dawn Of Time" and "Fleshburn", which also surprises the listener with an Arabian flute intro (and guaranteed goose bumps, by the way). Groovy guitar riffing gets combined with massive vocal arrangements and reflective lyrics especially in songs like "The Healing Echoes", "House Of Cards", "Desert Mind" and "Can't Take My Soul Away".
All in all, LAZARUS DREAM brings a fresh, vivid and eager breath to melodic hard rock and classic progressive metal without the need for indulgence and spurious tricks and charms… Pfeffer and Schulz build a strong songwriting duo and thus the foundation for the album and deliver inspired, melodic hard rock bliss which should appeal to fans of bands such as QUEENSRYCHE and DOKKEN.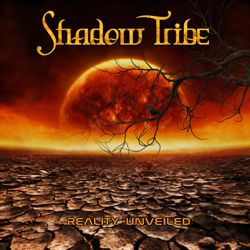 product: Shadow Tribe - Reality Unveiled
release date: 13.11.2020
format: CD & digital
territory: world
ALTARIA/STARGAZERY bass player Marko Pukkila has joined forces with ex-CELESTY/SPIRITUS MORTIS/MASQUERAGE frontman Kimmo Perämäki in a new band called SHADOW TRIBE. The group, whose lineup is rounded out by Simo Pirttimaa on guitars and Petri Heinonen (King Satan) on drums, has signed a worldwide record deal with Pride & Joy Music who will release the group's debut album "Reality Unveiled" on November 13th, 2020.
SHADOW TRIBE is a melodic metal group from Finland. The band is driven forward and managed by Altaria/ Stargazery bass player Marko Pukkila, who is well known within the industry. He has been around the European rock scene for over two decades and played on almost 40 different releases incl. work with musicians like Vinny Appice, Kee Marcello, AJ Pero, Frankie Banali, Rowan Robertson, Ryan Roxie just to name a few.
Pukkila comments: "After a few years of studio absence, we are finally here with our debut album entitled 'Reality Unveiled'. Feels great to announce the deal with Pride & Joy Music! The music is melodic, but also in-your-face and kick-ass rock. Cool riffs, good melodies and tasteful arrangements. I'm very happy with how the album came out. It's a great collection of hard-hitting-yet-melodic commercial rock tracks, which I hope you all enjoy."
"Reality Unveiled" was produced by SHADOW TRIBE between 2018 and 2020; and mixed and mastered by singer Kimmo Perämäki who also mixed and mastered the latest Stargazery album and created the SHADOW TRIBE artwork.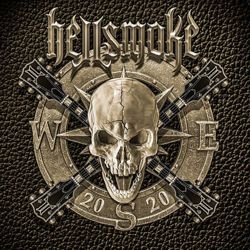 product: Hellsmoke - 2020
release date: 16.10.2020
format: CD & digital
territory: world
HELLSMOKE releases its debut album, "2020", with the Rev-counter well in to the red!
Hellsmoke's gasoline infused Hardrock/ Metal combination was born when guitar player Christofer Dahlman (ex Alyson Avenue, Bai Bang) and songwriter Torbjörn Månsson got together with their long-time friend and drummer Roger Landin (ex Cloudscape). This explosive mix started to iron out what HELLSMOKE should be all about. Heavy guitars, pounding drums and rough, but refined, melodies form the backbone of the music.
The group tested the waters live by doing a few gigs, the most mentionable as support for Pretty Maids in Denmark.
When it was time to record the album Rimbert Vahlström (ex Syron Vanes), joined the crew as the group's new singer and with his unmistakable voice that was perfect for the band - he took the songs to the next level! Anders Hahne was used as a co-producer on the album.
The band's latest additions, Jörgen Löfberg on bass (Darkane) and Michael Åkesson (Alicate) on guitars, provide that extra edge that separates HELLSMOKE from other bands!
product: Tina Schüssler - Verwirrte Welt
release date: 11.09.2020
format: CD & digital
territory: world
Tina Schüssler is a perfect bundle of power and energy. She performs this with great skill and perceptible passion on every stage, captivating her audience in seconds. The mixture between rock, hard rock and sometimes a bit of pop has been cleverly packaged in her songs and lyrics, emotive to everybody.
The three-time world champion with real titanium in her heart, was drawn to music from an early age. So she started taking piano lessons as a young child, played drums and double bass in an orchestra. She started her sports career at the age of 18, became a professional boxer in 1997, won her first kickboxing title at the age of 24 and was also the owner of three sports schools.
In 2009, Tina suffered a serious illness. Due to a congenital heart defect, she had a stroke, was paralyzed on the left side, could no longer speak and got a titanium shield into her heart. After three years of rehabilitation and hospital stays, the power package came back to life and became another two-time kickboxing world champion in 2016 in K-1 in the USA. Then she officially ended her boxing career, switched to the music business and began composing her first songs in 2018.
Since 2019 Tina has been musically successful and blows up the stages with her band, but also as a solo singer. Well-known bands call her the most punchy singer in the world. But she is also booked as a highlight or a special guest, sings with notable personalities from the music scene and fires her sound into the crowds with a rocking voice. Her ripping and incomparable stage presence is infectious and motivating. Tina is repeatedly referred to as a phenomenon and unique in the media.
Her canceled European tour with Bonfire was postponed to September (due to the Covid-19-virus).
For over 27 years, Tina Schüssler, who was born in Augsburg in 1974, has been in the focus of the media, skillfully moving in front of the cameras through her sporting and TV presenter career. She guides through every program with wit and knowledge, is also the ring announcer for World Cup matches in the ring, or is a welcome guest on radio and television.
In 2019 she reached the live final at the German Rock & Pop Prize as a singer/songwriter and claimed second place as the best singer.
Tina Schüssler is – besides Toten Hosen - the only musician in Germany to be an official artist for Sea Shepard.
In general, the all-rounder performs as a solo singer, but also as the band leader of her own rock band, which consists of five people including herself on vocals and Aaron Hoffmann (guitars), Harald Zeidler (guitars), Mustafa Güler (bass), Andrea Eppli (drums)
Tina is the messenger and ambassador for the largest organizations and is always actively involved in a socially committed way. In 2020, she and two partners opened a professional film/TV and sound studio called "PM7 Studios" on around 550 square meters.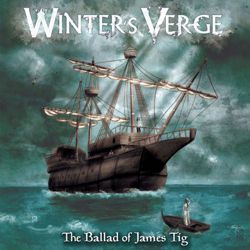 product: Winter's Verge - The Ballad Of James Tig
release date: 11.09.2020
format: CD & digital
territory: world
Winter's Verge is one of Cyprus' most successful metal bands. Since its formation in 2005, the band has released four studio albums and three EPs, and built a strong reputation as one of the most exciting live acts in Cyprus, with a powerful blend of epic, melodic and symphonic metal. The band is made up of the most experienced and respected musicians in the Cypriot rock and metal scene – George Charalambous (v), Deniel Pavlovsky and Savvas Parperi (g), Stavry Michael (keys), Miguel Trapezaris (b) and Danny Georgiou (d).
Winter's Verge's music is highly conceptual and takes place within a mythological realm called Tiberon – all songs and lyrics allowing fans to explore the themes, characters and locations for their own interpretation.
Their discography covers the albums "Eternal Damnation" (LMP Records, 2008) which was produced by RD Liapakis (MYSTIC PROPHECY). The band then released 2010's "Tales of Tragedy", this time on Massacre Records. The album was highly regarded by the metal press and developed the band's sound further, with fan favorites like 'The Captain's Log' or 'Reflections of the Past'. The release of the album coincided with a European tour with power metal legends Stratovarius, which won the band thousands of new fans. 2012 brought "Beyond Vengeance". This album was also critically acclaimed and was followed by extensive live performances, where tracks like 'Unto the Darkness' or 'Dying' becoming staples of the live setlist. After a brief hiatus and line-up changes, Winter's Verge got back to business, recording the band's 4th album, 'IV', as independent release in 2015. It was supported by Winter's Verge's second European tour in 2016 winning new fans in e.g. countries like Greece, Romania and Bulgaria with an appearance at the Metalhead Meeting festival in Romania.
After a short break Winter's Verge got back to the business of writing and recording. An EP entitled "Wolves of Tiberon" released in 2016. Its concept further explored the world of Tiberon that exists as a setting for Winter's Verge mythology, giving more details, characters and stories for the deep mythology.
Now in 2020, after three years in the making, Winter's Verge are ready to release one of their most ambitious projects to date, "The Ballad of James Tig". With a concept and lyrics by renowned local author and playwright Frixos Masouras, the new album is another concept storyline with a huge sounding scope and symphonic sound. It's the story of James Tig, a man who lost his family at sea when he was a young boy, and had set his life-long dream to find the legendary Killagorak a sea monster, who he believes was what killed his family when he was very young, seeking revenge. Teodora Stoyanova Freya (MAGIC OF THE NORTH) provided vocals - playing the part of Nina in the story.
The drums were recorded at Panasound Studio, with the rest of the album recorded and mixed at Winter's Verge Studios between mid 2018 and the end of 2019. George Charalambous (v) mixed & produced the album; the mastering was handled by George Eracleous (Oneirism Studios). The artwork was designed by George Vasiliou.
product: Mentalist - Freedom Of Speech
release date: 28.08.2020
format: CD & digital
territory: world
MENTALIST is a Melodic Metal band from Saarbrücken, Germany that was founded in 2018. The group consists of Peter Moog (guitars), Thomen Stauch (drums, ex BLIND GUARDIAN), Kai Stringer (guitars, STARCHILD), Florian Hertel (bass) and Youtube star Rob Lundgren on vocals.
Mentalist's music is comprised of Melodic Metal/ Power Metal with a slightly progressive touch. The music is defined through a multitude of guitar melodies and vocal hooklines. Its major influences come from renowned bands like Iron Maiden, Helloween and Blind Guardian (through Thomen Stauch's drums).
Daniel Heiman (ex LOST HORIZON) performs a duet with Lundgren on the song "Belief"; Oliver Palotai (KAMELOT) appears as guest on all tracks on keyboards except on "Whispering Winds". The band's name has a kind of mystical background. It is supported through the band's mascot "Mentalist", which was designed by Thomas Ewerhard (known as the artist of the cover artwork of the band Avantasia). The Mentalist mascot is a recurring element in the cover artwork and fits in with both, the good and the bad aspects. During the live concerts some magical tricks are planned on stage, while the Mentalist in unique clad attire (robe, gloves, etc.) is supported by fog and a crystal ball. The front cover was designed by Andreas Marschall (Blind Guardian, Running Wild); the mix & mastering was handled by Christian "Moschus" Moos at www.spacelab-mixing.com in Viersen, Germany.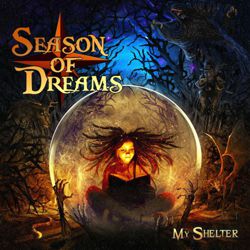 product: Season Of Dreams - My Shelter
release date: 14.08.2020
format: CD & digital
territory: world
SEASON OF DREAMS was founded by Jean-Michel Volz, the main composer in the band A TASTE OF FREEDOM. He wanted to create a Heavy/Power band with Power Metal influences.
Volz was looking for a singer with powerful vocals and first asked his friend Pasi Humppi (FRETERNIA) but due to a busy schedule, Humppi was not able to provide the vocals and introduced Volz to Johannes Nyberg (ZONATA, vocals & keyboards).
A good chemistry was there from the beginning, and the duo started to write songs for their debut album "My Shelter". Nyberg's brother John joined the project on some songs after listening to the first recordings. Four months later, the album was written, recorded, mixed and mastered. Jean-Michel Volz handled the music parts at the MindMirror Studios; the cover artwork was created by Stan W. Decker (RAGE, BLUE ÖYSTER CULT, MASTERPLAN).