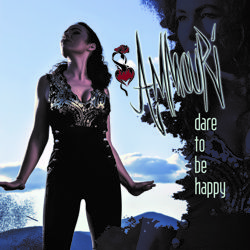 product: Ammouri - Dare To Be Happy
release date: 12.01.2018
territory: world
format: CD
AMMOURI (Marina Ammouri), is a Swedish female metal artist, rock singer, songwriter, music producer and model. Being a classical schooled pianist, and graduated sound engineer from SAE college, she previously has composed and produced songs in different genres for other artists in Sweden and abroad, among them are Therese (Terran) Andersson Lewis, Regina Lund, Ivorian band Les Patrones, Portuguese singer Mila Ferriera and more.
In 2012, her songs represented Sweden in the Baltic Song Contest with Swedish actress and singer Regina Lund and East European Band MMadCatz as front artists. Three years later she wrote and produced a crossfade opera song for a Swedish opera group Opera Light, and after a successful song release which was keeping a place in Lust Kammare at the Swedish Royal Palace, she decided to stop songwriting for others artists and to start her own solo artist carrier. And this step marked the return back to her roots, the music she burns for most from all: Rock and Metal.
In January 2017 AMMOURI released her first self-written single "Fill Your Heart With Love", from her upcoming debut album "Dare To Be Happy". She received art once remarkable feedback for her special powerful rock voice, an original sound, and rock listeners and rock forums labeled her the "new Doro Pesch". Many Metal Female internet communities featured the single and Marina in October 2017 was chosen as face of the "Metal Female Voices Community".
In spring 2017, the Swedish multi-talent was invited to collaborate with Maestro Mistheria, the creator of Vivaldi Metal Project. They went on an unplugged promo tour in Italy in October 2017 with Vivaldi Metal Project, where they performed a couple of songs from Vivaldi and introduced for the first time her second, upcoming single "Monster of Your Own Creation" and songs from the upcoming AMMOURI album "Dare to Be Happy" which will be released on January 12th, 2018 on Pride & Joy Music. For the album, she was joined by an impressive bunch of musicians which includes Pontus Egberg (bass, the Poodles, King Diamond) on all of the songs and also as co-producer of six tracks. Exceptional guitarist Staffan Österlind (Paul Dianno, Iron Maiden and more) played guitar on "Monster Of Your Own Creation", "More than Everything", "Bad Illusion", "Not Anymore", "Starlight" and also a co-produced the track "Bad Illusion". Tony Borg (guitars, Alien) co-produced the song "Fill Your Heart with Love" and played a solo on the tune "Bad Illusion". Drummer Johan Kullberg (Therion, Hammerfall), John Berg (guitar, Manipulation, Dare to Be Happy) and more can be heard on this CD.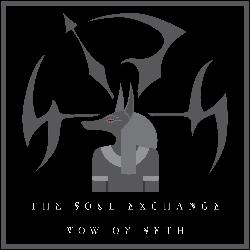 product: The Soul Exchange - Vow Of Seth
release date: 08.12.2017
territory: world
format: EP
The Soul Exchange is a band that mixes Classic Hard Rock with a contemporary Metal sound. They have taken influences from the 70's Hard Rock scene and created their own unique style of Metal infused, guitar driven hard rock, with great attention to the melodies and grand vocal arrangements. The lyrics deals mostly with subjects from the darker side of life such as insanity and evil in various forms.
The seed that eventually became The Soul Exchange was sown when guitarist and songwriter Hans von Bell began writing songs for a solo album back in 2013. After the albums' release in January 2015, Hans immediately started to work on new material for a follow up and realized he wanted to put together a proper band as the new material required a different sound and thus, The Soul Exchange was born. The band name came from a song off the 2015 solo album.
In 2016 the band found their formula and sound with the current line up consisting of Daniel John vocals & keyboards, Hans & Thomas von Bell guitars, Patrik "Patte" Ekelöf on bass, and Benny White drums. Although mostly unknown to the wide public, all band members have long careers in music behind them. The band released the critically and likewise publicly acclaimed album "Bloodbound" in March 2017 on the Mervilton Records label.
In the fall of 2017 The Soul Exchange have been working on an, in between albums, five track EP titled "Vow Of Seth" that is set for release on the Pride & Joy Music label on December 8th. The EP will be preceded by a digital single and video release of the EP's title track on November 17th. The Soul Exchange once again working with the renowned Swedish producer Magnus "Tank" Ljungqvist who also produced the "Bloodbound" album. The new EP has taken the band to an even darker place lyrically and with a tad harder sound. Stating that "this EP will show the way for the next full length album penned for release in 2018". Hard Rock with a great portion of modern Metal influences, and importantly, the vocal arrangements and melodies will always have a major focus in The Soul Exchanges' otherwise riff oriented music".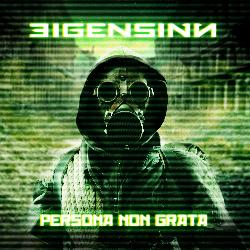 product: Eigensinn - Persona Non Grata
release date: 01.12.2017
territory: world
format: CD
About zombies, monsters and evil fairies - Persona non Grata will rise!
"Persona Non Grata" is the name of the third full-length release from the dark rockers EIGENSINN from Southern Germany. More than two years of hard work has left its mark on an album that will stand out from the crowd! During the cold and snowy January 2017 the band retired on a lonely farm house in Saxony. The magical and dark atmosphere of the abandoned landscape deeply engraved itself into the new songs. The outcome is a complex and brute Industrial Rock album, on which you can sense the sinister emotions living within each song as they touch upon subjects taboo to many. The bands lead singer Nemesis takes the listener on a journey from a morbid story teller rising up to a strong willed freedom fighter
The eleven ostentatious hard hitting tracks all stay true to EIGENSINN's trademark sound. Mastermind Kai Stahlenberg's production at the renowned Kohlekeller studio has produced an album that is both raw and punchy staying true to the bands hard hitting roots.
The album will be released on Pride & Joy Music on December 1st, 2017. EIGENSINN will tour all over Germany this November to support the US NDH legend HANZEL+GRETYL together with Reptil, to promote their new album.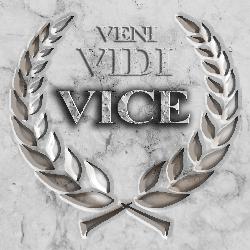 product: Vice - Veni, Vidi, Vice
release date: 17.11.2017
territory: world
format: CD
VICE was founded in Munich Germany in the late 80's and signed by major label BMG Ariola back in 1988. The former line-up consisted of Jörg Hargesheimer (guit), Peter Juhre (bass), Roland Schmidt (drums), Chris Limburg (guit), Jan Ghiantinie (vocals 1st album), Alan Keen (vocals 2nd album). These two records brought the band charts positions and several tours all over Europe. With more than 100.000 sold copies, VICE had a huge presence on TV and radio. They became quite famous and attracted their fans with their rather simple & rocking songs and positive attitude on stage.
Now after almost 30 years, VICE is back for more…The new album "Veni Vidi Vice" was produced, recorded and mixed by Chris Limburg at lictoc studios in Munich, will be released on November, 17th and continues the old style of VICE in a modern way. The first single & video for the song "Where do I belong" was released in advance in Summer 2017.
Further singles will be available soon, as well as an "hot summer night" release party on October 21st in a Caribbean atmosphere, near Munich at "Roberto Beach" (www.robertobeach.de)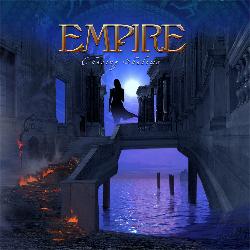 product: Empire - Chasing Shadows
release date: 17.11.2017
territory: world
format: CD
EMPIRE is the Hard Rock band of German guitarist Rolf Munkes (ex Majesty, ex Razorback, Crematory) which has released four exceptional albums in between the years of 2001 and 2007. On these releases, Munkes was accompanied by numerous high-class musicians.
The history of EMPIRE began in the year 2001 with the release of the album "Hypnotica" (Lion Music) which featured both the American singers Mark Boals (ex-Yngwie Malmsteen) and Lance King (ex Nightmare) on vocals. The line-up at the time was completed by Neil Murray (bass, ex Whitesnake, Brian May Band, Black Sabbath etc.), Gerald Klos (drums), Anders Johansson (drums, ex Stratovarius) and Don Airey (keyboards, ex Rainbow, Deep Purple). Rolf Munkes produced "Hypnotica" himself; the mix was handled by Stefan Kaufmann (ex Accept, ex U.D.O.).
Only one year later, "Trading Souls", the band's second album came out on Lion Music. The CD once again was produced by Munkes with the mix being handled by Kaufmann. On this release, singer extraordinare Tony Martin (ex Black Sabbath) replaced King and Martin on the vocal spot.
Tony Martin also sang on the – up until now – most successful CD from EMPIRE, "The Rave Ride", which was released in 2006 on German label Metal Heaven. Besides of Munkes, who, for the first also produced and mixed this release himself at his own Empire Studios in Bensheim, Germany, Neil Murray took again care of the bass work whilst the drums this time were handled by ex-Rage/ex-Axxis drummer André Hilgers.
In 2007, the so far last album of EMPIRE saw the light of day. "Chasing Shadows" was once again released on Metal Heaven and the first record feat. former Rainbow singer Doogie White in the line-up. Mike Terrana (ex Rage, ex Axel Rudi Pell, Tarja Turunen) joined the group on drums.
In 2017, German label Pride & Joy Music will re-issue all four releases in a revised version. "Chasing Shadows" which will be released on August 18th, 2017 with one bonus track.
product: Secret Rule - The Key To The World
release date: 10.11.2017
format: CD & download
territory: world
SECRET RULE was formed in the beginning of 2014 with the intention to create a special sound with powerful rhythms and catchy melodies. The band is fronted by the powerful voice of Angela Di Vincenzo (Kyla Moyl), masterminded by lead guitarist Andy Menario (Martiria) who has worked with big names such as Vinny Appice (Black Sabbath, Dio), Jeff Pilson (Dokken, Foreigner), and Carlos Cavazo (Quiet Riot). The line-up is completed by bassist Michele Raspanti (Graal) and drummer Nicola Corrente (Enemynside, Stick it out, Starkiller Sound).
In February 2015, the group released their debut "Transposed Emotions' (Rocksector Records) - a concept, a mixture of facts and tales which analyse our society with a look at a post apocalyptic era. The album was recorded in 2014; produced, mixed and mastered at Antfam Studios in Denmark by Tue Madsen (Halford The Haunted, Mnemic, Hatesphere, Ektomorf), while the artwork was created by Simona Speedy Saccoccia. After some gigs in Italy, the band went on tour in Switzerland, France, Germany, Belgium, Holland and the UK, taking part in some festivals such as the SOS Fest in the UK and the WIZZ FEST in Belgium.
In October 2015, SECRET RULE started recording their second album "Machination". The line-up for the new long player also included Sander Zoer (ex Delain, Leah) on drums, Henrik Klingenberg (Sonata Arctica) on keyboards and other special guests such as Stefan Helleblad (Within Temptation), Timo Somers (Delain), Fabio D'Amore (Serenity) and Janneke De Rooy (Paper Doll Decay). This release again was produced, mixed and mastered by Tue Madsen (Antfarm Studio) and the artwork created by Simona Speedy Saccoccia.
The CD got a release on June 24th, 2016 on Scarlet Records with two tours to follow in July and August covering Slovenia, Slovakia, Croatia, Hungary, Czech Republic, the UK, Belgium, Netherlands and Germany. On 7 October in Wetzicon at the Hall of Fame venue, the Italians supported Serenity and on 29 January, they opened for Delain.
Early in 2017 SECRET RULE supported Blaze Bayley for some gigs and then started to work on new material. The new album "The Key to the World" will be released by Pride & Joy Music on November 10th, 2017. Henrik Klingenberg (Sonata Arctica) and two new guests on this new CD, Henning Basse (Firewind and MaYan) and Ailyn Giménez (ex Sirenia), also appear on this third release of the band. It again was mixed and mastered by Tue Madsen (Antfarm Studio- Denmark); Fabio D'amore (Serenity) handled the pre-production and Simona Speedy Saccoccia took care of the artwork again. In addition, music videos for the tracks "Twin Flames", "The Song Of The Universe" & "Imaginary World" feat. all three guests will be released in advance to the album release. The band has already scheduled some gigs for next months. In November, they will be direct support for Kobra and the Lotus.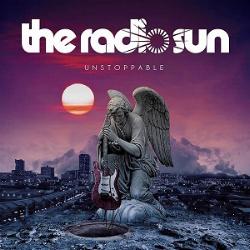 product: The Radio Sun - Unstoppable
release date: 20.10.2017
format: CD & download
territory: Europe
Australian melodic hard rock band The Radio Sun will release their fourth full-length album "Unstoppable" on October 20th, 2017. Vocalist Jase Old and guitarist Stevie Janevski have written a bunch of new catchy, well constructed melodic rock songs with the guidance of producer Paul Laine (solo, Dark Horse, The Defiants). Lush vocals and soaring solos are a big part of the band's sound, further enhanced by bassist Anthony Wong and drummer Gilbert Annese.
Andy Shanahan of Australian AOR favourites Roxus is a special guest on the forthcoming new album 'Unstoppable'. The Radio Sun guitar player Stevie Janevski goes on to say, "it's awesome to have Andy play keyboards on the song " and be a part of our new album. Roxus were by far the best AOR band Australia has had - a real honour!"
The Radio Sun will launch the new album with touring right around the world. The boys head to Japan in November and back to Europe in March 2018 with shows at HRH AOR Fest amongst others.
"Unstoppable" was mixed by Paul Laine. More shows for Germany, the UK and Greece are currently being booked.