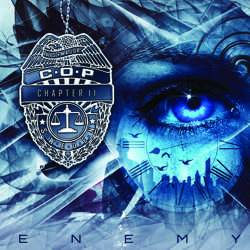 product: C.O.P. - Enemy
release date: 07.10.2022
formats: CD & digital
territory: world excl. Asia
C.O.P. (Sweden) is a Swedish Melodic Rock band of the highest order formed in 2014 who with "State Of Rock" has released one of the finest AOR albums in 2015 via the AOR Heaven label.
Fronted by extraordinaire singer Peter Sundell (ex-Grand Illusion, Decoy), the three piece which is completed by Christian Sundell on drums & keyboards and Swedish guitar wizard Ola af Trampe (ex-Grand Illusion) now returns with a classy sophomore release via Pride & Joy Music! The first letters of the three musicians' forenames together result into C, O & P.
And "Enemy" continues exactly where "State Of Rock" stopped – Peter Sundell's with his high pitched and powerful voice once again sets new standards for the genre. Backed up by his younger brother Christian on drums & keyboards who also wrote all songs for this release and the extremely talented guitarist Ola af Trampe who also mixed the album and mastered it together with Jakob Lindahl, C.O.P. II come along as a pretty unique dream team! On "Enemy", powerful hooks combine with pomp and brilliant hooks and each and every song.