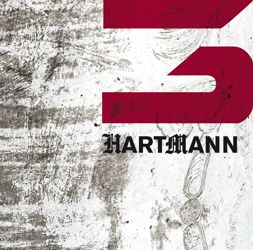 product: Hartmann - 3
release date: 17.04.2020
format: CD
territory: world -JP
Oliver Hartmann, known as singer/ guitarist/ sideman of metal mega seller Avantasia, projects as Rock Meets Classic, ex-At Vance singer and as front man of the successful German Pink Floyd tribute Echoes, is considered with his band HARTMANN since their debut 'Out in the cold' (2005) as one of the best modern German Rock-/ Hard Rock acts. Since then the band has released eight successful albums, has toured with well known acts as Toto, Uriah Heep, The Hooters, House of Lords and will celebrate their 15th anniversary this year!
Due to their anniversary, HARTMANN will release a brand new album named '15 Pearls And Gems' in April 2020, again co-produced by Sascha Paeth (Avantasia, Beyond The Black, Kamelot).
On the same day, the sought after 2009 HARTMANN album "3" will be rereleased on CD. This record features Tobias Sammet (Avantasia) on the duet "Brothers".