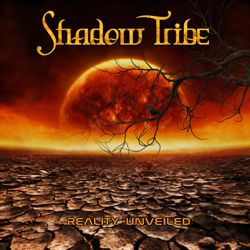 product: Shadow Tribe - Reality Unveiled
release date: 13.11.2020
format: CD & digital
territory: world
ALTARIA/STARGAZERY bass player Marko Pukkila has joined forces with ex-CELESTY/SPIRITUS MORTIS/MASQUERAGE frontman Kimmo Perämäki in a new band called SHADOW TRIBE. The group, whose lineup is rounded out by Simo Pirttimaa on guitars and Petri Heinonen (King Satan) on drums, has signed a worldwide record deal with Pride & Joy Music who will release the group's debut album "Reality Unveiled" on November 13th, 2020.
SHADOW TRIBE is a melodic metal group from Finland. The band is driven forward and managed by Altaria/ Stargazery bass player Marko Pukkila, who is well known within the industry. He has been around the European rock scene for over two decades and played on almost 40 different releases incl. work with musicians like Vinny Appice, Kee Marcello, AJ Pero, Frankie Banali, Rowan Robertson, Ryan Roxie just to name a few.
Pukkila comments: "After a few years of studio absence, we are finally here with our debut album entitled 'Reality Unveiled'. Feels great to announce the deal with Pride & Joy Music! The music is melodic, but also in-your-face and kick-ass rock. Cool riffs, good melodies and tasteful arrangements. I'm very happy with how the album came out. It's a great collection of hard-hitting-yet-melodic commercial rock tracks, which I hope you all enjoy."
"Reality Unveiled" was produced by SHADOW TRIBE between 2018 and 2020; and mixed and mastered by singer Kimmo Perämäki who also mixed and mastered the latest Stargazery album and created the SHADOW TRIBE artwork.