German press release for HARTMANN:
Ab Ende Oktober wird die Band um Oliver Hartmann nun endlich mit dem aktuellen Album auf Club-Tour unterwegs sein, präsentiert vom GUITAR Magazin und Deutschlands Nr. 1 der Rocksender, der ROCKANTENNE!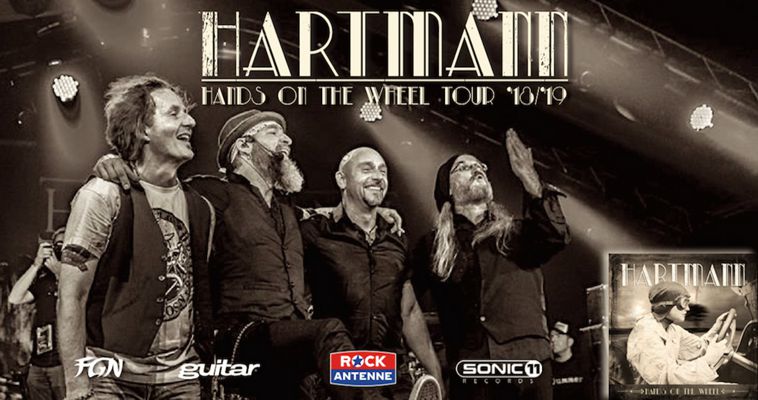 Mit seiner Band HARTMANN sowie auch als fester Bestandteil des Megasellers AVANTASIA gilt Oliver Hartmann seit langem schon als begnadeter und weltweit gefragter Sänger und Gitarrist seines Genres. Des weiteren kennt man ihn auch als Kopf des europaweit erfolgreichen Pink Floyd Tributes ECHOES, als ehemaliger Sideman von ROCK MEETS CLASSIC und als Ex-Frontmann der Neo-Classic-Metaller AT VANCE. Schon seit dem ersten Album 'Out in the cold' (2005) zählt HARTMANN zu den besten modernen deutschen Hardrock-Acts und hat im Sommer mit 'Hands On The Wheel' das mittlerweile sechste Studioalbum veröffentlicht. Mit der Single 'Don't want back down' und dem grossartigen Duett 'Simple man' mit MR BIG's Frontmann Eric Martin erhielt das Album Top-Platzierungen in den Verkaufscharts von Amazon (#19 Hardrock / Metal) und erfreulich guten Kritiken in der weltweiten Presse. Nicht selten wurde es als das bis dato beste Album der Band bezeichnet.
HARTMANN 'HANDS ON THE WHEEL-TOUR '18/'19'!
präsentiert von Guitar & Rockantenne
25.09.18 DE - Weilburg / HP's 42
26.10.18 DE - Grebenhain / Vogelsberger Hof
10.11.18 DE - München / Backstage Halle
18.11.18 BE - Genk / Colosseum
06.12.18 DE - Duisburg / Steinbruch
08.12.18 DE - Geiselwind / Christmas Bash Festival
17.01.19 DE - Aldenhoven / Rockheaven
18.01.19 DE - Nürnberg / Der Cult
19.01.19 CH - Trübbach / Jonny's Lion Cave
31.01.19 DE - Weiher / Live Music Hall
01.02.19 DE - Calw / Saal 51
16.02.19 DE - Dortmund / Blue Notez Club
Web: