This month with news from: Echoes, Floating Worlds, Lugnet, MASS, Qantice, Tarchon Fist, and a tour date update.
*****
::: Next release: QANTICE – The Anastoria – out April 26th, 2019! :::
Qantice is more than your average virtuoso symphonic metal band. Its sci-fi saga encompasses both a story and the craziest sci fi/fantasy movie atmospheres. Enriched by a violinist and various traditional instruments, the sound of the French quintet is unique in this scene.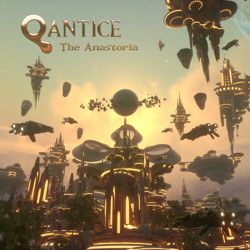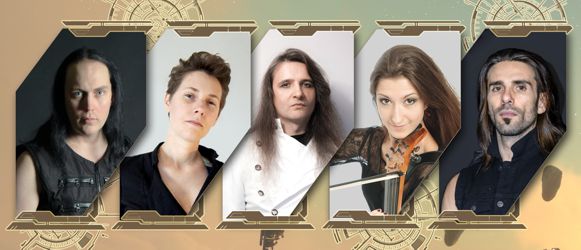 On their previous album "The Phantonauts", Qantice had gathered prestigious names like PelleK (3 million subscribers on YouTube) as lead vocalist, Zaher Zorgati (Myrath) or Yossi Sassi (ex-Orphaned Land). Then, in 2016, the band recruited Swedish singer David Akesson (Aldaria, Vivaldi Metal Project, Six Foot Six, ex Moonlight Agony) to share the stage with Luca Turilli's Rhapsody on their European tour, and then Myrath in Paris.
Thanks to a lineup strengthened by touring together, the band's chemistry is stronger than ever, making this third album their most epic and collaborative effort yet. With Kevin Codfert (Adagio, Myrath) on production and many surprises such as Italian opera tenor Riccardo Cecchi from L T's Rhapsody, here's a new offering of pure epicness, served by the biggest orchestras and choirs ever deployed in a Qantice album.
Line-up:
David Åkesson: Lead & Backing Vocals, Trumpet; Tony Beaufils: Guitars, Banjo, Bouzouki, Synths and Orchestration; Alexandra Laya: Violin; Christine Lanusse: Bass; Aurélien Joucla: Drums
Guests:
Riccardo Cecci: Vocals on Fractal Universe, Krooner; Dimitri Halby: Transverse Flute on Little Knight's Oath; John Lang: Uilleann pipe on Rivers Can't Fly; Justine Descamps: Oboe on Timeline Tragedy; Arnaud Condé: Flute on Cosmic Sway; Bassoon on Cosmic Sway, Fractal Universe; Kevin Codfert: Piano on Without a Hero, Mad Clowns; Tomaz Boucherifi-Kadiou: Bombarde on Timeline Tragedy
Web: www.facebook.com/qanticeofficial
Formats: CD and digital
PR (world): Diese E-Mail-Adresse ist vor Spambots geschützt! Zur Anzeige muss JavaScript eingeschaltet sein!
Haulix: available now
Release date: April 26th, 2019
*****
::: MASS – PR start for "Still Chained"! :::
The PR campaign for the comeback album "Still Chained" by German Hard Rock veterans MASS now has started! Please request the title if you haven't done this yet. The band also is available for interviews!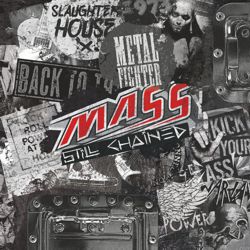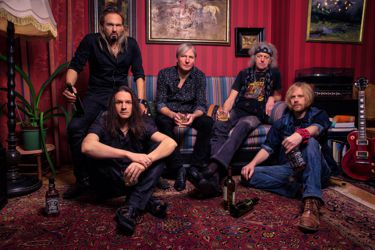 Founded in 1973 with an international line-up (from Germany, Switzerland, USA), MASS in their prime time played about 180 gigs in clubs and at festivals every year all over Europe. They sold over 200.000 albums and received radio airplay all over the continent. The album "Slaughter House" (1979) hit the top 5 of the Greek album charts. A few years later, the readers of a famous German Hard Rock magazine voted MASS on # 4 of the best German Metal Bands after the Scorpions, Accept and Warlock. But fate doesn't care about glory or fame. Just like so many musicians at the time, they had to pay the price for an excessive Rock' n Roll lifestyle which resulted in the breakup of the band in 1987.
The band returns on April 26th, 2019 with their brand new studio album "Still Chained".
Next live dates:
26.04. D-Regensburg, Tiki Beat
13.09. D-Wurz, Storm Crusher Festival
Web: www.mass-rock.com
Formats: CD & digital
PR (world): Diese E-Mail-Adresse ist vor Spambots geschützt! Zur Anzeige muss JavaScript eingeschaltet sein!
Haulix: available now
Release date: April 26th, 2019
*****
::::FLOATING WORLDS return with new album "Battleship Oceania" on May 17th, 2019! :::
FLOATING WORLDS are pleased to announce the release of our third album entitled "Battleship Oceania" via Pride & Joy Music, on May 17th 2019.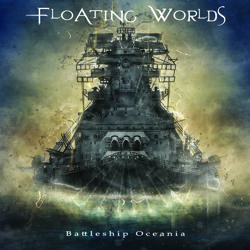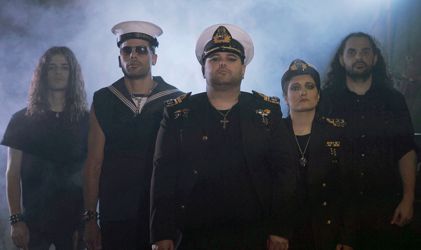 The album consists of 12 songs and narrates the story of a legendary battleship and its crew, who both turned into a horrifying floating ghost, after the assignment of a mission that proved to be fatal.
Through the unexpected revelations and events that take place as the story unfolds, the listeners take a close look at the ugly face of war, the manipulations of vain people interested in power and money and the obscure role of global media but they also have the opportunity to witness the self-sacrifice for the greater good, the sincere repentance and the greatness of forgiveness.
The album was recorded and mixed at "CFN Recordings Studio" by Dion Christodoulatos. Mastering was held by Nasos Nomikos at "Vu Productions Mastering Studio". Front cover was designed by Virginia Kakava and booklet was designed by Costas Capayannidis.
Tracklist:
Oceania, 2. Sailing In History, 3. New Mission, 4. The Empire Of The Media, 5. The Curse, 6. Retribution, 7. Game Of Thrones, 8. Captain Evil, 9. The Last Goodbye, 10. Devine Love, 11. Eternal Sleep, 12. Island Of Dreams
Web: https://www.facebook.com/FloatingWorldsGR
Haulix: end of March/ early April
Release date: May 17th, 2019
*****
::: ECHOES release trailer for "Live From The Dark Side"! :::
On March 15th, 2019 Germany's finest PINK FLOYD tribute Band ECHOES will release their new 2-CD, Blu-ray, DVD and Box Set "Live From The Dark Side" which was filmed last year at Rock Of Ages Festival in Germany.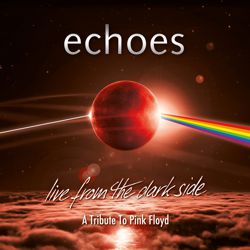 Check out the brand new trailer here: https://youtu.be/mMAo2cseolg
During the event, ECHOES were joined on stage by the guests Geoff Tate (Operation Mindcrime), Michael Sadler (Saga) and Midge Ure (Ultravox).
Web: www.echoes.de
Formats: 2-CD, Blu-ray, DVD, digital & box
PR (world): Diese E-Mail-Adresse ist vor Spambots geschützt! Zur Anzeige muss JavaScript eingeschaltet sein!
Haulix (audio): available now
Release date: March 15th, 2019
*****
::: New signing: TARCHON FIST from Italy!"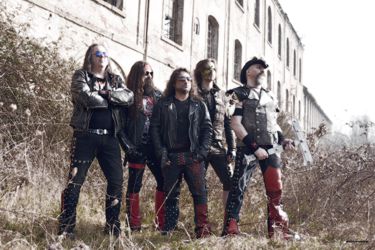 pic by: Stefano "Steve" De Guglielmo
PRIDE & JOY MUSIC welcomes a new signing on board: Italian Heavy Metal band TARCHON FIST! The band was founded in 2005 on the ashes of 80's Metal band RAIN by Lvcio Tattioni (guitars) and just has finished the recordings for their fourth studio album called "Apocalypse" which will be released in Summer 2019. Stay tuned for more news on this band soon and check out a live video from their most recent appearance at Wacken Open Air here:
Tarchon Fist are:
Mirco "Ramon" Ramondo – Lead Vocals; Luciano "Lvcio" Tattini – Guitars and Vocals; Sergio "Rix" Rizzo – Guitars and Vocals; Marco "Wallace" Pazzini – Bass Guitars and Vocals; Giacomo "Jack" Lauretani – Drums
Web: www.tarchonfist.com
New album: Apolcalypse (to be released in August 2019)
++++
:::LUGNET hit the Swedish vinyl chart "Nightwalker"!:::
On February 1st, 2019 Swedish 70's Hard Rock band LUGNET hit the official sales chart in their native country Sweden on #10 for the first time with the vinyl version of the "Nightwalker" release!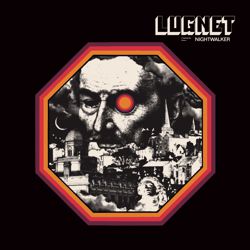 The band thrives on new singer Johan Fahlbergs (Jaded Heart) voice with immense power and range. The extraordinary driving rhythm section consists of bass player Lennart "Z" Zethzon (Badge) and drummer Fredrik Jansson (Angel Witch, ex Witchcraft). New guitar player Matti Norlin adds (Badge and solo artist) a great bluestone, together with heavy guitar riffs from Marcus "Mackan" Holten.
Check out the video for the track "Begging'" here: https://youtu.be/3c6_9BjfkqA
Web: www.lugnetrock.com
Formats: CD, LP and digital
PR (world): Diese E-Mail-Adresse ist vor Spambots geschützt! Zur Anzeige muss JavaScript eingeschaltet sein!
Haulix: available
Release date: January 25th, 2019
******************************
::: TOUR DATES :::
BORN AGAIN
15.03. F-Besancon, PDZ
CRYSTAL TEARS
25.07.-27.07.2019 D-Brande-Hörnerkirchen, Headbanger's Open Air
ECHOES
15.03. D-Erfurt, Das Brett
16.03. D-Neuruppin, Kulturkirche
30.03. D-Forst, Alex-Hiber-Forum
12.04. D-Bonn, Harmonie
27.04. D-Hagen, Stadthalle
11.05. D-Aschaffenburg, Colos-Saal
21.06. D-Kranichfeld, Freilichtbühne
29.06. D-Nürnberg, Serenadenhof
29.07. D-Calw, Klostersommer
31.07. D-Klingenberg/Main, Clingenburg
02.08. D-Magdeburg, Seebühne
11.08. D-München, Brunnenhof der Residenz
22.09. D-Hanau, Amphitheater
11.10. D-Wendlingen, Zeltspektakel
12.10. D-Mörfelden, Bürgerhaus
25.10. D-Zweibrücken, Festhalle
26.10. D- Saarlouis, Theater am Ring
31.10. D-Landshut, Sparkassenarena
09.11. D-Vallendar, Stadthalle
16.11. D-Zwickau, Stadthalle
22.11. D-Osnabrück, Rosenhof
06.12. D-Landau, Universum
07.12. D-Rastatt, Badnerhalle
LIONCAGE
13.03. D-Hamburg, Logo
05.04. D-Steinbruch, Duisburg
04.05. D-Hamburg, Maria's Ballroom
18.05. D-Aldenhoven, Rockheaven
LUGNET
10.08. SE-Tungelsta/Stockholm, Trädgårdsrocken Festival
MASS
24.06. D-Regensburg, Tiki Beat
13.09. D-Wurz, Storm Crusher Festival
SECRET RULE (with supports: Astray Valley & Blackdraft)
26.04. D-Mörlenbach, Live Music Hall
27.04. D-Leipzig, Hellraiser
28.04. D-Hamburg, Bambi Galore
29.04. D-Oberhausen, Kulttempel
30.04. NL-Breda, Sound Dog
01.05. F-Paris, Le Klub
02.05. B-Bree, Ragnarok Live Club
03.05. B-Eernegem, B52
04.05. F-Pagney-Derriere Barine, Chez Paulette
08.06. ESP-Alameda (Malaga), Camorock
SPIRAL KEY
27.04. BE-Paal, t.b.a.
28.04. NL-Rotterdam, t.b.a.
SQUEALER & SEBASTIEN
22.03. D-Neukirchen (Knüll), Sägewerk (35th Squealer band anniversary show)
30.03. D-Waldbronn (near Karlsruhe), Soundcheck One
THE SOUL EXCHANGE
01.06. SE-Grytholmen, Music Festival
VICE
27.04. D-Markt Wald, Roc N Loc Festival
VIVALDI METAL PROJECT
22.03.19 BUL-Sofia, Mixtape 5
28.06.19 NL-Dokkem Open Air Festival
Follow Pride & Joy Music on Facebook for more news, video posts and other information at: @facebook: prideandjoymusic
Label: www.prideandjoy.de
@youtube: prideandjoymusic