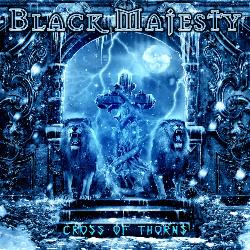 product: Black Majesty - Cross Of Thorns
release date: 04.09.2015
release territory: Europe
format: CD & download
Australia's best power metal band Black Majesty returns with their sixth studio album titled 'Cross Of Thorns'. 'Faster, heavier yet melodic as ever' the new album continues the band's evolution of finely crafted melodic power metal anthems. Charismatic frontman John Cavaliere shines on the new album with emotive vocals that showcases the fine 'timber' in his voice on songs like Phoenix, Crossroads & Vlad The Impaler - not to mention on the cover version of the Gary Moore classic anthem 'Out In The Fields'.
Cross Of Thorns is dedicated to Dirk Illing, the band's long-time friend and artist of all five previous album covers (R.I.P.). Mixed by Roland Grapow (ex Helloween/Masterplan) the album sounds amazing. Big drums, bass and guitars are all evident on the new release.
Previous appearances at fests such as Wacken Open Air, Masters Of Rock, Screamfest and tour supports with the likes of Saxon, Blind Guardian, Hammerfall, Edguy and Dragonforce, Black Majesty will continue to build on their ever growing fan base with further touring, including some upcoming special acoustic shows in Europe to coincide with the release of the new album.
Fans of Dio, Judas Priest, Helloween, Queensryche and Hammerfall will welcome Black Majesty's new album - Cross Of Thorns.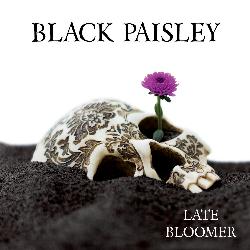 product: Black Paisley - Late Bloomer
release date: 27.10.2017
formats: CD, vinyl & download
territory: world
From Stockholm, Sweden comes debuting BLACK PAISLEY with a musical combination of Classic Rock, AOR and Modern Country. The band is formed by some of Sweden's most experienced studio and tour musicians backed up by a new songwriter and vocalist.
The album consists of nine songs with a spread from heavy rockers as "Run Run Run" and "Ordinary Day", via more melodic radio tunes like "Way To Something" and "Coming Home" but also touches the southern rock influences with "It Ain't Over" and "Easy". All engineered and produced by legendary Mats Lindfors giving the classic rock songs a more modern and crisp sound.
In the Autumn 2014, BLACK PAISLEY started the journey towards a first album. The Black Paisley Project is a spinoff from StephMetal - a Swedish cover band that had existed for many years featuring Stefan Blomqvist (vocals, guitar), Jan Emanuelsson (bass), Robert Karaszi (drums) and Birger Lundgren. Stephmetal won the Swedish "Company of rock" in 2009 and gigged frequently both in Sweden and abroad (UK, Fr, Ne and No) during the 2000's. In 2009 Robert Wirensjö also joined the band on keyboards, adding a new touch of professionalism to the band and their gigs. Robert had both recorded and toured with several of Sweden's greatest artists like Michael Rickfors, Andreas Johnson among others.
The dream of making an album with own songs had often been discussed during the time of Stephmetal. Blomqvist had for years written material partially tested both live and in the rehearsal room, and subsequently felt that now was the time to make this dream of an album become reality. The recording project was named BLACK PAISLEY, after Ritchie Sambora's Fender signature guitar. In autumn of 2014 the recordings started outside Sundsvall with producer Johan Dereborn (former Gaston, E-type, Takida others), where we recorded the backgrounds live and also mixed the songs "Autumn" and "Kickin" during a couple cold November weekends. During the Sundsvall sessions guitarist Ulf Hedin came onboard – likewise an experienced musician and songwriter. Ulf was to become a central musical engine in the whole BLACK PAISLEY project onwards. Friendly and talented drummer Mikael Kerslow, also guested in an honorable way in Sundsvall. In spring of 2015 the band continued recording "It ain't over" and "This Is My Day" in Stockholm, where we found spare space in Mikael Wikman's fine drum studio (used by Rammstein and others).In autumn of the same year, they decided to put more efforts into the project and came in contact with Mats "Limpan" Lindfors (Norum, Talisman, Meshuggah, Petter and others) who now took over the lead of the project, both recording, mixing and production together with Robert Wirensjö. The rest of the songs were recorded at the prestigious Sound Trade Studios in Solna, where bands like Abba, Europe, and Michael Bolton recorded. Final mastering was done at Cutting Room Stockholm, by Mats Lindfors.
product: Bonfire - Live On Holy Ground Wacken 2018
release date: 14.06.2019
formats: CD, DVD & LP
territory: world
German Hard Rock band BONFIRE for a couple of decades has been one of the busiest touring bands and consistently also is a regular guest at numerous big European Metal festivals. On August 4th, 2018 the Ingolstadt based group once again set a highlight performance at the world's biggest Heavy Metal festival: Wacken Open Air.
The show in Wacken was filmed and will now be released on June 14th, 2019 as DVD, as CD, as LP and digital under the name "Live On Holy Ground 2018". The main film offers a superb 'best of' journey through time and includes BONFIRE's own classic hits like "Ready 4 Reaction", "Sweet Obsession" and "American Nights". The DVD version with "Praying 4 A Miracle" (radio edit), "Locomotive Breath" (radio edit), "Sweet Obsession" (2019) and "American Nights" (2019) offers four bonus video clips which are also included on the CD, LP and digital as audio files. The first pressing of all three physical formats was handsigned by the band.
Filmed & recorded live at Wacken Open Air on August 4th, 2018
Mix & Mastering: Tom Müller (Flatliner Studios)
Produced by: Hans Ziller
Additional Recordings by Rolf Munkes at Empire Studios
Virtual set extensions for American Nights by Diese E-Mail-Adresse ist vor Spambots geschützt! Zur Anzeige muss JavaScript eingeschaltet sein!
Locomotive Breath – Byron Mansylla, AVMS
Artwork design: The Digital Dictators
DVD information: FSK12, Playing time: 60:09 min, , Full screen: 4:3, DTS 5.1, Dolby Digital, NTSC, Full HD, Region Code: 0
BONFIRE are: Hans Ziller – Lead, Rhythm-Guitar, Backing Vocals; Alexx Stahl – Lead Vocals; Ronnie Parkes – Bass, Backing Vocals; Frank Pané- Lead, Rhythm-Guitar, Backing Vocals; André Hilgers – Drums, Percussion
Additional Musicians: Tim Breideband, Harry Reischmann – Drums; Paul Morris, Fredrik Bergh, Alessandro DelVecchio – Keyboards; Mike Gerhold – Backing Vocals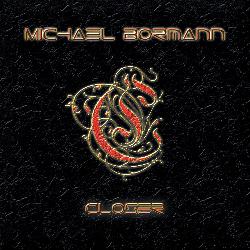 product: Michael Bormann - Closer
release date: 22.05.2015
release territory: Germany, Austria & Switzerland
format: CD
On the 22nd of May 2015, after more than four years, the long awaited fifth solo album "Closer" by Michael Bormann will see the light of the world. 2014 has been an eventful and exciting year. With his impressive performance at one of today's biggest TV-Shows "The Voice of Germany" Michael reached millions of people.
All songs were written, recorded and produced within a three-month studio session by the end of 2014.
Due to the huge demand of the Demi-Lovato song "Warrior", that got him into "The Voice" - show, Michael had no chance but taking it on the forthcoming CD. Downright refreshing, versatile and rocking Bormann presents "Closer". Ballads, mid-tempo songs and pure Rock´n´Roll: you got it all! Defining a favorite is pretty hard as every single song has its own magic.
"Because we are the world" goes straight to the heart. The children's choir makes this tune very special. Not only radio stations will love this song.
It should be mentioned, that a valuable contribution to this album has been given by Eric Ragno and Bobby Stoecker. Knowing what and how he wants it, Bormann played most of the instruments by himself. It's impressively showed on "Closer".
His strong "Voice" - performances got Michael the long deserved attention.
Now it´s time for the next level. Closer will be drawing in the crowds under its magic spell.