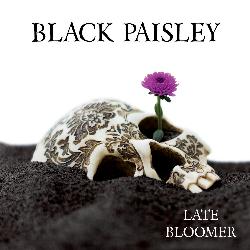 product: Black Paisley - Late Bloomer
release date: 27.10.2017
formats: CD, vinyl & download
territory: world
From Stockholm, Sweden comes debuting BLACK PAISLEY with a musical combination of Classic Rock, AOR and Modern Country. The band is formed by some of Sweden's most experienced studio and tour musicians backed up by a new songwriter and vocalist.
The album consists of nine songs with a spread from heavy rockers as "Run Run Run" and "Ordinary Day", via more melodic radio tunes like "Way To Something" and "Coming Home" but also touches the southern rock influences with "It Ain't Over" and "Easy". All engineered and produced by legendary Mats Lindfors giving the classic rock songs a more modern and crisp sound.
In the Autumn 2014, BLACK PAISLEY started the journey towards a first album. The Black Paisley Project is a spinoff from StephMetal - a Swedish cover band that had existed for many years featuring Stefan Blomqvist (vocals, guitar), Jan Emanuelsson (bass), Robert Karaszi (drums) and Birger Lundgren. Stephmetal won the Swedish "Company of rock" in 2009 and gigged frequently both in Sweden and abroad (UK, Fr, Ne and No) during the 2000's. In 2009 Robert Wirensjö also joined the band on keyboards, adding a new touch of professionalism to the band and their gigs. Robert had both recorded and toured with several of Sweden's greatest artists like Michael Rickfors, Andreas Johnson among others.
The dream of making an album with own songs had often been discussed during the time of Stephmetal. Blomqvist had for years written material partially tested both live and in the rehearsal room, and subsequently felt that now was the time to make this dream of an album become reality. The recording project was named BLACK PAISLEY, after Ritchie Sambora's Fender signature guitar. In autumn of 2014 the recordings started outside Sundsvall with producer Johan Dereborn (former Gaston, E-type, Takida others), where we recorded the backgrounds live and also mixed the songs "Autumn" and "Kickin" during a couple cold November weekends. During the Sundsvall sessions guitarist Ulf Hedin came onboard – likewise an experienced musician and songwriter. Ulf was to become a central musical engine in the whole BLACK PAISLEY project onwards. Friendly and talented drummer Mikael Kerslow, also guested in an honorable way in Sundsvall. In spring of 2015 the band continued recording "It ain't over" and "This Is My Day" in Stockholm, where we found spare space in Mikael Wikman's fine drum studio (used by Rammstein and others).In autumn of the same year, they decided to put more efforts into the project and came in contact with Mats "Limpan" Lindfors (Norum, Talisman, Meshuggah, Petter and others) who now took over the lead of the project, both recording, mixing and production together with Robert Wirensjö. The rest of the songs were recorded at the prestigious Sound Trade Studios in Solna, where bands like Abba, Europe, and Michael Bolton recorded. Final mastering was done at Cutting Room Stockholm, by Mats Lindfors.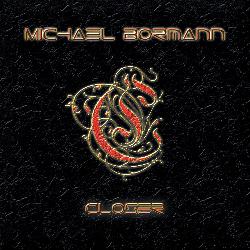 product: Michael Bormann - Closer
release date: 22.05.2015
release territory: Germany, Austria & Switzerland
format: CD
On the 22nd of May 2015, after more than four years, the long awaited fifth solo album "Closer" by Michael Bormann will see the light of the world. 2014 has been an eventful and exciting year. With his impressive performance at one of today's biggest TV-Shows "The Voice of Germany" Michael reached millions of people.
All songs were written, recorded and produced within a three-month studio session by the end of 2014.
Due to the huge demand of the Demi-Lovato song "Warrior", that got him into "The Voice" - show, Michael had no chance but taking it on the forthcoming CD. Downright refreshing, versatile and rocking Bormann presents "Closer". Ballads, mid-tempo songs and pure Rock´n´Roll: you got it all! Defining a favorite is pretty hard as every single song has its own magic.
"Because we are the world" goes straight to the heart. The children's choir makes this tune very special. Not only radio stations will love this song.
It should be mentioned, that a valuable contribution to this album has been given by Eric Ragno and Bobby Stoecker. Knowing what and how he wants it, Bormann played most of the instruments by himself. It's impressively showed on "Closer".
His strong "Voice" - performances got Michael the long deserved attention.
Now it´s time for the next level. Closer will be drawing in the crowds under its magic spell.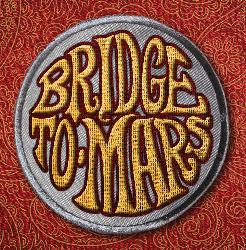 product: Bridge To Mars - s/t
release date: 26.02.2016
format: CD
release territory: world
With influences like Led Zeppelin, Thin Lizzy, Yes, The Black Crowes, The Who, Soundgarden, Rush, Black Sabbath, Van Halen and yes … ABBA!... BRIDGE TO MARS from Stockholm, Sweden, have managed to create their own unique sound.
JJ Marsh and Thomas Broman played together when they were in Glenn Hughes' band and also with the Hughes Turner Project. Marsh has made nine albums with Glenn Hughes and the Hughes Turner Project and has written a number of songs for Hughes. Thomas Broman was in Hughes' touring band for four years and also played two European tours with the Hughes Turner Project.
After having toured with each other for years, backing other rock-stars up, the Swedish high class musicians though it was about time to do something together as a band - which they did in 2013 when they founded BRIDGE TO MARS. The trio later was completed by bearded bass-master Robert Hansen.
Thomas Broman's previous work also includes music for Great King Rat, Electric Boys, Send No Flowers, John Norum, Silver Ginger 5, Firebird, Humanimal, Conny Bloom and Michael Schenker.
Robert Hansen is also the bass player in the Swedish prog-rock band Beardfish and has been involved in many other projects.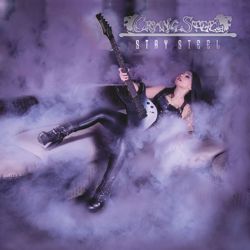 product: Crying Steel - Stay Steel
release date: 15.06.2018
territory: world
formats: CD & digital
Crying Steel were founded in Bologna in 1982 from the ashes of the Hard Rock group WURDALAK. The founding members were Alberto Simonini (guitar) and Angelo Franchini (bass), who were joined by Luke Bonzagni (vocals) and in 1983, and after various line-up changes, by Luca Ferri (drums) and Franco Grandchildren (guitar). After a couple of demos, the Italians released their debut EP "Crying Steel" in 1985.
During the next two years the group intensified their live activities throughout Italy including a performance at Heavy Metal Festival in Bologna in June 1986 with Motörhead and Twisted Sister. After more demo and promo releases, the debut LP "On The Prowl" came out in 1987. This was a revolutionary album - at least for the Italian New Wave of Heavy Metal (NWOIHM), as it was the first to be also released on CD. In September 1988 the line-up changed again. Simonini and Bonzagni left Crying Steel and were replaced by Michele Vanni and Lisa Bisognin. In March of 1990 Michele Vanni also left when Francesco Di Nicola joined the group. In the same year, the band performed some gigs in Russia with Massimiliano Merlini as new singer in the line-up. Some more gigs followed in 1994 and 2003 - reunions which saw Crying Steel perform with the classic line-up (Simonini / Grandchildren / Bonzagni / Franchini / Ferri). In 2006, Crying Steel were signed by Italian label My Graveyards Production and began to record the new record "The Steel Is Back" which was released in 2007. Shortly after the album came out, Simonini unfortunately decided to leave the group. Max Magagni stepped in for the release party. Luca Bonzagni then had to leave the band due to differences with the other members until Crying Steel announced their new singer Stephen Palmonari in November 2009. Another series of concerts followed and included a performance at the British Fest. The follow-up album, "Time Stands Steel", was released in April 2013. In June 2013, Crying Steel parted ways with singer Palmonari who was immediately replaced with Ramon Sonato and Luigi Frati. Before the concert held in Reno in February 2014, Friars Luigi replaced Max Magagni who had to leave due to increasing work commitments. After this line-up change, the group intensified it's touring schedule once more and also represented Italy at Wacken Open Air's 25th Anniversary. In 2015, they played the Greek festival "Metal Rites" in Athens with Jag Panzer and signed a record deal with local label No Remorse Records before playing with former Iron Maiden singer Blaze Bayley in 2015. In 2016, Crying Steel celebrated their 30th Anniversary with a live show at Lokomotiv Club in Bologna with their friends Rain, Markonee and later on supported the American band Riot. A special box set containing a reprint of "On The Prowl" + a DVD with the performance at Wacken Open Air 2014 was released in 2016, and Mirko Bacchilega became the new singer. In 2016, Crying Steel announced that the coming studio release will feature Tony Mills (Shy, TNT), one of the greatest voices in the international rock scene, on vocals. Crying Steel also played Paris Metal Fest in 2017.
Crying Steel during the recent years have also shared the stage as well with Twisted Sister, Motörhead, Grim Reaper, Demon, Diamond Head, Girlschool, Angel Witch, Gotthard, Praying Mmantis, Vanadium, Raven, Satan, Killer, Jag Panzer, Behemoth, Razor, Riot, Blaze Bayley, Decapitated, Van Canto, Hammerfall, Hatebreed, Black Star Riders, Carcass, Children Of Bodom, Hellyeah, King Diamond, Arch Enemy, Amon Amarth, Kreator, Accept, Megadeth, Saxon, Skid Row, Slayer, Sodom, Steel Panther, Wasp and more…