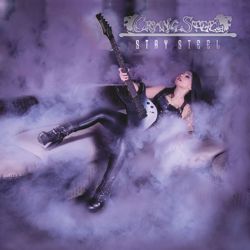 product: Crying Steel - Stay Steel
release date: 15.06.2018
territory: world
formats: CD & digital
Crying Steel were founded in Bologna in 1982 from the ashes of the Hard Rock group WURDALAK. The founding members were Alberto Simonini (guitar) and Angelo Franchini (bass), who were joined by Luke Bonzagni (vocals) and in 1983, and after various line-up changes, by Luca Ferri (drums) and Franco Grandchildren (guitar). After a couple of demos, the Italians released their debut EP "Crying Steel" in 1985.
During the next two years the group intensified their live activities throughout Italy including a performance at Heavy Metal Festival in Bologna in June 1986 with Motörhead and Twisted Sister. After more demo and promo releases, the debut LP "On The Prowl" came out in 1987. This was a revolutionary album - at least for the Italian New Wave of Heavy Metal (NWOIHM), as it was the first to be also released on CD. In September 1988 the line-up changed again. Simonini and Bonzagni left Crying Steel and were replaced by Michele Vanni and Lisa Bisognin. In March of 1990 Michele Vanni also left when Francesco Di Nicola joined the group. In the same year, the band performed some gigs in Russia with Massimiliano Merlini as new singer in the line-up. Some more gigs followed in 1994 and 2003 - reunions which saw Crying Steel perform with the classic line-up (Simonini / Grandchildren / Bonzagni / Franchini / Ferri). In 2006, Crying Steel were signed by Italian label My Graveyards Production and began to record the new record "The Steel Is Back" which was released in 2007. Shortly after the album came out, Simonini unfortunately decided to leave the group. Max Magagni stepped in for the release party. Luca Bonzagni then had to leave the band due to differences with the other members until Crying Steel announced their new singer Stephen Palmonari in November 2009. Another series of concerts followed and included a performance at the British Fest. The follow-up album, "Time Stands Steel", was released in April 2013. In June 2013, Crying Steel parted ways with singer Palmonari who was immediately replaced with Ramon Sonato and Luigi Frati. Before the concert held in Reno in February 2014, Friars Luigi replaced Max Magagni who had to leave due to increasing work commitments. After this line-up change, the group intensified it's touring schedule once more and also represented Italy at Wacken Open Air's 25th Anniversary. In 2015, they played the Greek festival "Metal Rites" in Athens with Jag Panzer and signed a record deal with local label No Remorse Records before playing with former Iron Maiden singer Blaze Bayley in 2015. In 2016, Crying Steel celebrated their 30th Anniversary with a live show at Lokomotiv Club in Bologna with their friends Rain, Markonee and later on supported the American band Riot. A special box set containing a reprint of "On The Prowl" + a DVD with the performance at Wacken Open Air 2014 was released in 2016, and Mirko Bacchilega became the new singer. In 2016, Crying Steel announced that the coming studio release will feature Tony Mills (Shy, TNT), one of the greatest voices in the international rock scene, on vocals. Crying Steel also played Paris Metal Fest in 2017.
Crying Steel during the recent years have also shared the stage as well with Twisted Sister, Motörhead, Grim Reaper, Demon, Diamond Head, Girlschool, Angel Witch, Gotthard, Praying Mmantis, Vanadium, Raven, Satan, Killer, Jag Panzer, Behemoth, Razor, Riot, Blaze Bayley, Decapitated, Van Canto, Hammerfall, Hatebreed, Black Star Riders, Carcass, Children Of Bodom, Hellyeah, King Diamond, Arch Enemy, Amon Amarth, Kreator, Accept, Megadeth, Saxon, Skid Row, Slayer, Sodom, Steel Panther, Wasp and more…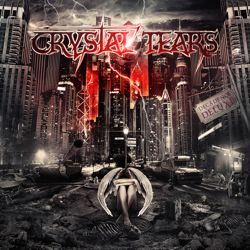 product: Crystal Tears - Decadence Deluxe
release date: 18.05.2018
territory: world
formats: CD & download
"The world's a stage, we plug & play"! With a steady evolution from the band's first demos to its latest instalments, Crystal Tears have managed to leave their mark as one of the most qualitative heavy metal acts, proven to be a persistent, innovative & unstoppable force. Their previous testimony "Hellmade", with music videos involving Ron "Bumblefoot" Thal (ex-Guns N' Roses, Sons Of Apollo) & actors Lew Temple (of The Walking Dead fame) & Lou Taylor Pucci (Evil Dead) - initiated their first European tour (with Mystic Prophecy), followed by their own headline Greek tour & a few more extended shows with Firewind/ ex-Ozzy Osbourne's Gus G.
Having gained a formidable reputation for delivering the goods on stage & via their honest and sing-along anthems, Crystal Tears strike back with the massively anticipated new, 5th album "Decadence Deluxe". With producer R. D. Liapakis (Mystic Prophecy, Devil's Train, Suicidal Angels etc.) on the front again, the quintet delivers high quality heavy metal dedicating heart & soul, managing to sound constantly inspired & fresh. The record includes a stunning cover version of Judas Priest's "Heart Of A Lion".
Crystal Tears have always been original. And this unique blend of dynamics in aggressiveness & harmony has been introducing 'em continually to new audiences all over the world. And as good ol' friend Ryan Roxie (Alice Cooper, ex-Slash's Snakepit) says... "all is rock"! And the story continues...
The artwork for "Decadence Deluxe" was designed by Caio Caldas (Dragonforce) and guest musicians include Ryan Roxie (Alice Cooper, Slash's Snakepit), Karis Charisma (Deadsquad), Julien Nutz Deyres (Gorod) and Fidel De Jesus (Xeno Devata Project).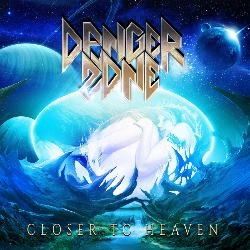 product: Danger Zone - Closer To Heaven
release date: 15.04.2016
territory: world
format: CD & download
When guitarist Roberto Priori started the Italian band DANGER ZONE in the early 80s a long hard road lay ahead of them. In 1984 they released the LP "Victim Of Time".
In the spring of 1988 DANGER ZONE eventually opened up for Heavy Metal legends Saxon in Verona, Italy and following the performance promoter and manager Francesco Sanavio offered DANGER ZONE a production deal which included the plan to break into the US market. Almost a year later in May 1989 the new album "Line Of Fire" began to take shape when executive producer Stephan Galfas (Meat Loaf, Savatage, Stryper, John Waite and Saxon) got involved and his colleagues Jody Gray and Mark Cobrin, both successful with the Japanese Hard Rock outfits Loudness and EZO, took over the production duties.
Due to adverse circumstances the finished album got shelved at first, but as the years went by "Line Of Fire" reached an underground cult status when Rock magazines, fanzines and dedicated fans of the band continuously demanded its release. Finally in 2011 the "Line Of Fire" CD saw the light of day through a German label. The band already got back together in 2010.
In the year 2012, the guys released their follow-up album "Undying" and played several gigs in Italy.
To promote this release, the group played several shows in Italy and some Summer Festivals.In March 2014 they released a single and a video of the E.Z.O.'s song "Fire Fire", a tribute to a legendary Japanese band of the 80's, now featuring new bass player Matteo Minghetti. While keeping playing live, the Danger Zone started to work on the compositions for a new album. The sound now turned out to be more melodic than before so they decided to add Pier Mazzini (Perfect View) and Whitesnake's Michele Luppi on keyboards.
In Summer of 2015 the Italians started the recordings with Roberto Priori and Jody Gray producing at the PriStudio in Bologna; as before the engineering duties were handled by Roberto himself.
The whole album has a very positive energy and attitude. Hard Rock and AOR were mixed together and as a result, the band feels even better presented than it was never before.
That's why they decided to call the album "Closer To Heaven", it marks a step towards their own identity and sound.
The band is currently rehearsing with the added guitar player Danilo Faggiolino to get ready to bring this new chapter of the band on the road. Stay tuned!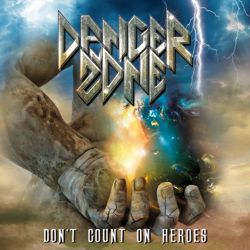 product: Danger Zone - Don't Count On Heroes
release date: 18.10.2019
format: CD & digital
territory: world
When Roberto Priori (g) started the Italian band DANGER ZONE in the early 80s a long hard road lay ahead of them. After various demos and line-up changes, they released the LP "Victim Of Time" (1984). But it wasn't until 1987 when they gained bigger attention in Italy from audiences and media alike, followed by live performances with e.g. Saxon and on some hard rock festivals. The aim was to break the US market and resulted in at least a successful gig at the legendary Whiskey A Go Go in Los Angeles in the summer of '88. In 1989 "Line Of Fire" was recorded in Venice/Italy under the wings Stephan Galfas (e.g. Meat Loaf, Savatage and Stryper) and produced by Jody Gray and Mark Cobrin (Loudness/EZO). Later that year, fate saw the members moving to L.A. for half a year and playing shows. Unfortunately, the finished album got shelved, but as the years went by, "Line Of Fire" reached an underground cult status with both press and fans.
Finally in 2011, "Line Of Fire" saw the light of day, carefully remastered by Roberto Priori. The band already got back together in 2010 working on new material and playing live. Before original DANGER ZONE band members Roberto Priori (g), Paolo Palmieri (d) and Giacomo Gigantelli (v) entered the studio, they added Roberto Galli (b) to their line-up.
First sessions took place in Roberto's PriStudio in Bologna, followed by a trip of singer Giacomo Gigantelli to New York, where he met Jody Gray, one of the key members of the production team of the "Line Of Fire" album more than 20 years ago, resulting in creative work. "Undying" (2012), being full of catchy melodies and powerful guitar riffs firmly build on DANGER ZONE's musical roots of the 80s while adding a slightly modern edge.
With new bass player Matteo Minghetti, the band started to write for the new album featuring Pier Mazzini (Perfect View) and Whitesnake's Michele Luppi on keyboards. "Closer To Heaven" (2016) has been released by Pride & Joy Music on April 2016 and has been unanimously acclaimed as their best album so far and one of the best AOR/hard rock albums of 2016.
The band, now being joined by Danio Faggiolino (g), kept playing live while working on new songs. Keyboards brought new possibilities, adding a new and more "cinematic" dimension. In 2018, recordings of the new album, again produced by Priori and Gray, started.