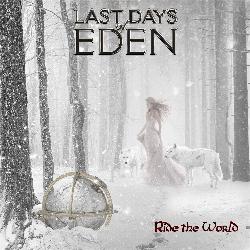 product: Last Days Of Eden - Ride The World
release date: 27.11.2015
territory: Europe
format: CD & download
LAST DAYS OF EDEN isafemalefronted symphonicmetal
band formed in 2012 in the Spanish Northern region of Asturias.
With epic folk influences added to their symphonic sound, they perform a melodic style that also carries Celtic and classical influences.
The band released an EP with six songs in 2014 which gained them a lot of recognition around the world and was extremely successful especially in Europe and in Japan.
During the year 2014 LAST DAYS OF EDEN played shows with U.D.O. and DEVIL'S TRAIN amongst others. After that, the Spanish six-piece entered the studio to record their first full album entitled "Ride The World" which includes 13 catchy and powerful songs plus one intro. The diverse song material delivers everything a fan of female fronted Symphonic, Gothic, Power Metal is longing for: Melodic Metal with driven guitars and tons of hooks, classical, orchestrated parts and folk elements plus some mega ballads. Other highlights are the more than 15 minute long epic "A Game Of War" and the bagpipe performance by Gustavo Rodríguez.
The group consists of members from other well known Spanish Metal bands such as Warcry, Avalanch, DarkSun or BandaNocturna.
Line-Up: Lady Ani – Vocals; Dani G. – guitar & vocals; Gustavo Rodríguez – Bagpipes, Juan Gómez – keyboards; Adrián Huelga – bass, Alberto Ardines – drums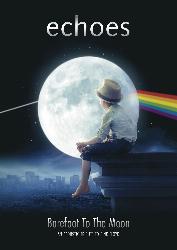 product: Echoes - Barefoot To The Moon
release date: 16.10.2015
release territory: Europe
format: DVD, CD, Blu-ray, double vinyl & download
After performing hundreds of concerts throughout Europe, enchanting thousands of people and playing festivals alongside all time greats like Jethro Tull, Joe Cocker, Manfred Mann and Asia, Echoes are now one of the premier Pink Floyd Tribute Bands. To echo the music has never been enough for this band and so the elaborate live shows convey the grandeur in all its facets. The "Süddeutsche Zeitung" simply calls it a spectacle.
In 2014 "Pink Floyd's star pupils" (Vogtland-Anzeiger) ventured a new course and on top of their typically atypical renditions of Pink Floyd's music they dared an experiment: the Pink Floyd acoustic concert - no amps, no safety net and no smoke and mirrors. Is that even possible? Can music that lives and breathes sprawling soundscapes, intricate
cascades of electronic noise and intense atmospheric density be reduced to such austerity that the spirit isn't lost? Or simply put, can you walk barefoot to the dark side of the moon?
With the acoustic show "Barefoot To The Moon" Echoes present their answer. The band centered around extraordinary guitarist and singer Oliver Hartmann (Rock Meets Classic, Avantasia) carefully dismantles the complex arrangements of the British art rock giants and uses only elementary and partly very unique Instruments to reduce the songs to their fundamental composition. All the while making sure that none of the magic is lost, but rather focused and so familiar sounds slightly change color and thus far unknown shades emerge. This stripped state shows a fascinatingly fragile beauty, that could not have been perceived before. Echoes reveals the essence of Pink Floyd.
The exceptional atmosphere of this acoustic concert reflects not only in the music but also the familiar setting; candles instead of a laser show, a string section instead of keyboard sounds, reduction instead of inflation. Floydian grandeur turns into intimate music experience, borne by creativity, wit, charm and respect for the makers who are Pink Floyd.
This DVD, recorded at the sold out Stadttheater Aschaffenburg, impressively documents the memorable evening and manifests the music of Pink Floyd in a way that it has not been heard before.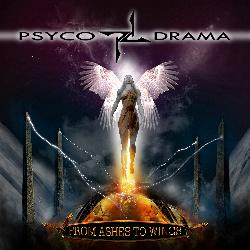 product: Psyco Drama - From Ashes To Wings
release date: 30.10.2015
release territory: world
format: CD & download

PSYCO DRAMA return withAshes to Wings, continuing the melodic power/progressive metal sound that brought them worldwide acclaim. Formed in Colorado Springs in 1990, PSYCO DRAMA established themselves as a musical force to be reckoned with on their debut album,The Illusion(1996). Its unique blend of hooks and melodies combined with epic and progressive passages resulted in compositions such as "Eyes Of A Child," "Flames," and "From Here," with favorable comparisons placing them in the same league as progressive metal giants DREAM THEATER, QUEENSRYCHE and FATES WARNING.
With Corey Brown (vocals) and Hercules Castro (guitar) being the main writing team behind PSYCO DRAMA, the band is considering Ashes to Wingsto be the rightful follow-up to "The Illusion." Joining Corey and Hercules on this musical rebirth is bassist Ian Ringler, a member of PSYCO DRAMA during their previous incarnation (as well as Corey's band mate in MAGNITUDE 9), and drummer Greg Sands.
Ashes to Wings' 11 tracks will deliver PSYCO DRAMA'S unique style of heavy metal to the world, with songs such as "From Ashes To Wings," "Requiem," and "All That We Have" firmly reestablishing the band at the forefront of the power/progressive metal genre.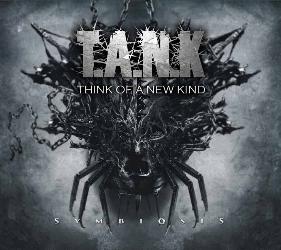 product: T.A.N.K. - Symbiosis
release date: 25.09.2015
label: Symbol Muzik/ Pride & Joy Music
territory: G-A-S
format: digi-pack CD
Mit zwei von der Presse hochgelobten Alben und Konzerten auf europäischen Festivals wie dem Wacken Open Air, Hellfest und Metal Camp, sowie Tourneen mit DAGOBA und SYBRRED konnten sich T.A.N.K (Think of A New Kind) als Aushängeschild der französischen Metal-Szene etablieren.
Gegründet im Jahr 2007 in den Vororten von Paris bietet die Band kraftvolle Musik mit Einflüssen von u.a. Soilwork, Machine Head, In Flames und Textures. Neben sehr guten Studioresultaten konnten sich T.A.N.K eine sehr gute Reputation als Live-Act erarbeiten.
"Symbiosis" ist das dritte Album der Franzosen und erscheint in Deutschland, Österreich und der Schweiz am 25.09.2015 über Symbol Muzik/ Pride & Joy Music mit Vertrieb Edel als Digi-Pack. Die 12 ungeniert klingenden, modernen Melodic Death Metal-Songs bieten u.a. einen Gastauftritt von SOILWORK-Sänger Björn "Speed" Strid und markieren einen weiteren Meilenstein dieser sensationellen aus GOJIRAs Heimat stammenden Formation.
Als Produzent in den Dome Studios fungierte hier David Potvin (One-Way Mirrow, Kronos, Lyzanxia…).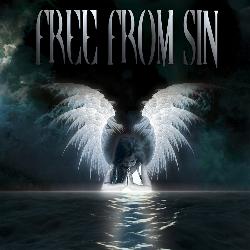 product: Free From Sin - s/t
release date: 25.09.2015
label: Pride & Joy Music
format: CD
release territory: Europe
Per Englund and Patrik Lämborg met for the first time while doing the mandatory Swedish military service 1985. Per sang at that time in a band called Blacksmith. Blacksmith had just finished recording their second album-single called "Tomorrows Mistery". The first Blacksmith recording was en EP called "Gypsy Queen".
Per got a demo that Patrik had made a few years earlier (this demo tape also placed Patrik in the highly renowned Guitar Player spotlight column). And that was that, Patrik joined Blacksmith and Blacksmith Mk II was a fact.
Blacksmith Mk II played in the limited Swedish rock scene. They also recorded an EP (1987) with songs like "World Victim" & "Angel". This EP was unfortunately never released since the band parted in 1988 (mainly due to that Patrik got some calls from USA and left to play in America). The EP master tape is unfortunately destroyed and beyond repair....
Per moved on with other bands such as 220 Volt (under the name Voltergaist) during 1992-93, Mandrake Root 1994-98 (4 albums together with the Free From Sin Hammond virtuoso Staffan Stavert). Year 2000 Blacksmith Mark III recorded an album called "Once upon a star".
During 2009-2010 Patrik & Per connected again and decided to record a demo in Patriks home studio. The demo contained new but also a couple of old songs. The demo turned out very well, and again the duo proved that they still can produce great hardrock/metal songs.
The demo was later presented to their good friend and producer Magnus "Mankan" Sedenberg. He thought this would be a great album to make. This of course triggered Per & Patrik with some new energy and they decided to record the album at Pama Records Studios.
Free From Sin is not a religious band, but as thinking human beings there is always room for questions. If you are Free From Sin, throw the first stone...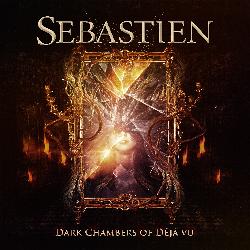 product: Sebastien - Dark Chambers Of Déjà-Vu
release date: 25.09.2015
label: Pride & Joy Music
format: CD & download
territory: world
SEBASTIEN is a melodic power metal band with symphonic and progressive influences. The band was born on roots of another heavy metal group, NAVAR, with an ambition to catch the worldwide interest, in 2008.
In November 2009 the band went to Grapow Studios (Slovakia) to record the album "Tears Of White Roses" which was produced by Roland Grapow (MASTERPLAN, ex-HELLOWEEN) himself! The album feat. various guest performances incl. Amanda Somerville (AVANTASIA, KISKE/SOMERVILLE), Apollo Papathanasio (ex-FIREWIND), Doogie White (ex-RAINBOW), Fabio Lione (RHAPSODY OF FIRE), Mike DiMeo (ex-MASTERPLAN, ex-RIOT), Roland Grapow (MASTERPLAN, ex-HELLOWEEN) and Tore Moren (ex-JORN LANDE)
During Autumn 2011, SEBASTIEN went on the first real tour (in the Czech Republic and Slovakia) with EAGLEHEART (CZ) and FLOWERWHILE (CZ). They also appeared on more gigs with SERENITY, ELVENKING, VICIOUS RUMORS, FATES WARNING and at MASTERS OF ROCK in July 2012. One live-song was also released on the official Masters of Rock DVD 2012. In August 2012 the band started its first European tour with CIRCLE II CIRCLE and played some more shows with AXXIS and with JORN LANDE. The band found a new permanent drummer - Lucas R. - and played the first show with the new line-up at METALFEST 2013 before they went on tour in 2013 with MASTERPLAN, MYSTIC PROPHECY & SIREN'S CRY.
The first half of 2014 was spent with finishing the upcoming second album, concert activities in the Czech Republic and Austria, and also with preparations for the next big gig on MASTERS OF ROCK's main stage – this time with Tony Martin (ex-BLACK SABBATH) as a special guest! This huge show happened in July and, besides the legend - Tony Martin, also Roland Grapow, Martin "Marthus" Skaroupka and Marlin Rya Poemy showed themselves. The band performed two of legendary BLACK SABBATH songs: "Headless Cross" and "Nightwing"!
In November 2014 SEBASTIEN went to Grapow Studios again to finish the mix of the new album "Dark Chambers of Déjà vu" which will be released on Pride & Joy Music/ Edel on September 25th, 2015 and includes guest performances by Tony Martin (Black Sabbath), Sergey Baidikov (Inner Fear), Zak Stevens (CircleIICircle, Savatage), Roland Grapow (Masterplan) and Aylin Gimenez (Sirenia)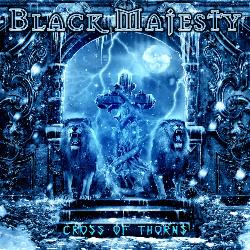 product: Black Majesty - Cross Of Thorns
release date: 04.09.2015
release territory: Europe
format: CD & download
Australia's best power metal band Black Majesty returns with their sixth studio album titled 'Cross Of Thorns'. 'Faster, heavier yet melodic as ever' the new album continues the band's evolution of finely crafted melodic power metal anthems. Charismatic frontman John Cavaliere shines on the new album with emotive vocals that showcases the fine 'timber' in his voice on songs like Phoenix, Crossroads & Vlad The Impaler - not to mention on the cover version of the Gary Moore classic anthem 'Out In The Fields'.
Cross Of Thorns is dedicated to Dirk Illing, the band's long-time friend and artist of all five previous album covers (R.I.P.). Mixed by Roland Grapow (ex Helloween/Masterplan) the album sounds amazing. Big drums, bass and guitars are all evident on the new release.
Previous appearances at fests such as Wacken Open Air, Masters Of Rock, Screamfest and tour supports with the likes of Saxon, Blind Guardian, Hammerfall, Edguy and Dragonforce, Black Majesty will continue to build on their ever growing fan base with further touring, including some upcoming special acoustic shows in Europe to coincide with the release of the new album.
Fans of Dio, Judas Priest, Helloween, Queensryche and Hammerfall will welcome Black Majesty's new album - Cross Of Thorns.