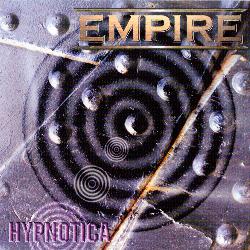 product: Empire - Hypnotica +3
release date: 24.02.2017
release territory: world
formats: CD & download
EMPIRE is the Hard Rock band of German guitarist Rolf Munkes (ex Majesty, ex Razorback, Crematory) which has released four exceptional albums in between the years of 2001 and 2007. On these releases, Munkes was accompanied by numerous high-class musicians.
The history of EMPIRE began in the year 2001 with the release of the album "Hypnotica" (Lion Music) which featured both the American singers Mark Boals (ex-Yngwie Malmsteen) and Lance King (ex Nightmare) on vocals. The line-up at the time was completed by Neil Murray (bass, ex Whitesnake, Brian May Band, Black Sabbath etc.), Gerald Klos (drums), Anders Johansson (drums, ex Stratovarius) and Don Airey (keyboards, ex Rainbow, Deep Purple). Rolf Munkes produced "Hypnotica" himself; the mix was handled by Stefan Kaufmann (ex Accept, ex U.D.O.).
Only one year later, "Trading Souls", the band's second album came out on Lion Music. The CD once again was produced by Munkes with the mix being handled by Kaufmann. On this release, singer extraordinare Tony Martin (ex Black Sabbath) replaced King and Martin on the vocal spot.
Tony Martin also sang on the – up until now – most successful CD from EMPIRE, "The Rave Ride", which was released in 2006 on German label Metal Heaven. Besides of Munkes, who, for the first also produced and mixed this release himself at his own Empire Studios in Bensheim, Germany, Neil Murray took again care of the bass work whilst the drums this time were handled by ex-Rage/ex-Axxis drummer André Hilgers.
In 2007, the so far last album of EMPIRE saw the light of day. "Chasing Shadows" was once again released on Metal Heaven and the first record feat. former Rainbow singer Doogie White in the line-up. Mike Terrana (ex Rage, ex Axel Rudi Pell, Tarja Turunen) joined the group on drums.
In 2017, German label Pride & Joy Music will re-issue all four releases in a revised version. First up will be "Hypnotica" which will be released on February 24th, 2017 and include the three bonus tracks "Take A Look Around", "Dogtown Shuffle" and "Spread My Wings" (acoustic version). One other album will follow every three months.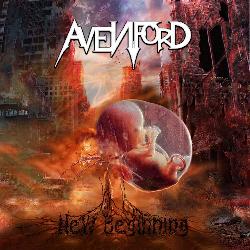 product: Avenford - New Beginning
release date: 27.01.2017
territory: world
format: CD
Avenford was formed by guitarist Peter Szehoffner and guitarist/vocalist Arpie Gamson in Hungary in the summer of 2012.
Initially they started to create music on their own as they got on well from the beginning, both having similar backgrounds, musical ideas and influences which include Masterplan, Jorn Lande, Yngwie Malmsteen and Iron Maiden etc.
A few months later they had enough material written for a full album and with the help of lyricist Zoltan Bako the songs reached their final form.
Soon after Szehoffner and Gamson moved to the UK, they got together in Gamson's flat and recorded the basic tracks for the first album. It was named after their most epic song "Mortal Price". The tracks were sent to Denever studios in Hungary for final mixing – it also helped that the studio owners were also huge Maiden fans. The line-up was completed by Pete Jean (drums) and Zoltan Meszaros (bass).
Since then, the band has gone through a few changes but apparently is stronger than ever.
Jivodar Dimitrov joined AVENFORD on drums and Tom Longbottom took over the bass. "New Beginning" was recorded with Roland Grapow (Masterplan) – and it's stronger, harder and faster than the first one.
Guest musicians: Apollo Papathanasio (Majestic, ex-Firewind) - vocals on "Dead or alive", Zoltan Marothy (Kiss Forever band) – guitar solo on "Back in time", Roland Grapow (Masterplan) – guitar solo on "Fury road", Zoltan Kiss (Iron Maidnem) - vocals on "Dark angel", Bodor Mate (Alestorm) – guitar solo on "Mask", Piotr Sikora (Exlibis)- keyboard solo on "Return to the land of emeralds" then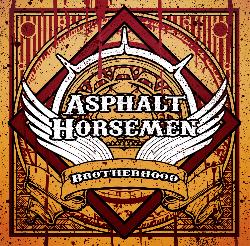 product: Asphalt Horsemen - Brotherhood
release date: 13.01.2017
release territory: world (without Hungary)
format: CD
Asphalt Horsemen was formed by well-known musicians in Hungary in 2010. First they led into jams of songs of bands like Lynyrd Skynyrd, Black Stone Cherry, Pride & Glory. Soon came up their own ideas of songs which were working out and tested at smaller gigs. The audience reaction was splendid as they felt heavy-load beating of Southern Rock on their skin.
The genre what AH plays fills a gap in the rock music-scale in Hungary, it's not really found this style among local bands.
In march 2014 their debut album was released which received positive feedbacks from both national and international audiences. The album was nominated as the "best newcomer of the year 2014" by the Hungarian Recording Industry Association – Hungarian Group of IFPI.
After several tours, shows in Hungary, Finland, Italy, Czech Republic, Slovakia and Romania they recorded the second album – Brotherhood – to be released on January 13th, 2017 all over the world. Asphalt Horsemen consists of István Bencsik (drums, backing vocals), Károly Lőrincz (lead vocals, guitars, tambourine), Géza Matyasovszki (guitars, backing vocals), Balázs Megyesi (bass).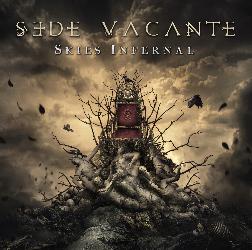 product: Sede Vacante - Skies Infernal
release date: 18.11.2016
format: CD & download
release territory: world
Sede Vacante is a heavy Goth Metal duo from Greece formed in 2013 which consists of Michael Tiko (male vocals, guitars and synths) and Constantine Alex (female vocals). Both members are highly educated in music - with Michael Tiko having studied at Berklee College of Music, Boston, USA (Master in Guitar Performance) and Constantine Alex having studied in The National Academy of Music "Prof. Pantcho Vladigerov", Sofia, Bulgaria.
Both members have got an extensive live experience. Tiko was the lead guitarist of the Goth/Power metal band "Rage of Romance" (feat. Vicky Psarakis on vocals, The Agonist) and also played as a session guitarist in many local bands, even in the Jazz genre. Alex has been singing for more than 10 years and been a session vocalist in numerous swing, jazz and rock bands.
"Skies Infernal" is their debut album which will be released on Pride & Joy Music on November 18th, 2016. The logo and the band's symbol were made by Gustavo Sazes (Arch Enemy, Firewind etc.), and the record was mixed by drummer and sound engineer Fotis Benardo (ex- Septic Flesh, Six4Nine) and mastered by the Jens Bogren (Fascination Street Studios) in Örebro, Sweden.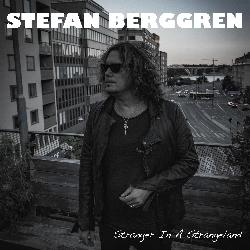 product: Stefan Berggren - Stranger In A Strangeland
release date: 21.10.2016
format: CD & download
territory: world
STEFAN BERGGREN is one of Sweden's best known singers, musicians and song-writers. In his almost 30 years lasting career he played in acts such as Snakes In Paradise, M3, Company Of Snakes, Razorback and Berggren Kerslake Band amongst others and shared the stage with musicians from Whitesnake, Deep Purple, Brian May Band, Uriah Heep und Black Sabbath. Most recently he stepped in as singer for Uriah Heep at a gig in Rosenheim and played in the UK together with Don Airey (Deep Purple) and Neil Murray (Whitesnake, Black Sabbath), Germany.
"Stranger In A Strangeland" marks the release of the first solo album from this exceptional artist and features appearances from old friends such as Bernie Marsden (ex Whitesnake), Stephen Bentley-Klein (Deep Purple), Neil Murray (Black Sabbath, Whitesnake), Tomas Pomma Thorberg (Snakes In Paradise, Four Sticks, Plankton), Sebastian Sippola (Four Sticks ,Plankton), Marcus Jidell (Avatarium, ex Evergrey), Joakim Svalberg (Opeth), Lars Karlsson (Diamond Dogs) and more.
The album was produced by Stefan Berggren at Berggren Studios in Stockholm, Sweden and mastered by Pete Lynam (California Breed, Glenn Hughes, Slash, Rival Sons) at Infrasonic Sound Studios in Los Angeles, USA.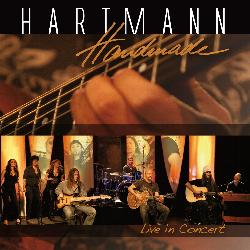 product: Hartmann - (Handmade Deluxe)
release date: 30.09.2016
release territory: world
format: CD+DVD (digi-pack)
The history of HARTMANN began in 2005 with the successful release of their debut album 'Out in the cold', many times chosen as 'album of the month', and with their follow up 'Home' released in 2007. After their support tour for THE HOOTERS where HARTMANN performed acoustic versions of their material for the first time the band decided to play two exclusive shows at Pegasus theater in Bensheim/Germany in late 2007. Supported by three female background singers as special guests both evenings were recorded for the live CD/DVD 'Handmade' released in 2008. It is uniting outstanding material like real 'handmade' versions of the first two studio albums and previously unreleased tracks.
'Handmade' has always been considered as one of the most impressive outputs of HARTMANN and this re-release now contains both CD and DVD as special limited deluxe edition. In addition, the digital version of the CD will also be released as "deluxe edition" – now containing audio versions of all songs.
Oliver Hartmann is also well known as being a member of the mega seller Avantasia and as frontman of the successful Pink Floyd Tribute Echoes with their latest release 'Barefoot To The Moon' (German charts No 20 in Oct 2015).
Line-up: Oliver Hartmann (guitar/vocals), Mario Reck (guitar), Armin Donderer (bass), Dario Ciccioni (drums), Juergen Wuest (piano/vocals), Ina Morgan (vocals), Kolinda Brozovic (vocals), Tiffany Kirkland (vocals)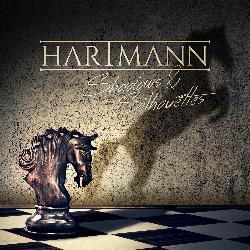 product: Hartmann - Shadows & Silhouettes
release date: 30.09.2016
release territory: world
format: CD
After numerous tours as part of Avantasia, Rock Meets Classic and as mastermind of the successful Pink Floyd Tribute Echoes the exceptional singer and guitarist Oliver Hartmann now presents his new fifth studio album "Shadows & Silhouettes" with Hartmann after nearly four years break since the latest release "Balance". The new album will be released on 30th of September on the artist owned label SONIC11 in cooperation with Pride & Joy Music.
Supported by guest musicians as the well-known session keyboarder Jimmy Kresic (Rock Meets Classic, The Roots, Soundtopia), Miro Rodenberg (Avantasia) and also the Prague cellist Irena Morisáková and violinist Adéla Pecková the album contains 12 extra class songs combining modern melodic Rock ("Irresisitible", "Glow" "High on you", I would murder for you") with many acoustic ("The letting go", "Shadow in my eyes", "Still the same") and partly very intimate moments ("Jaded heart", "Last goodbye") pointing up the broadness and complexity of Hartmann. The catchy single "When your mama was a hippie" will also be released as video clip.
The album has been co-produced again by Sascha Paeth (Avantasia, Edguy, Kamelot, Beyond The Black, etc.) and mixed/mastered at Gate Studios Wolfsburg/Germany.