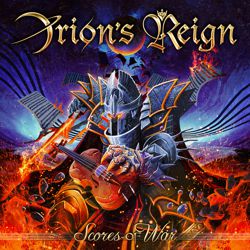 Orion's Reign are back with their second full-length studio album, "Scores of War", set for an October 19th release by Pride & Joy Music.
The album, engineered, mixed and mastered at Fascination Street Studios (Powerwolf, Arch Enemy, Dragonforce, Amorphis etc.), in Sweden by Jens Bergen, Linus Corneliusson and Orion's Reign, includes 11 tracks of epic/symphonic metal.
The band continues the music path it had already begun with the previous album "Nuclear Winter", offering this time a full symphonic experience profoundly influenced by epic movie scores, with a complete orchestra, bombastic rhythms, massive choirs and guest appearances such as Tim Ripper Owens (Judas Priest, Iced Earth), Bob Katsionis (Firewind), Mark Boals (Malmsteen) and others.
The record is extremely diversified and contains much to explore, from Symphonic Speed Metal to catchy (Hard) Rock sounds, as well as operatic refrains filigreeing rich emotionality. The single "The Undefeated Gaul" is the first appetizer of the album, with fast riffs, heavy rhythm section and furious guitar solos! Stay tuned for more single releases!
Releases on Pride & Joy Music:
Scores Of War (2018)