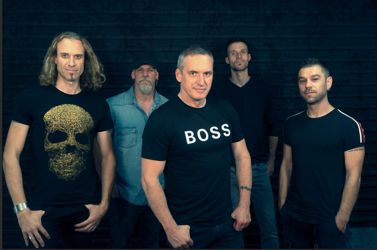 HEART LINE is the new AOR/Melodic Rock project by French guitarist and producer Yvan Guillevic (YGAS, PYG, United Guitars).
Surrounded by a fantastic team, the group consists of vocalist Emmanuel Creis (Shadyon, Equinox), keyboardist Jorris Guilbaud (Devoid, Shadyon), drummer Walter Français (Shadyon) and bassist Dominique Braud (YGAS, EBH).
Formed in 2020, HEART LINE has strongly been inspired by legendary 80's bands, from Whitesnake, to Foreigner, Journey, Winger, Bad English, Giant, and many more.
Powerful and melodic, the quintet takes us back to the beating heart of the 80's, with heroic guitar solos and soaring vocal lines, supported by a stunning rhythm section and virtuoso keyboard licks.
The brilliant artwork was designed by Stan W. Decker. HEART LINE are currently working on setting up a tour for 2022.
Releases on Pride & Joy Music:
- Back In The Game (2021)