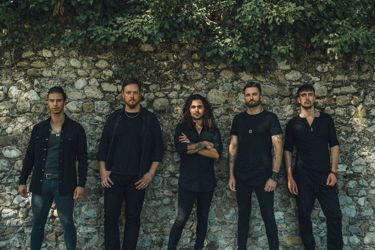 NOVA LUNA is an Italian band initially formed in 2019 by singer Mattia Martin, major writer and composer of the songs on the album entitled "Nova Vita". Subsequently Alessandro Piputto on drums and Davide Martina on guitars were added, which mainly contributed to finish the work. During the next two years the final changes were made, and then recorded, mixed and mastered in studio by Michele Guaitoli (Temperance, Vision Of Atlantis). During the recordings and final changes of the works, Nicola Lardo mainly participated on bass and Valerio Simonini on keyboards. The group is inspired by Prog Metal, Pop Metal and with some hints of eighties Hard Rock and Japanese Pop.
The album features various guests including Marco Minnemann (The Artistocrats), Reb Beach (Whitesnake), Michele Luppi (Whitesnake) and Mistheria (Vivaldi Metal Project).
The songs on the "Nova Vita" album are a collection of stories that tell feelings and poetry, each song represents a narrated emotion, including depression, anger and love, then leaving space for technique and musical composition. It is inspired by prog metal music, including for example Symphony X and Dream Theater, passing through more pop and modern music, finally taking a cue from hard rock. In addition to these, Japanese culture and music also took part in certain songs, inspiring them through some of the greatest anime and videogame series.
releases on Pride & Joy Music:
- Nova Vita (2022)