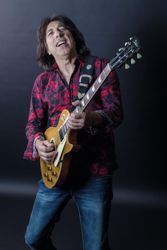 The German Guitar Legend Siggi Schwarz proudly presents 15 original and powerful Rock Songs on his new 11th Album. These songs are straightforward, melodic, raw and basically badass American! With nothing but Vocals, Guitar, Bass and Dums he takes us back to the roots of ROCK! For the true and strong feeling of live-rock with a fantastic groove the basic tracks were recorded together live in the studio. The new Songs from Schwarz are fresh and a new awakening of the legendary late 70s and 80s Rock era.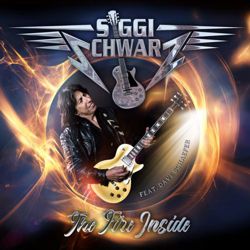 All "The Fire Inside" songs were co-written and co-produced by native New Yorker and U.S. Army Veteran, Dave Schaefer who was stationed in Grafenwoehr, Germany where ELVIS also just so happened to be stationed. His native american (Cherokee) blood and temperament can be felt and heard through his strong and expressive Vocals as well as with his clever lyrics and catchy, sing-along Hooklines.
With his Guitar, Siggi Schwarz delivers an enormous spectrum of his undeniable talent. During his exceptional Music career he has teamed up in the studio and on stage with notorious Guitar Heroes such as Michael Schenker (ex Scorpions, UFO), Steve Lukather (TOTO), Bernie Marsden (Whitesnake) , Geoff Whitehorn (Roger Chapman, Procol Harum), Leslie West (Mountain) and Billy Gibbons (ZZ TOP).
In 2011 Schwarz released a phenomenal Tribute Album for legendary guitarist Gary Moore, who had passed away the same year, with the participation of ex Gary Moore and Whitesnake bassist Neil Murray, as well as Toto's Steve Lukather.
In addition to this Siggi Schwarz also produced the "Michael Schenker Group" albums "In the Midst of Beauty" in 2008 and "Tales of Rock n'Roll" in 2005, which reached global charts. For several years, Siggi Schwarz was a congenial guitar partner of Michael Schenker where they joined forces for several concerts and three additional albums.
Thoughout his long and notable Rock n'Roll journey Siggi Schwarz has regularly been the opening act for rock legends such as Bryan Adams, Santana, The Who, Foreigner, The Scorpions or ZZ TOP.
"THE FIRE INSIDE" rocks from the first to the last track - Siggi Schwarz and his band let the inner fire of passion burn and flare up in every note and every chord.
Pride & Joy Music releases:
- The Fire Inside (19.02.2021)