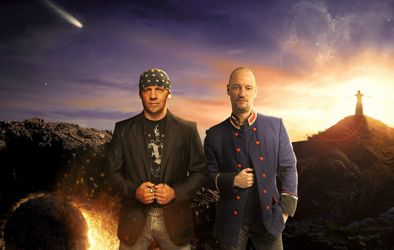 With an artistry and groove that is never less than inspiring and absorbing, new German Hard Rock project LAZARUS DREAM featuring multi-instrumentalist Markus Pfeffer and powerhouse vocalist Carsten Lizard Schulz gives a pleasure as immense and deep as the sounds and abilities which pour from their album "Alive".
Carsten Lizard-Schulz delivers a powerful, emotion filled performance and makes this an album full of incredibly poignant vocals listeners worldwide are used to get delivered from him and appreciate on critically appraised albums by EVIDENCE ONE, DOMAIN, DEAD END HEROES and MIDNITE CLUB, to name only a few.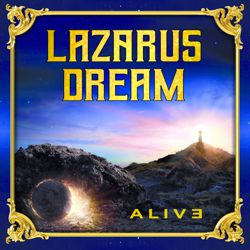 Markus Pfeffer used to be a member of internationally praised German AOR-band SCARLETT in the early nineties and delivers riffing and fret board acrobatics you rarely get to hear him play on albums by his main band WINTERLAND, which used to top the German Amazon Download charts in late 2010. On the LAZARUS DREAM album, he not only plays guitar, but also bass and keys.
The powerhouse drumming by guest Markus Kullmann (SINNER, VOODOO CIRCLE, Glenn Hughes) not only completes the hearing pleasure but also adds an incredible groove which lifts the songs to a new level. More musical guests featured are percussionist Thomas Rieder, flute player Sabrina Roth and Thomas Nitschke on Hammond and synths.
The album was mastered by Markus Teske at Bazement Studios (VANDEN PLAS, SAGA, MOB RULES,…)
Highlights on "Alive" range from undoubtedly immensely catchy chorusses and stunningly melodic twin guitar solos in songs like "Wings Of An Eagle" and "Hotel Overload" to progressive arrangements in extra-long tracks like "Dawn Of Time" and "Fleshburn", which also surprises the listener with an Arabian flute intro (and guaranteed goose bumps, by the way). Groovy guitar riffing gets combined with massive vocal arrangements and reflective lyrics especially in songs like "The Healing Echoes", "House Of Cards", "Desert Mind" and "Can't Take My Soul Away".
All in all, LAZARUS DREAM brings a fresh, vivid and eager breath to melodic hard rock and classic progressive metal without the need for indulgence and spurious tricks and charms… Pfeffer and Schulz build a strong songwriting duo and thus the foundation for the album and deliver inspired, melodic hard rock bliss which should appeal to fans of bands such as QUEENSRYCHE and DOKKEN.